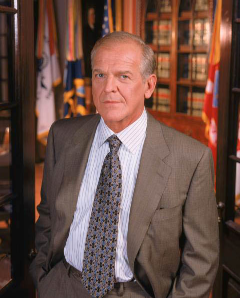 Leo McGarry, Democratic vice-presidential candidate, former White House chief of staff and soul of The West Wing, passed away from a heart attack last week. He's being buried this Sunday night at 8 p.m. on NBC.
John Spencer, the actor who played McGarry, passed away from a heart attack December 16, 2005, so the death of the character that earned Spencer five consecutive Emmy nominations for Outstanding Supporting Actor (with a win in 2002) wasn't as unexpected as this year's carnage on Kiefer Sutherland's 24. But it was still poignant enough to upstage the show's two-part election episode and set the agenda for the remainder of The West Wing's final term.
It also set up the chance for The West Wing to finish off the way it began, offering a vision of American politics as it should be -- a place where even the people you disagree with are intelligent, honest, and well-intentioned. It's a Washington where Mr. Smith arrives and doesn't sell his soul to a tobacco lobbyist.
Some viewers think The West Wing died after the fourth season when creator Aaron Sorkin and director Tommy Schlamme left office. But if the series jumped the shark, it swam back this year.
I'd always wondered why The West Wing didn't spend more time on the campaign trail during President Josiah "Jed" Bartlet's run for re-election. This season was all about a campaign -- shining the spotlight on two candidates who were almost as tough to imagine in elected office as Arnold Schwarzenegger. Or John Kerry.
Republican salvation
In case you tuned out when Sorkin left, the contenders to replace Bartlet were Matt Santos (Jimmy Smits), the proudly liberal Latino Democrat from Texas, and California's Arnie Vinick (Alan Alda), a moderate Republican reluctant to pander to his party's religious right.
Before Spencer died, I was pretty sure Vinick was a lock for the presidency. Although I suspected the writers might script a lengthy court challenge over the results -- perhaps even creating an obviously fictional scandal about rigged voting machines, blocked ethnic voters or dubious polling practices -- before he took office.
Yes, Santos was played by a stellar TV stud and his victory would have offered an excuse to shake up the series without losing any core cast members, but real-life liberal, Alda, was a Republican even a Clinton could love. He's John McCain -- before McCain kissed and made up with Bush and Falwell. The producers also surrounded Alda with an A-level supporting cast that could easily sustain a series.
But, most importantly, Vinick offered a golden podium. What better way to comment on a Republican government than to put a Republican in The West Wing? It was a unique opportunity to imagine a Republican administration where the policies and speeches were crafted by some of Hollywood's craftiest writers.
Even after the network announced that The West Wing was shutting down, I was still sure Vinick would win. Then, Spencer died, and the idea of having all the characters in mourning while coping with a Vinick victory just seemed too cruel an ending for a series that has always been about hope.
An interview in the April 10th New York Times confirmed my suspicions. Executive producer Lawrence O'Donnell confessed they were preparing Vinick's victory speech until Spencer's death.
No laugh track
Back in 1999, I was at the Banff Television Festival where Sorkin led a workshop, and talked about his critically beloved series, Sports Night. Someone asked him about the genre of his half hour show, which was theoretically a sitcom, but didn't have a laugh track and was just as likely to make you cry as chuckle.
I remember Sorkin, who was still best known for the movie and stage play A Few Good Men, claiming he wasn't trying to stretch boundaries. He said he wasn't funny enough to write pure comedy or dramatic enough to write pure drama, so he wrote the way he wrote and filled the half hour he had. He said he'd take the same approach to writing his new hour-long show. Then he turned off the lights and dazzled the room full of industry pros with a sneak preview of his upcoming series about the White House.
And the way Sorkin wrote was as idiosyncratic as any writer TV viewers had ever encountered. Just as David Mamet's characters turn profanity into poetry, Sorkin's characters speak Sorkinese – high speed, articulate English rich with metaphors, similes, alliteration, and allusions that only a playwright would even think about putting on TV.
Even with its all-star cast, it was hard to imagine Sorkin's new series would last a full season, never mind seven. Who could have suspected Americans would watch people talk politics when even CNN preferred dramatic fiction like the OJ trial? Ironically, the episodes that most upset West Wing lovers -- both during and after the Sorkin era -- were the ones where issues took a back seat to traditional TV action (like kidnappings and explosions).
Family politics
On one of the far too many DVD commentaries I watched recently, I think it was Martin Sheen who said The West Wing was actually a family drama where Jed is dad and Leo is mom. Leo was everybody's mentor, confessor, conscience, and best friend. There was no other player in the series, including the president, whose loss would be felt so deeply by the rest of the characters. And the loss of McGarry created a creative opportunity to end the series as it began: as an idealistic political fantasy that inspires viewers to think, talk, and maybe even vote.
It's tough to picture a more attractive political fantasy in America right now than the one floated last election when Kerry was fishing for a running mate and pundits suggested McCain. So what better ending to the series than using Leo's death as an opportunity to put party differences aside and trying to heal a wounded country (we're talking about the fictional West Wing America, of course) by offering the vice-presidency to Republican challenger, Arnie Vinick?
Of course there's one other possibility that would allow the writers to play out the fantasy of many Democrats. Bill Clinton, I mean, Bartlet, can't run for a third term, but what would happen if he was offered the vice-presidency?
My money's on Vinick though, and on ending the series with a lot of talk, talk, talk about cooperation and two Emmy-worthy performances by the presidential contenders.
While losing John Spencer was tragic, losing Leo McGarry may provide a perfect ending that no writer ever would have scripted.
Mark Leiren-Young is a screenwriter, playwright and regular Tyee contributor. A few years ago when his TV agent ordered him to write a "spec" sitcom, he took his best shot at Sorkinese and specced Sports Night.