Lacy curtains. Floral carpets. Satin loveseats. Hand-painted letters.
As Burnaby booms, photographer Nakita Cheung has made it her mission to document the facades of her former neighbourhood before they're erased.
Metrotown has been home to one of the region's most dramatic transformations in recent years, with glassy skyscrapers on their way to growing taller than Vancouver's. Those new towers are replacing wood frame apartments that low-income people have depended on for affordable rentals for decades, many of which have been demolished to make way for the new.
But it's these older rental apartments — built between the late 1950s and early 1970s, before the SkyTrain accelerated Metrotown's evolution — to which Cheung turns her camera before they're reduced to chips.
Change has been present in Metrotown throughout her life. "They were always doing construction," she said.
But she isn't some retiree returning to her hometown late in life to find it transformed. She is 28, lives in nearby Vancouver and is surprised by the lack of documentation of certain shops and streetscapes in Metrotown, even though they had not been destroyed until the 2010s.
"I was like, well, I can't remember what any of this stuff looks like, so I should probably start taking photos."
She set up a website called Disappearing Burnaby as a public record of older pockets of the city, including car washes, longtime fast food joints and apartment buildings.
Cheung isn't the first to be inspired by the entryways of those buildings. In 2012, photographer Chris Gergley turned his attention to the lobbies of the West End as part of an exhibited series called Vancouver Apartments. Blogger Stanley Woodvine, a homeless resident of Fairview, has documented his neighbourhood's apartments from gold leaf lettering, custom door mats to ads for Cablevision. Designer Colin Campbell photographed them too, with an eye for details like old intercoms, tiles and signage.
And on Facebook and Instagram, there is no shortage of hobby photographers seeking out old buildings like these and sharing their snaps for users who relish the nostalgia. But many of these photographers choose scenes that look like romantic recreations of an idealized past.
In contrast, the entryways in Cheung's pictures are lived in and less pristine, accumulating remnants of each passing decade and situating them in the present. What she looks for: "To tell the story of each building and where it is now."
In her pictures, you might find the building manager's Outlook email address, printed in vinyl. Sun-faded stickers of Christmas trees, snowflakes and reindeer. Crumbled A4 printouts put up by renters and landlords alike with masking tape, scotch tape and painter's tape, directing postal workers about what to do with packages and warnings against letting thieves into the building. The entryways themselves consist of materials you'd have a hard time finding at the Home Depot of today: glittery dashed stucco, geometric pastel tiles and frilly curtains.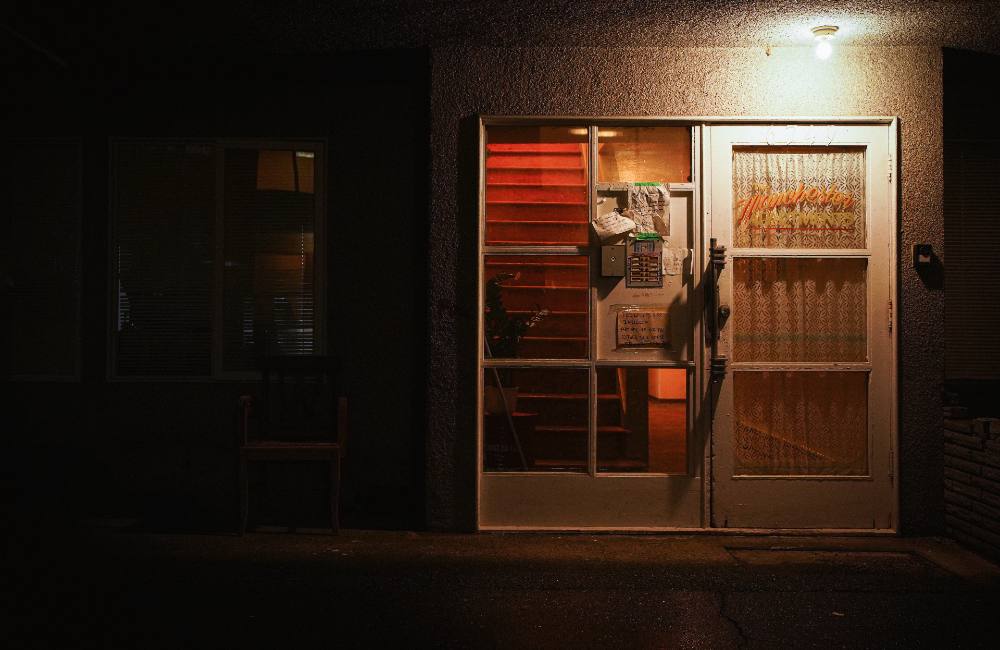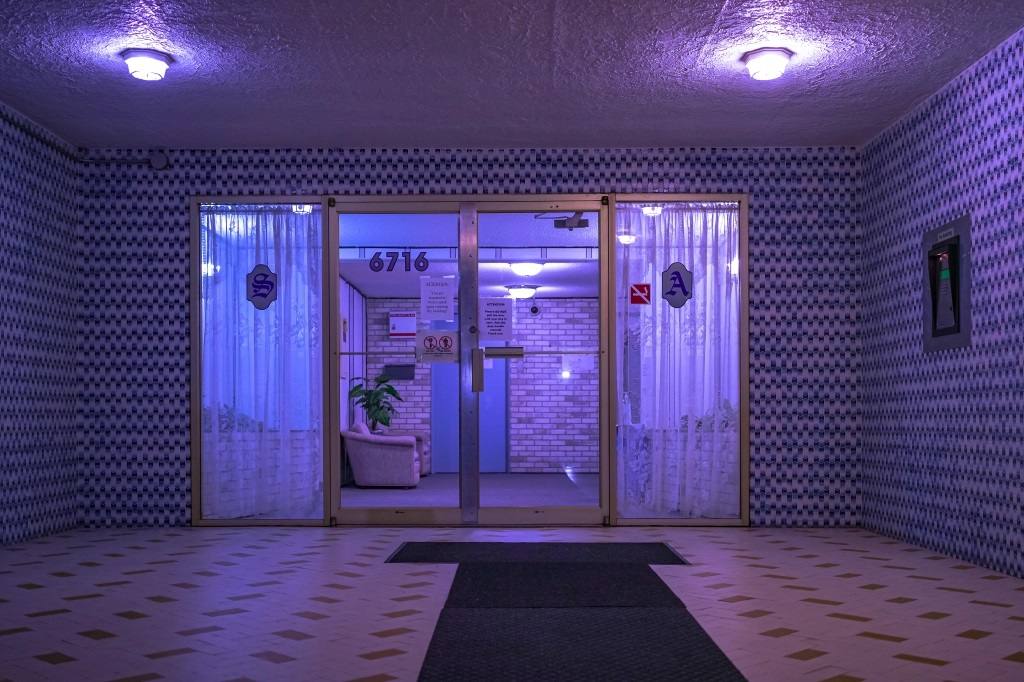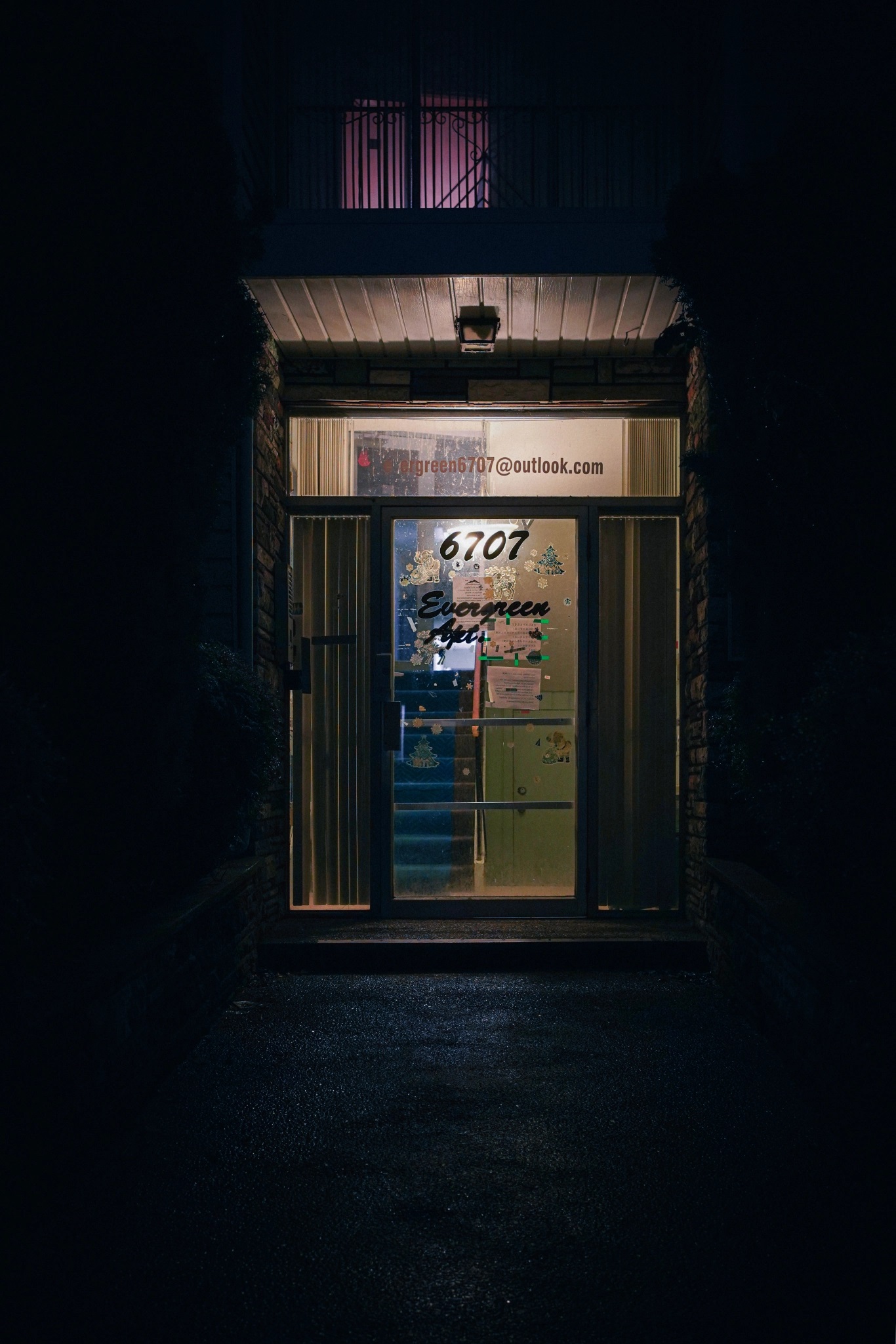 Cheung's pictures also show buildings where managers have repainted names in entryways, preserving the cursive scripts and funky lettering of the original. There is an uncanniness to those without attentive upkeep. In the case of Imperial Apartments, the fading red letters look a bit like dripping blood. In the case of Silverbelle Court, the vinyl N's on some notices appear to be inverted for no particular reason. Some of the apartments in the area are in disrepair, with tenants claiming this is because developers don't want to spend money on a property they're waiting to demolish.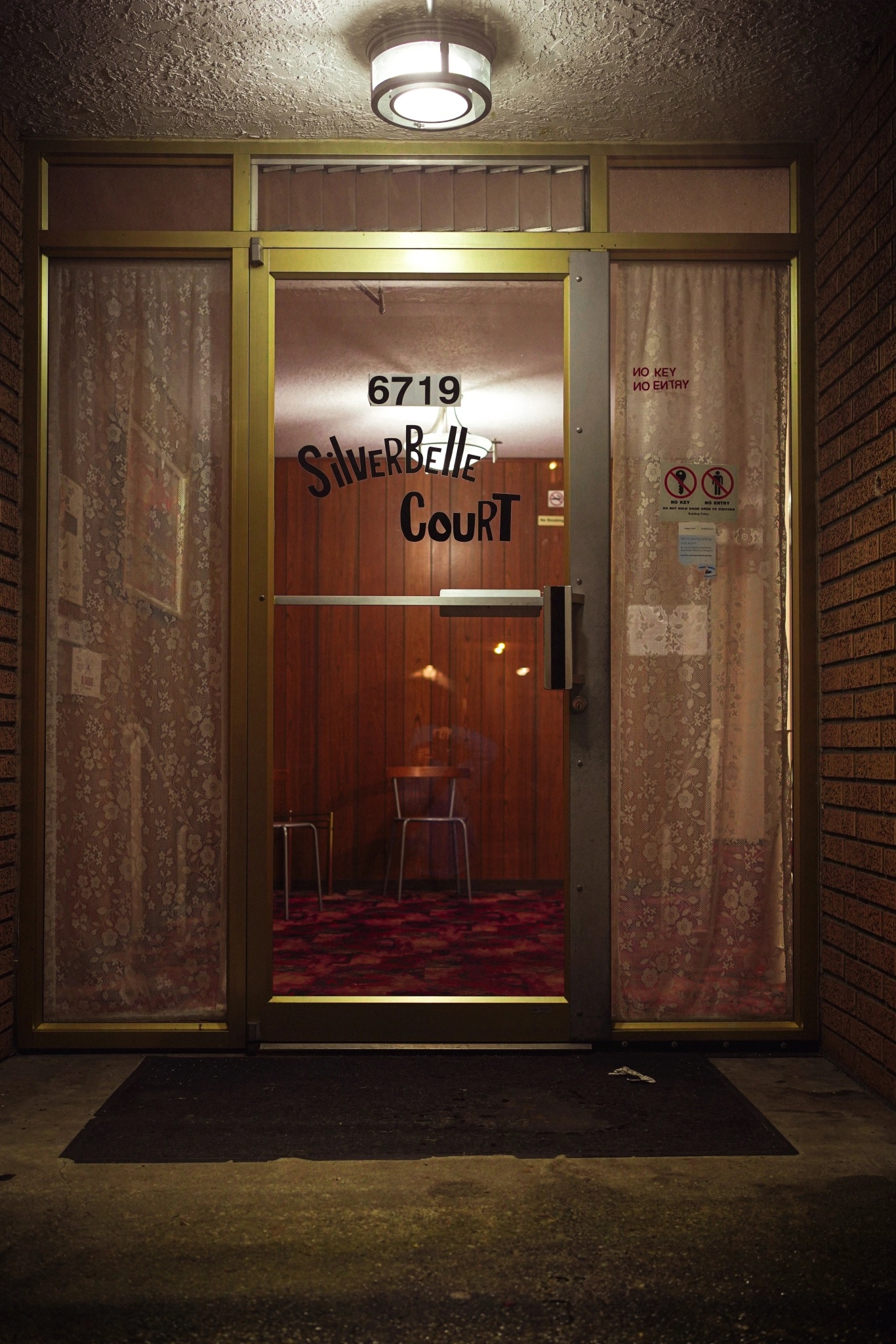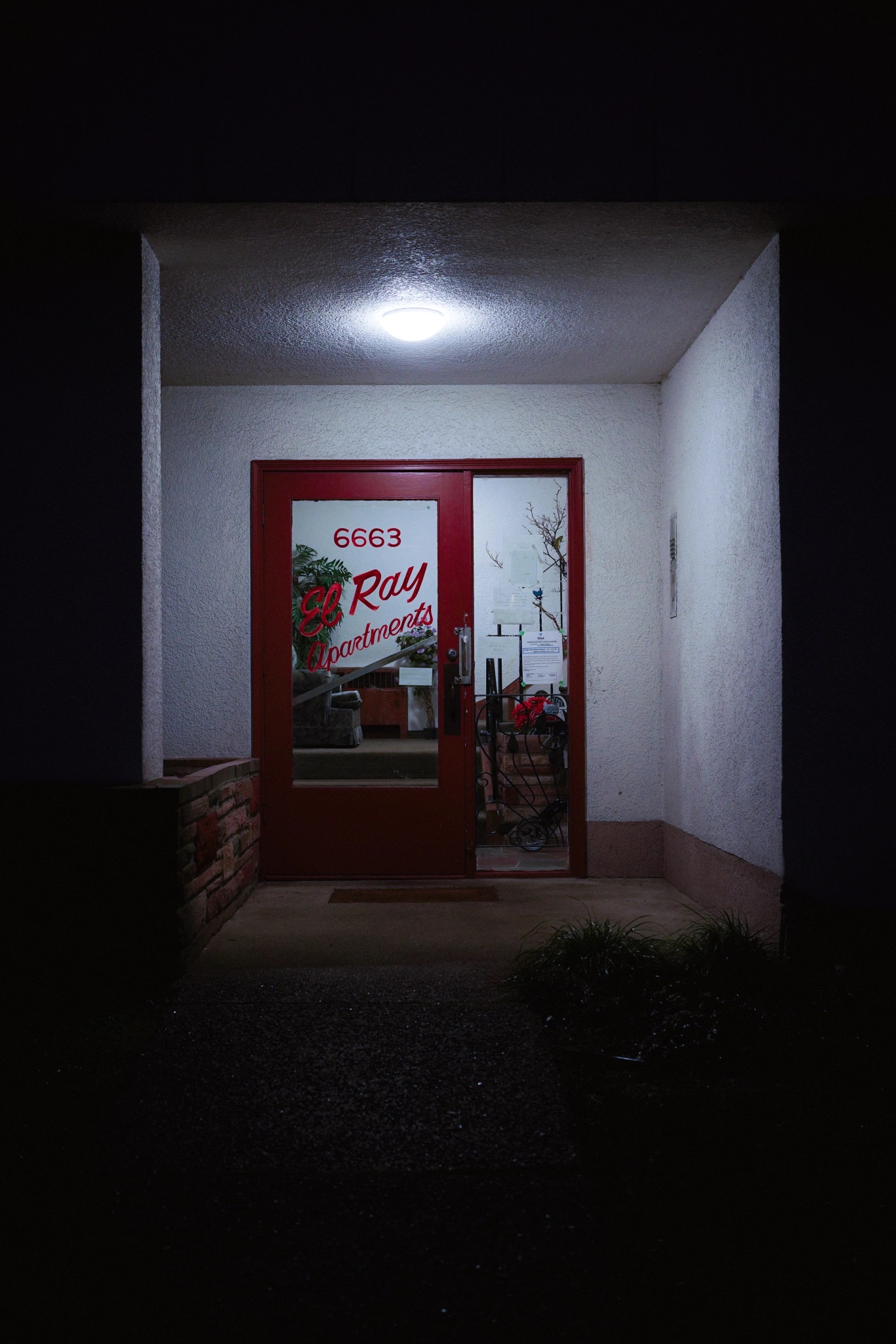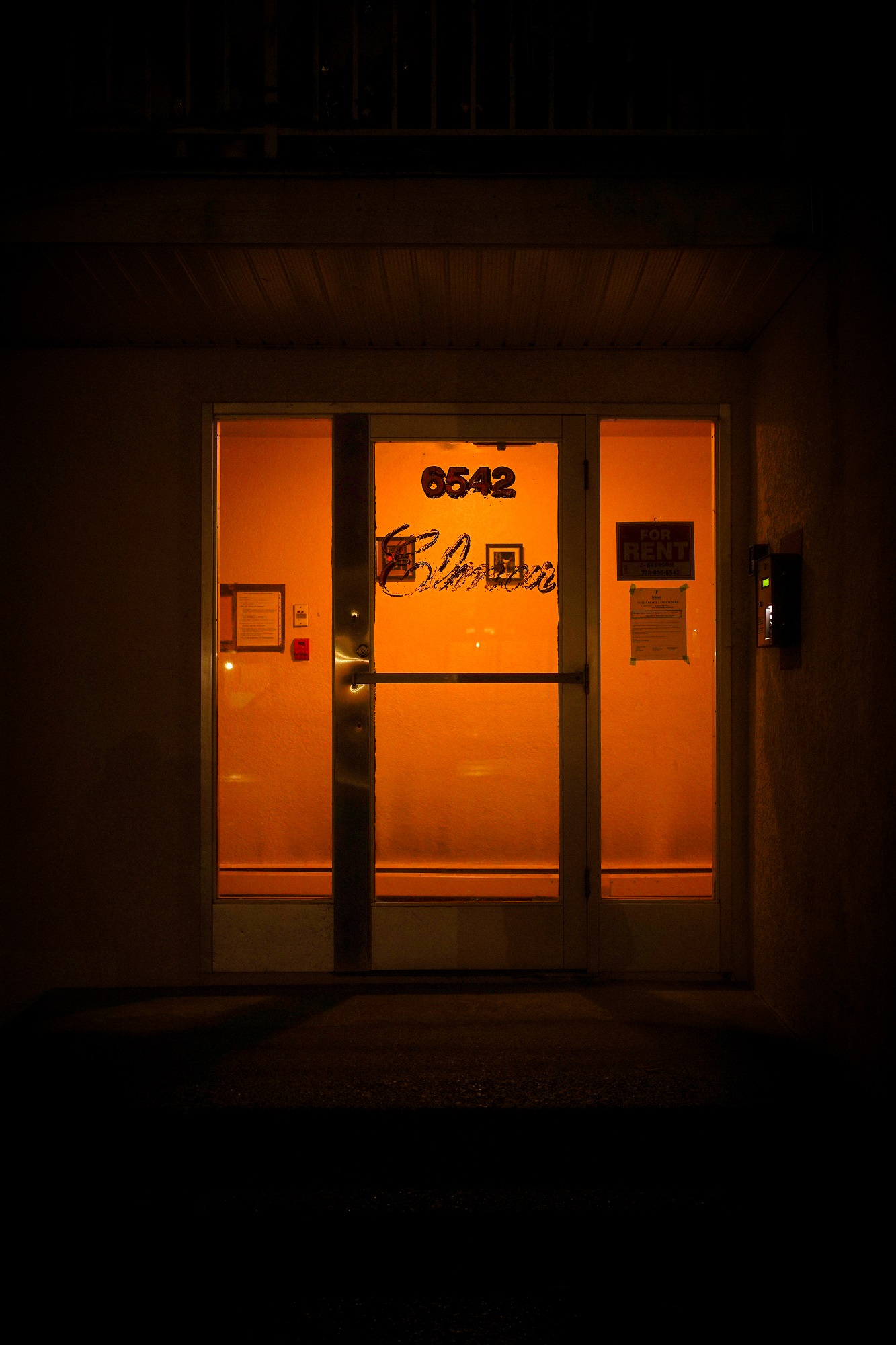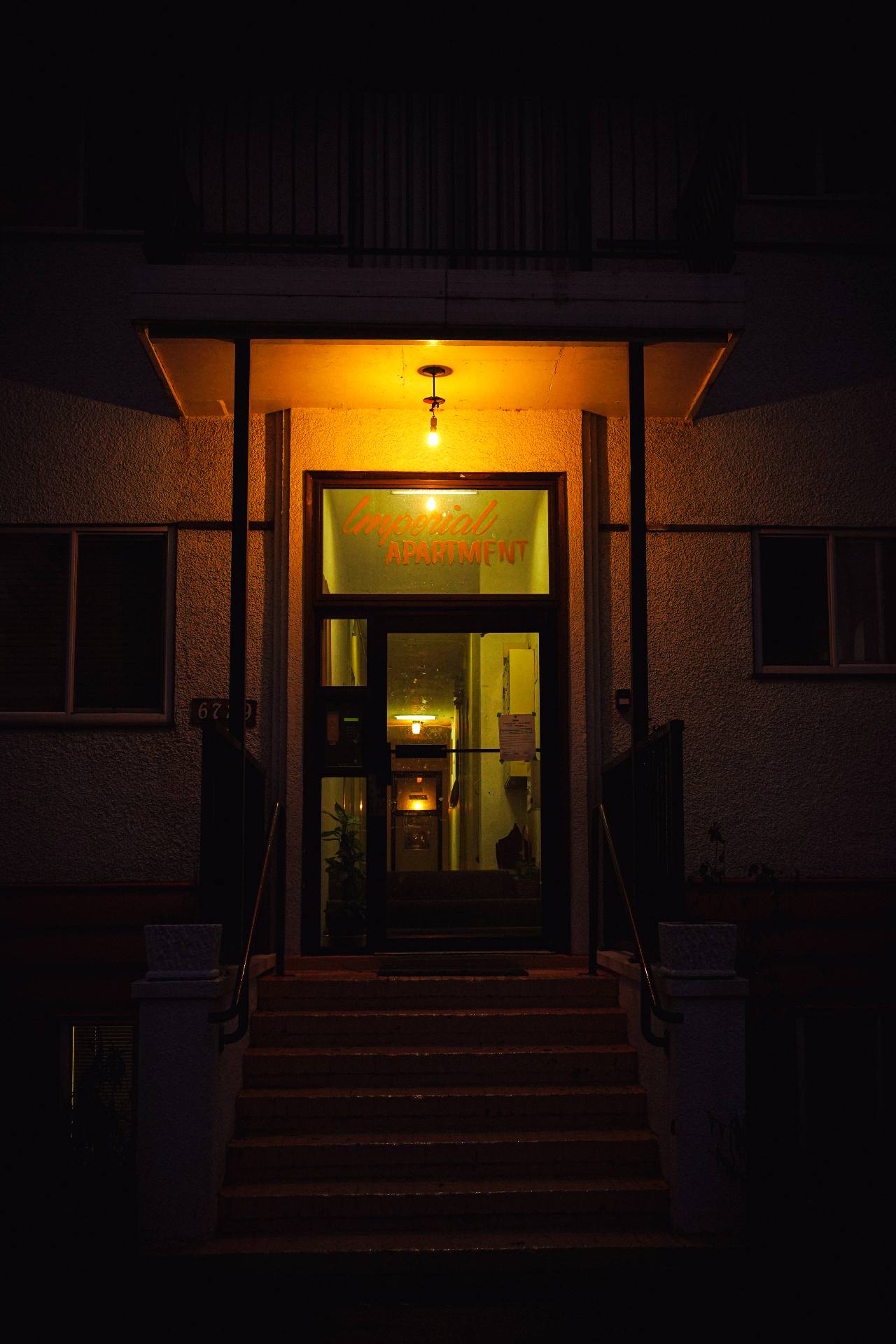 Within the collection of pictures is the rare walk-up apartment made up of individually owned condos, rather than rental homes. Irving Apartments is one such condo building, hidden behind a wall of hedges, with its name on the door in Gothic script. On a glass panel by the entryway in the Futura Bold typeface is "NO RENTALS." Mounted on the walls of the lobby are oval mirrors in gold frames that look a bit like the Magic Mirror from Disney's Snow White.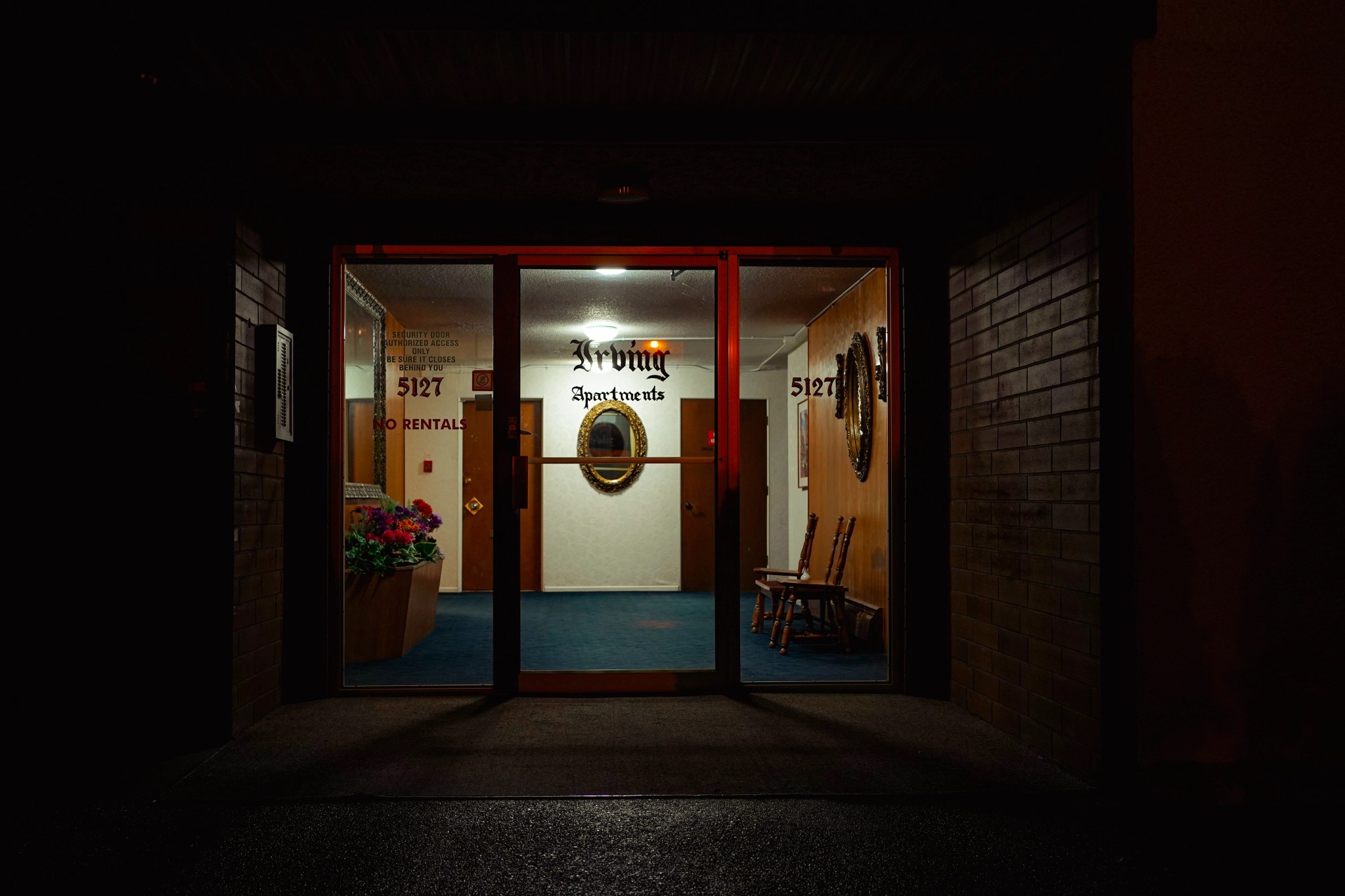 These humble touches are in stark contrast to the grand entranceways of Metrotown's newest real estate offerings. Famous artists were hired to adorn them with new works of public art. There's Marianne Nicolson at the Sussex tower with her depiction of Indigenous flood stories on pillars 6.4 metres tall. There's Douglas Coupland at Station Square with his amorphous orbs of colourful fordite, an installation which he called "blob kebab."
The evolution of the neighbourhood has always been on Cheung's mind. In elementary school, teachers told her stories about the area's agricultural history before urbanity, from the family farms to the orchards that begot the occasional apple tree you can still spot in nearby parks and yards. That context made for an imaginative childhood, said Cheung, with her classmates drawing from the history to scare one another at play. She remembers them running around saying, "Ooh, it's the ghosts of the horses that used to be in the stables!"
That lingering heritage is a far cry from the downtown that Metrotown is becoming. To accompany the pictures on her Disappearing Burnaby site, Cheung trawls rental listings ("I am looking for a clean, independent, female student or working female to share this two-bedroom apartment with me and my husband"), BC Assessment for the going prices of the buildings she photographs, and the Burnaby archives for historical context.
There are formal photographs in the city's collection that often unintentionally become an important record of time and place.
"What you find in archives for different cities are the standard, zoomed-out shot of a building from a city engineer," said Cheung, not so much the details that she loves to capture in her own work. To give back to the source of much of her research, Cheung donated her pictures to the archives.
Upon receiving the works, the city noted how the incredible pace of change means some of the buildings she captured "may no longer be standing even by next year."
One day, those apartments will join the ghosts she imagined in her schoolyard. Until then, Cheung is still making her way to Burnaby when the sun goes down to capture what she can before they're claimed by the diggers and bulldozers to build the new city.
"[That's] Metrotown's character," she said, "mashing the new and the old into one hodgepodge."