It is not a simple thing to talk about whiteness, but visual artist Shary Boyle has found a way to crack open the discussion in a new exhibition at the Vancouver Art Gallery.
Witness White Elephant: a towering figure dressed in a cable-knit sweater, sporting a Louise Brooks-style pageboy haircut with kewpie doll features and brogues on her feet. All is rendered in shades of blinding ivory. At random moments, her head does a full 360-degree turn, Exorcist-style, whipping around so quickly that her hair flies across her face.
The first time one catches the head-spinning action, it's only natural to let out a little yip because it's actually quite startling. This is only one instance of Boyle's commitment to injecting destabilizing humour into her work, so that viewers can think about thornier stuff with a degree of disarmed candour and openness.
Boyle's riotous show Outside the Palace of Me takes its title from Kate Tempest's song "Europe is Lost." From the outset, it's clear that Boyle is defiantly, uproariously non-elitist. During the media preview of the show, she explained that part of her motivation came from wanting to make the gallery space a more inviting, interactive place where people don't feel intimidated, but rather freed.
In summoning this quality, Boyle turned to the tools of theatre including stage design, set decoration, playfulness and a certain kind of kinky surrealism. The show, organized by Toronto's Gardiner Museum, includes paintings, sculptures, installations, coin-operated whirring machines and velvet-red theatre seats gathered around an iPad featuring a playlist of songs chosen by the artist. Some objects defy easy classification.
But even if you're feeling a little unsettled, the work has a way of undoing defences. White Elephant might be the most overt example of Boyle's capacity to disarm, but there are a number of other works that play easily with the edge of provocation.
Another example: the three masks at the exhibition entrance in a piece entitled The Dressing Room. At first glance, the masks appear to be the very first to greet spectators. Viewed in one direction against a windowed backdrop, they're engaging enough, but circle around back and there's an entirely different story.
Eyes figure large in much of Boyle's work. In The Dressing Room they have all kinds of implications. Walrus tusks that pierce the sockets of one. Tiny figures that resemble false eyelashes are, in fact, strange little guys clambering down the white cheeks of a mask-like face. The old saw about eyes being the window of the soul and a conduit to understanding are readily apparent. But the mutability of perception is the other side of the story. Eyes are also easily fooled and mislead.
Speaking volumes without saying a word
Which brings us back to the elephant in the room, as it were.
In her presentation, Boyle talked about the different iterations of White Elephant in galleries across Canada. Toronto, with its fierce commitment to addressing issues of race and injustice, was demonstrably different from the Maritimes. Quebec, an entirely other situation. So, what about Vancouver? Well, that remains to be seen.
Two paintings accompany the central figurative installation. One, titled Lone Gunman (White Man) depicts a young lad striding purposefully out, rifle slung over one shoulder, while smaller creatures like mice, frogs and kitty cats flee before him in a seeming abundance of caution. Overhead, floating pie-in-the-sky are two figures. One is a fitting ringer for Lon Chaney in The Wolfman and the other a little less placeable: long white hair, a scowling expression and a black robe giving them the look of a priest or a judge.
Finally, in one corner is a smaller, bright-green woman with Lillian Gish aspects: large of eye, gentle of demeanour, waving at the boy. But what to make of this curious convergence?
On the other side of the central figure of White Elephant is another painting seemingly depicting a version of the pioneering spirit of the mythic wild west. A pregnant young woman is sitting on the front seat of a covered wagon. At first glance, she looks to be taking a break from her labours, smoking a spliff, her pierced nipples pressing against the front of her see-through dress. Meanwhile, a grey, green and obviously male hand reaches from inside the wagon, groping her shoulder.
As a reworking of the foundational myth-making of colonialism, white culture and gendered ideas of masculinity and femininity, these two paintings are interesting enough. But taken collectively with the larger figure in the centre, something decidedly odd begins to permeate the atmosphere.
Maybe it's the strange blank gaze that possesses each figure. Their oddly mesmerized or hypnotized visages express much about the unspoken yet deeply problematic issues of white culture without saying a single word. Which is fitting, I suppose, given its pervasiveness. Whiteness is so entrenched in the cultural DNA of western society, is it even possible to root out?
As Boyle explains, any notion of pride in white heritage is understandably suspect, so how do people contend with their history? Art doesn't offer any ultimate answers, but at least it allows discussion to take place.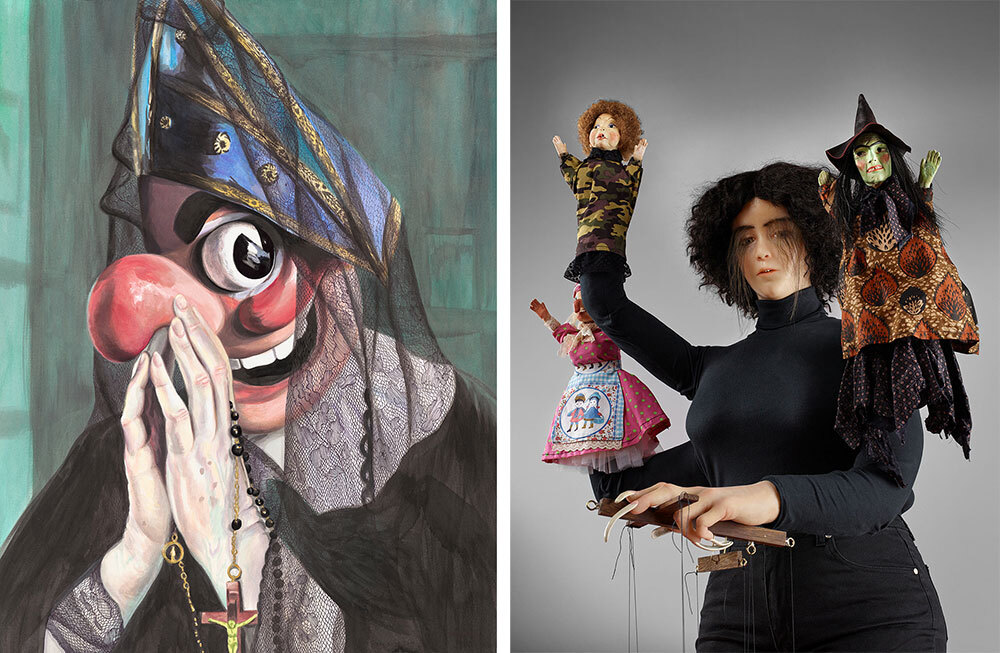 When the established order gets punked
If racial tension is tricky stuff, so too is the fraught state of women. These ideas surface most overtly in Judy. Dressed all in stagehand black, the central figure in the animatronic installation looks unremarkable. But look closer, and curious details begin to emerge, like her eyelashes that dangle like ringlets down the front of her bosom. The fact that she has four arms instead of the usual two might give you a clue that this is no ordinary woman.
In her introduction to the work, Boyle explained she was inspired by Punch and Judy puppet shows, especially the long-suffering figure of Judy. Punch, like his name might imply, is a violent character, prone to beating the living hell out of everyone, including his poor wife. The four different puppets that Judy is manipulating might also provide a clue or two, or four, about the roles that women are assigned: witch, worrier, crone and organizer.
Boyle represented Canada at the Venice Biennale in 2013, and her career has encompassed a variety of collaborations with musicians, theatre artists, as well as folk not normally associated with the art world. A fine example of this collaboration is Centering, a tarted-up pottery wheel that speaks of spectacle and humility all in one whirling combination. Boyle worked with a costume designer who makes stage costumes for dancers to make certain that the skirts wouldn't come flying off. In order to operate the installation, one deposits a loonie and presses a foot pedal to send the contraption into twirling life. Echoes of can-can dancers and other performers for hire come easily to mind.
Although she started with painting and drawing, Doyle works principally in ceramics. The glossily lacquered figures that people the show are a convoluted mixture of human attributes combined with more curious elements. The convergence of beauty with grotesquery is interesting stuff. Porcelain and gold leaf summon up Royal Doulton-esque figurines, beloved of elderly ladies. But mixed in are elements that recall Hieronymus Bosch in his more outré moments.
One of the most compelling ceramic works is The Procession. A lone trumpeter leads a motley crew. Some are just a pair of hands, others appear to be sinking into the road in the midst of the march. The police are also about, a helmeted jackbooted presence, billy clubs at the ready. Sprinkled through the crowd, the officers are an ominous reminder that even in the midst of collective community and celebration, darker forces are moving.
In a statement about the work, Boyle writes: "grief, outrage and justice are not the only bonds between people. There is, and there must be, the shared purpose of joy…. It is the spirit of life to gather and commune, and our greatest strength as empowered people."
Taken as a whole, Outside the Palace of Me is a dementedly charming, phantasmagoric explosion as beautifully crafted as it is entertainingly creepy. Underneath the parade of images and ideas is a prankish spirit that inverts the established order to reveal what lies beneath. Some of it isn't pretty. But much of it is beyond beautiful.
---
'Shary Boyle: Outside the Palace of Me' runs at the Vancouver Art Gallery until June 4.