Bob Foster, owner of Krazy Bob's Music Emporium in Langley City, is not your typical business owner.
He's a self-styled comedian who goes by the name "Krazy Bob." His loud and boisterous personality has turned some customers off and formed decades-long relationships with others. Instead of suits, he has a rack of bright floral flannels. If he wants to leave early or stay late, he does just that. He even writes on the store's Facebook page that his business is hard to describe.
Foster thinks of his store as an experience — and he's the conductor of that experience. He'll introduce strangers to one another and invite people to play cards or watch him do a trick.
"I say, 'How are you doing? This is so-and-so,'" Foster says. "It's like an Irish pub."
Early on in my visit last month, I got the feeling that his gimmicks are ways to get people talking and come back to visit.
It might be easy to laugh at or ridicule how a middle-aged man uses games or tricks to engage people in his shop. But, as I dove into what inspires him to run a collectibles shop, Foster opened up about his personal struggles.
He gets worried when people bottle in their feelings, because it took him years to become aware of his own anxieties.
It wasn't until the pandemic hit that he was forced to grapple with what brought him so much unease. For financial reasons, he had to temporarily move into his shop for six months and close the business for three. He also started a new romantic relationship during that time.
"I'm aware that even in depression, we can raise ourselves up every day by being thankful for what we have."
When Foster, clad in faded jeans and a flower-print shirt, takes me into his office, he shows off his personal collection of collectables: a tree branch that looks like a wand, a miniature treasure chest that has a rock shaped like a heart inside and a motivational poster.
"I have a special stone for you," he says, pointing to the personal collection of items on his desk. His outstretched hands dance atop the surface as if he's going to cast a spell.
When he finds the plastic box filled with rocks, he takes out three and places them on the desk. One stone is lavender with two interconnected white lines, the second is a large, stalagmite-looking mass and the third is an ordinary grey rock you'd find in any playground or park.
"As you look to those stones, which one pulls your eye?'"
I hesitate, analyzing the three rocks and think of the larger meaning behind why Foster wants to play this game. I think what rock Foster wants me to select. I then think what Foster might think of me based on my rock selection.
"Ohhh, he's overthinking it," Foster says.
"That's my biggest flaw, I overthink everything," I reply, before finally pointing to the lavender stone.
"That's the one I thought," Foster says with a laugh. "It's an overthink stone."
He points to the two lines in the stone.
"You're a writer. When you tell a story, one line goes into the next and sometimes we overthink when we write," Foster says. "I'm giving this to you, and when you're holding it and start overthinking, look at the stone and say, 'I don't have to overthink it.'"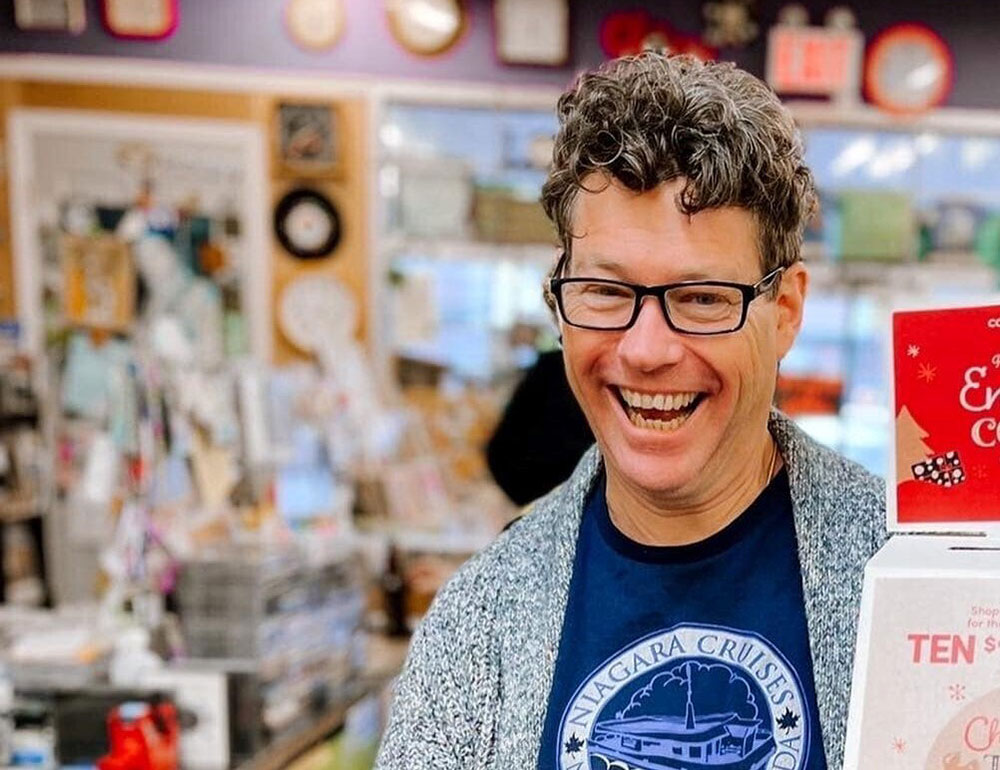 Foster has an uncanny ability to read customers. It's part of the reason why he has stayed in business for roughly three decades and survived the brunt of the COVID-19 pandemic — which nearly forced him to close his shop for good.
After placing the lavender stone in my hands, he grabs the branch wand and tells me to stretch out my palm. I put the stone in my pocket and extend my hand. He places the tip of the branch in my palm. "Now watch this here, I'll tap into your ability to write and I want you to take all those doubts away. What you do matters."
In my visit, I came to understand what motivates someone to run a collectibles business in the age of online shopping. And I left with insight into a man behind the quirky videos and self-deprecating jokes. Plus a lavender stone.
This interview has been edited for length and clarity.
How hard was it to run a vinyl and collectibles business during COVID?
I was just boxing up boxes to try and sell and cover rent, get really any wage for myself to pay for things. My landlord worked with me. Miracle after miracle happened, people were donating stuff to keep the shop alive. This place has been here for a very long time and it's a place of sanctuary, healing and fun. People were like, "Don't take that away." And they wanted to protect it.
That's interesting. Because later in the pandemic the sale of vinyl records took off, especially in the U.S. and U.K. Why do you think that was the case?
The rise was that we had one way to buy things: online. Or wait for hours on end in a spatial configuration where you could get this and that.
When people look to come into my store at five minutes to close, I'm like, "No, sorry. This isn't a five-minute walk through." It's disrespectful. If I go into a restaurant that is medium-to-fine dining and I say I need my meal done in five minutes, they're going to tell me to get out.
Instant gratification can be very addictive. I have a Spotify account… I understand it's useful, but if you want a real soulful experience, connect with the artists in the way that they created something for you to enjoy. They made a cover [for their album]. Often they have lyric sheets in there, there's posters as a bonus item.
At the beginning of our talk you mentioned your "depressed state." If you don't mind me asking, what led to that?
What I am now, is that I'm aware of it. I'm aware that even in depression we can raise ourselves up every day by being thankful for what we have. What makes us depressed? A sense of lacking.
Did you feel like you have a sense of lacking?
Oh yeah. I had no worth.
Why not?
Because I had let someone program me to say "You're not good enough, you're not this."
I'm sorry you felt like that, but thanks for sharing.
Self-deprecation is something I got so comfortable with that we even had a day called "Blame Bob Sunday" so you could dump your [problems] on me and go, "Bob, this is your fault, blah, blah, blah." My [current] girlfriend said that is no longer happening. It was one of the reasons why I was like I should keep this relationship because she's invested in me on a level that I've never experienced before.
When I was getting out of my depressed state, I played R.E.M.'s "Everybody Hurts" probably 100 times.
What impact does music have on people?
Music soothes the soul, the mind, and of course, the body. What do we do when we hear good music? We start tapping our shoes, and if you're brave enough like I am, give a whole dance routine with a shopping cart.
If we resist the urge to flow with the music, that's overthinking. That's the suspended idea that I have to act a certain way to be socially acceptable. Is dancing so unacceptable that I am made fun of because I express myself freely? I've seen two-to-five-year-olds do it and everybody thinks it's cute and adorable. As we age it becomes, "Oh God, what is wrong with them?"
As we were walking around earlier, you mentioned that your shop is 'an experience.' What do you hope people take away when they visit you?
Tearing people's tastes in music down, we don't allow that here. If you have a strict opinion, "That album sucks! Don't buy that," not only are you affecting my economics, but you're hurting somebody's soul who is interested in having something that might make them happy.
If you need music to soothe the soul, I know all the places to search.