Proposals from British Columbia's premier to expand involuntary mental health treatment in British Columbia are renewing debate around the state power to hospitalize someone against their will.
That power has shaped journalist Rob Wipond's family for more than 20 years since his father was detained in Kelowna after seeking mental health support for the first time in early retirement. Wipond went on to report on issues of involuntary mental health care in Victoria and Vancouver.
More British Columbians are now being involuntarily detained and treated under the Mental Health Act than ever before, according to data from the Ministry of Health. Reports from the B.C. Ombudsman and legal advocacy groups outline patients' legal rights were upheld in less than half of cases in 2019 and dehumanizing practices are commonplace.
Many families and advocacy organizations say B.C.'s broad laws allowing health-care providers to do so are essential to keeping their loved ones safe when they aren't able to ask or accept help for themselves. They support better human rights adherence and fear changing laws would increase barriers to support and deprive their loved ones of care.
Wipond's first book, published by BenBella Books last month, takes aim at the lack of public oversight and barriers to accountability for people who have been harmed by involuntary treatment. Your Consent Is Not Required traces the growth of involuntary detention across North America, arguing it is not the solution to complex problems many believe it to be.
The Tyee spoke with Wipond about his reporting on the rise of involuntary detention and where B.C. might go from here. This interview has been edited for length and clarity.
The Tyee: The book starts off with a very personal story of your father and your family's experience with involuntary mental health treatment in Kelowna. How did that experience affect your understanding of these issues?
Rob Wipond: It certainly raised a lot of questions for me, and so did the speed with which it happened with my father. And the fact that it didn't seem surprising to [the hospital staff] that they were taking a person with absolutely no history of mental health issues of any kind and suddenly declaring him to be a certified mental patient worthy of being treated against his will. All the good fortune that you would want to have if you were in such a situation, my father had all that. And nevertheless, he lost so many rights so quickly. I immediately started wondering, who else is this happening to?
What should British Columbians know about our mental health laws and what do you think readers of your book will be most surprised by?
B.C. has the most draconian, aggressive mental health laws in North America.
There is the deemed consent provision, which means that you can be locked up in a psychiatric hospital and forcibly treated based on the decision of one physician, with a nominal sign-off by a second physician. Certainly, some doctors try to be polite around their use of that particular power, but the power is there and you don't have an independent hearing to decide your competency if it's not an emergency. Every other jurisdiction has a capacity or competency requirement that says that if you're able to make reasonable decisions, to have the capacity to think reasonably clearly, then you have the right to make your medical decisions. B.C. does not allow that for involuntary patients.
People also need to understand that these laws are far broader than I think most people really imagine. For example, in B.C., you can be involuntarily detained if you are a danger to yourself or others, but that term itself is not clearly defined anywhere and can be interpreted really loosely. It's not simply somebody picking up a knife and threatening themselves or anyone else. In fact, that's relatively rare. And B.C. has gone further than others by saying you can be detained if you're at risk of mental or physical deterioration. But there is also no set way to define that.
I've spoken to people in my reporting who experience distorted reality in psychosis and suicidal ideation, and have said they would not be able to make sound medical decisions in those states. How do you think about a lack of insight in these discussions?
Even those people, I've found, never want the forced treatment to continue forever. They always want to get their own agency and control back. Those people could write up an advance directive for when they're in crisis and get what they want again. But they shouldn't be suggesting, and no one should extrapolate from such perspectives, that everyone should be happy about being forced all the time. The best studies we have show that the vast majority of people are forever after traumatized by being forcibly treated.
This whole idea of "insight" is a toxic contribution to the public dialogue. It is a term appropriated from studies about stroke survivors' perceptions of reality, but in a mental health context, it has no basis in science. It's an insulting, paternalistic way to deny people's basic humanity and rights. And in B.C., it's irrelevant anyway, because there's no requirement under the B.C. Mental Health Act to formally test anyone for their level of competency or insight.
Just to be clear, then. How concerned are you about a person's capacity to make decisions given the characteristics of some serious mental illnesses include disconnection from reality and delusion?
I've never met or heard of anyone who was so "crazy" they weren't worth listening to. Just because you have beliefs that other people don't agree with or don't think are valid, does not mean you have completely in every single way lost all touch with reality.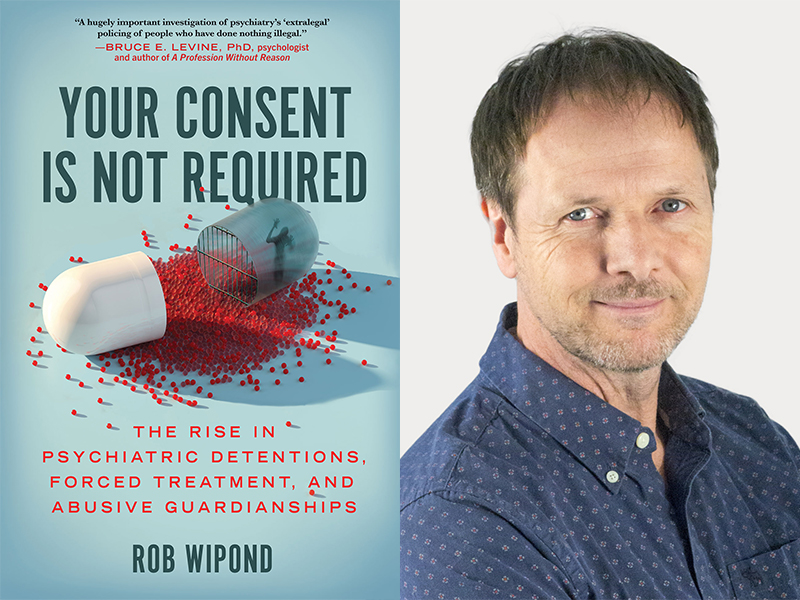 Having insight has been interpreted in courts and in standard formal assessments to mean a person agrees with the psychiatrist's diagnosis and to treatment. But if we actually ask people, why do you refuse these diagnoses and medications, the most predominant answer is they don't help me, I can't handle the adverse effects of the medication. And if they've been through this before, the diagnosis is inextricably linked to losing all their rights, and they're trying to avoid it. So these common answers people give to refuse treatment are not completely disconnected from reality, even if they do have thoughts and beliefs about reality others don't agree are true or logical.
Everybody has a basic humanity. And so we need to still ask them, what do you want? What do you think would help? And I've found that often they give pretty smart answers, they're things like, I would like housing, I would like voluntary support in my life to help me go shopping, because I'm scared of the shopping market, or other things that make a lot of sense that should come before they have to say, I want someone to give me a drug that I've already tried that I don't like.
Several people and organizations I've spoken to are very outspoken about maintaining the current broad powers to detain people who won't otherwise agree to treatment in B.C. Many of these people are family members who have described to me very difficult situations with their loved ones, seeing them in pain or suffering and needing help to keep them safe. How do you engage with their experiences and viewpoints in your reporting?
We have to separate what people believe from reality and open up the dialogue. People have been taught to believe that these are only medical problems that need only medical solutions. We need to be understanding of families that believe that antipsychotic drugs are always the best choice for their loved one, even if their loved one doesn't want them, because they're being told that. The whole system needs to be more honest that we don't have good solutions for a lot of these problems. It's not like a simple matter of "Oh, give them a drug and the person is miraculously happy." That almost never happens.
These are often complex issues that interface with a whole bunch of other issues in our society around poverty and lack of services and lack of opportunities. And you can always go to extremes to find a situation where involuntary treatment appears to be the only solution. But the reality is that the vast majority of situations are in a grey area where family and loved ones are disagreeing with the individual about what's best for this person.
And this issue has become very polarized. It's really a war. We hear a lot of people saying we need more forced treatment and that it's good for people. We don't often hear from the people who are being subjected to those laws and to that forced treatment. And when you do, you discover this is having an enormous impact on people's lives. It's a very brutal process. We're not talking about people just being gently coerced. We're talking about the use of security guards, four-point restraints, people being stripped against their will, people crying out and pleading that they can't tolerate the effects of a drug and being given a month-long dosage with a needle.
So understandably, those people come out of that experience, very outspoken against that and very traumatized by it.
Do I hear you saying that serious conditions like schizophrenia aren't medical and there aren't medical options that can help people with such conditions? If so, is that really accurate?
There is no definitive test to determine if someone has a particular mental disorder like there are for many other medical conditions. The most recent DSM edition [Diagnostic and Statistical Manual of Mental Disorders] and the American Psychiatric Association have acknowledged that there is no scientific consensus on whether mental illnesses like schizophrenia have a genetic component, or are related to chemical imbalances in the brain, or to something else.
Pharmaceutical options tend to be more helpful to people who take them voluntarily and have agency over the dosage and combination that works for them. If someone takes an anti-psychotic drug and it helps them and they want to keep taking it, that's great. If they don't find it helpful and the side-effects are too great, what are we doing trying to make them take it? We need to be honest that if that's the case, we're not correcting that person's medical problem by giving them sedative anti-psychotic drugs. We are just giving them a chemical restraint without other solutions to support them to live a good life as they see it.
The premier and leader of the opposition in B.C. have both floated increasing involuntary treatment powers under the Mental Health Act to respond to public safety concerns and people being killed by the toxic drug poisoning crisis. Are those proposals part of the solution and does evidence support them?
There's no body of credible medical scientific evidence out there that says involuntary psychiatric treatment helps people in the long-term. Most studies measure short-term "effectiveness" of hospitalization in terms of adherence to medications and reduction of delusion, for example. But we haven't measured how that person is actually doing, or the impacts on their relationships and trust with family and health-care providers, or their willingness to seek future voluntary care after being involuntarily detained, in a systematic, holistic way.
This lack of evidence has now been recognized by the World Health Organization and the European Union of Medical Specialists such that they're strongly advocating reduction, and ultimately, the end of coercion in mental health care. I think it's important that we contextualize it and actually talk about the issues of forced treatment, not only in relation to those vulnerable segments of the population.
Some people may see more homeless people or hear someone shouting on the street and think they should be gotten rid of, which is a very problematic and kind of reactionary response. And unfortunately, politicians from left to right across North America seem to get some traction out of supporting it. It's being sold to people with liberal sentiments as true compassion and care and to people who are more conservative as an effective policing initiative, when it's really neither and it doesn't help these people. B.C. has some of the highest rates of forced treatment and the broadest laws in North America, and they've got the same problems everyone else has. It's not solving anything and it hasn't been solving anything for decades.
Your book discusses how workplace and institutional wellness initiatives have led to some people who are not in crisis being involuntarily detained when they ask for help. Is this a case of good intentions going wrong or overreach in those settings?
My concern is the different forms of power and leverage that are used against people. There is massive cultural buy-in to the concept of mental health, but it means all things to all people right now. Suddenly, when we say "mental health," everybody who is grieving or who is feeling anxious about something has mental health issues. As I show in the book, there's power relationships in workplaces where this coercion can play out and coerce somebody into treatment for experiencing conflict or distress in the workplace. Workplaces need to get out of this dynamic. And we've got to take away these really powerful laws that allow it to occur and rewrite them altogether.
In the book, you don't argue for ending involuntary treatment as a whole. Instead you call for increasing data collection, evaluation and oversight over involuntary detention. What could improving accountability in involuntary mental health care look like?
I don't think abolition is going to be seen as realistic by a lot of people, and we're actually heading in the opposite direction because all the numbers across North America show more people are being forcibly treated. So then we back up to ask: What are some of the things we could do that should already be happening? And one of those is to be clear with the data and find out who is being forcibly treated, how often and what are the outcomes according to them, to their family and to their health-care providers.
Let's be open about that and make sure lots of different points of view are at the table. Because right now, a fundamental part of this system is that it operates in the darkness.
Then the next level is accountability for the fact that a large proportion of detentions don't follow the laws as they're written now in B.C., according to the ombudsperson. Nothing's changing, and I expect the moment the ombudsperson is not watching anymore, we're going to fall back to very, very low levels of accountability.
And then we haven't even got to the issue of abuse, harm and trauma and lack of positive outcomes for people. The data we do have shows it's bad, and the complaints process is a mess. It's virtually impossible to hold a mental health practitioner to account because it is impossible to say with certainty someone has one mental health issue over another or would have been slightly less worse-off if they hadn't received a specific treatment.
Throughout the book, you mention your involvement with efforts to reform and improve involuntary treatment, as well as friendships with anti-involuntary detention activists. How does that experience inform your book and how do you navigate those relationships in your reporting?
I've never really believed in this term "objectivity," but I do believe fairness is absolutely vital. I try to legitimately understand other points of view, and integrate those and reflect on those. As journalists, we write about things that we think are important, and that we care about. In this case, I've seen the level of damage that's being done, and that's the side that's not being reported nearly as much. On the other hand, the mental health industry is really dominating the discussion right now, and we are so over-biased in the other direction right now as a culture.
I don't consider myself in the end as a full-on activist on this issue, but I don't think there's any mystery to anyone who reads my writing where I've landed in my conclusions and the lens that I'm bringing. In fact, I try to be upfront about that so that people can evaluate what they're reading from that perspective. I would love to see more people who've been through forced treatment writing and speaking out and being able to report on these issues because their voices are desperately underrepresented in our society. This is becoming a trend and I think that's important for everybody to understand and care about.