Author's note: In October, the IPCC Special Report on Global Warming of 1.5°C made it clear that the world must make a rapid transition away from fossil fuels to keep global warming below 1.5°C. In their new book, Total Transition: The Human Side of the Renewable Energy Revolution, authors Sandeep Pai and Savannah Carr-Wilson use a ground-up perspective to explore the social, political, and technological challenges and opportunities associated with a global shift away from fossil fuels towards renewables.
Told through people's stories and based on extensive research, Total Transition provides a whirlwind look at the global growth of renewable energy — highlighting developments in solar and wind energy in Canada, India, Africa and Europe, and discussing hurdles standing in the way of a total transition. This excerpt is the first part of Chapter Eight: The Renewable Revolution. Total Transition is published by Rocky Mountain Books.
---
"After the Paris conference, everyone knows why we have to do something about the climate, and some know what to do, but very few people know exactly how to do it. So that's what's holding everyone up. You just need to get out and do it," said Andrew Moore, solar project director at T'Sou-ke First Nation.
We'd driven out to T'Sou-ke First Nation to meet Andrew, a tall man with a relaxed demeanour, white curly hair and an English accent. He pointed to a huge solar array in front of us, soaking up the strong August sun. "What we're trying to do is show that there is another way to do it — and it's the Aboriginal way," he told us.
"If you go back to the values of First Nations and take them forward — if you go back to this basic respectful appreciation of each other and everyone else who lives on the Earth, once you do that, then you've got a real chance of finding a sustainable path forward. So that's really what we are trying to do — First Nations leading the way to being sustainable once more."
T'Sou-ke First Nation, located on the southern tip of Vancouver Island in British Columbia, Canada, has a registered population of about 250 people living on two reserves (67 hectares total) that were allotted by the government in 1877. The elected chief, Gordon Planes, has helped lead the way for the nation's innovative solar projects and other sustainable initiatives, such as a successful wasabi greenhouse project, where wasabi is grown for commercial sale.
Although T'Sou-ke only began its journey towards renewable energy in 2008, it has already produced so much power from solar energy that it's selling it back to the electricity grid during the summer. Andrew — who is not from T'Sou-ke First Nation but has worked for them for years — helped lead a community-visioning exercise in 2008 that engaged everyone in the community, even children, to come together and chart out the nation's path for the future.
The planning was based on the seventh-generation principle — planning 100 years into the future. The visioning identified four priorities: food security, cultural renaissance, economic self-sufficiency and energy security. Once the mandate from the community was clear, Andrew told us that everything happened sort of serendipitously, with determination and a little bit of luck. The British Columbia Ministry of Energy and Mines created an Innovative Clean Energy Fund, and T'Sou-ke turned in a winning proposal in the first funding round. This funding only partially met its needs for its first solar project. However, the financial support of the ministry helped the project truly get going, and T'Sou-ke found the rest of the funding along the way.
For the solar project, T'Sou-ke installed a total of 440 photovoltaic solar panels that provide 75 kilowatts of power. The nation installed a 6-kilowatt system on the roof of the fisheries office, a 7-kilowatt system on the roof of the band hall, and the largest, a 62-kilowatt system, on top of and beside the canoe shed. When the project was rolled out, it was the largest community solar project in British Columbia.
Since then, T'Sou-ke has also put a solar hot-water heating program in place for residences, put systems on the roofs of 40 houses, installed a solar-powered electric charging point for vehicles in front of the administration office and carried out a comprehensive energy conservation program.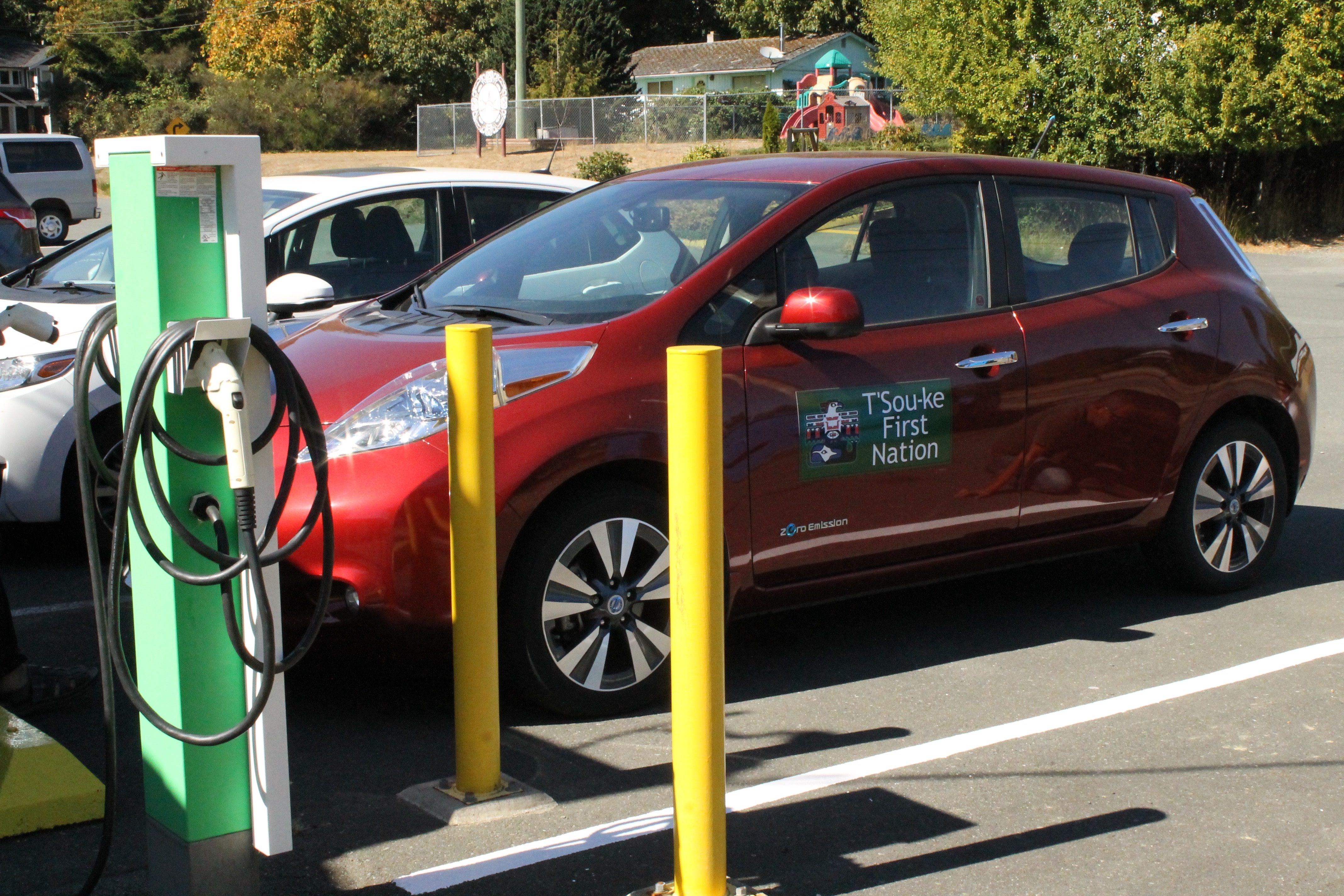 What is so remarkable about T'Sou-ke's solar project is that the nation has accomplished much more with it than just achieving "net zero" for the administration buildings and a few houses (meaning they produce as much power as they consume) and reducing hot water electricity bills for residences. It has also managed to generate lasting employment for community members. When T'Sou-ke searched for a contractor to carry out the solar project, it wanted someone who would be willing to train and employ community members for the project. As a result, 12 community members were trained as solar installers by a Victoria-based contractor, Home Energy Solutions.
As we stood in front of the solar array, chatting, Andrew laughed. "The contractor from Home Energy Solutions told us it's most unusual that we employ our own client! But it worked quite well." Our ears perked up at the word employment. "Each month, when we were doing the installation, Home Energy Solutions would send us a bill for work done in that month, and then we'd send them a bill for employing our guys and girls," he told us. As the community progressed to the solar hot water heating project and the energy conservation project, the same community members remained involved, and others joined in the work too.
The experience working on the community solar project has given some members the opportunity to find employment outside the community. Following the solar panel installation, the community members trained at T'Sou-ke First Nation received a special Canadian Solar Industries Association (CanSIA) training and worked on a large 1,000-house project in neighbouring Colwood.
What's more, T'Sou-ke is making money from its solar panels. Because the community first built the solar panel system and later carried out the energy conservation measures, the panels actually generate more electricity than the administration buildings need. Andrew told us that, given the chance, they'd do it the other way around next time — taking the energy efficiency measures first.
T'Sou-ke is connected to the electricity grid, which allows it to sell electricity to BC Hydro (a government-owned company that supplies the province with electricity) and buy it back when they need it. "On a day like today, we're probably selling from eight in the morning to eight at night. Although in the middle of winter, we buy some of it back," Andrew said. He pointed up to the sun. "There's a phrase Chief Gordon uses: when we have a solar spill in our community, we call it a very nice day!"
T'Sou-ke isn't finished yet. It has many irons in the fire and is keen to get its energy efficiency and renewable energy model out in the world and scaled up. It is working with the University of Victoria on the business case for this type of community solar power model. UVic, Savannah's alma mater, is about an hour's drive from the reserve. T'Sou-ke is also actively pursuing other forms of renewable energy. It has partnered with Accumulated Ocean Energy Inc. to explore the possibilities of ocean wave energy production and is also exploring the possibility of a kite energy demonstration project.
As we left the solar array, and Andrew locked the chain link fence behind us, he said, "We keep being told that the answer to our problems is an amazing new technology, and we keep looking somewhere else for the answer, when it's in our hands the whole time. Talk about getting your power back!" He shook his head. "This is power to the people — literally and metaphorically."
---
A book launch for Total Transition will be held Nov. 15 from 5:30 to 7 p.m. at the Liu Institute for Global Issues, Multipurpose Room, University of British Columbia. It is available for sale now at local bookstores across Canada and on Amazon. Learn more here.