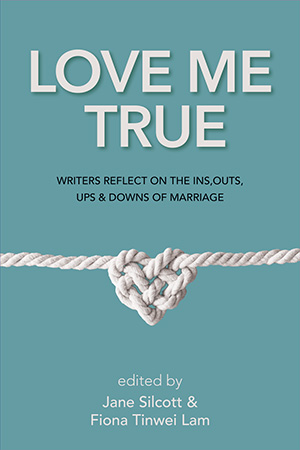 Love Me True: Writers Reflect On the Ins, Outs, Ups & Downs of Marriage
Edited by Fiona Tinwei Lam and Jane Silcott
Caitlin Press (2018)
[Editor's note: What better Valentine's Day gift from us than a short story from Love Me True, a new anthology of essays, stories and poems on marriage and the things that bring us together, and drive us apart?

The collection looks at every aspect of love and marriage, "whether the long-term partnering is monogamous, polyamorous, same-sex or otherwise."

We're pleased to share "Finding a Way Out" as our gift to you.]
A sudden continuous ringing from the doorbell kicks my heartbeat to double its speed. I look out through the crack of the door. Mum brings her palms together as if she is praying and welcomes the guests. All I can see are flashes of colourful outfits passing by as she says a series of "Sat sri akaal ji."
I close the door and try to steady the rhythm of my heart by breathing in deeply until my lungs are ready to burst before I let out the air. My fingers tremble as I turn the dial on the gas stove and a rush of orangey flames spread across the bottom of the wok. It isn't long before the intense heat rises up from the golden liquid, coating my face. I watch the oil swallow the samosas.
I was twelve when I decided I needed to talk to Mum about how I was feeling. I don't remember what I wanted to say but I was clogged with sadness. It was a Saturday afternoon. Mum walked into the living room with a wet dishcloth to wipe down the coffee table.
"Mum, can we talk? I feel sad," I said.
I thought she would take time out and we'd sit on the sofa, with her arms wrapped around me. Instead, her face creased up with frustration. "What do you have to be sad about?" she said, slamming the door behind, not bothering to wait for an answer.
I've done nothing since then but swallow, swallow, swallow.
I hear the rusty door hinges creak as Raveena peeks around. "Mum wants you to bring in the samosas and tea."
"I don't care what anyone wants," I snap.
"Don't annoy Mum and Dad," she says as she sucks on her lower lip, her eyes begging me to hold it together.
"Easy for you to say. All this" — I wave my hand over the fine china — "is a waste of my time."
"Keep your voice down." She closes the door behind her.
"When we go in the room will you stay?"
"I can't, Mum said."
"Why?
"So they don't get confused. They might think it's me who they've come to see."
"God help me."
"Please don't do anything silly."
I take a deep breath.
I watch her place the steaming samosas on the white serving plate with light pink roses circling the edge that matches perfectly with the teapot, teacups and saucers.
Alone again in the kitchen, I hold onto the sink edge, wondering if I could crawl out of the window without hurting myself or breaking the china.
I hold onto the heavy tray, my knuckles turning white from the grip as I stare at the closed wooden door before I kick it open. Silence falls in the reception room as if someone had pressed the mute button. I place the tray on the coffee table. I scan the faces quickly before I head straight to the furthest armchair. The silence continues. Six sets of eyes are on me. I feel like my clothes are being torn off me until I'm stripped and left bare. My cheeks heat up with the attention as they inspect the goods. I've read my mum's weekly Des Pardes Punjabi magazine on the odd occasion and under the matrimonial section the parents look for girls who are light-skinned (I'm no Casper); tall (I am five feet four inches); slim (I'm all curves); homebodies or professionals (I'm neither).
My future husband looks like Magnum PI from the 1980s TV show. He is tall and his well-kept mustache enhances his good looks. I wonder what's wrong with him that he needs help in finding a wife.
Mum offers him tea, the steaming liquid splashing into the tiny cup, and a large hand with a set of long masculine fingers accepts the saucer. Magnum's pinky flares out as he takes a sip. I choke back a laugh.
The room fills up with unfamiliar voices. I pick at the gold sequins lining the bottom of the kameez. I don't know what I will do if I end up having to marry him. I shudder at the thought of the wedding night. I squeeze my thighs together.
Mum told me they were coming last night, while my dad was eating. They left it to last minute so I wouldn't have time to make up excuses. My stomach turned and twisted. The words "I'm gay" won't pass my lips.
I do want to get married and have children one day, but nowhere in our tradition is there a path carved for a person like me. If I continue to pretend to be like my sisters I will end up getting married to a man and spend the rest of my life feeling more miserable than I already am. Shame has become my second skin, and when I think about living life openly as a gay woman, that skin tightens until I can't breathe.
My lips feel the heat of the tea, steam washing my face. Magnum's mother's stern face looks directly at me, her eyes drilling me as the hot tea stills in my mouth. I wouldn't just be marrying him, but the family as well. I would be the family's cook and maid — and his whore.
There are more quiet spells in the conversation. They want to get down to business — that's why they are here.
"We have to go soon — " Magnum's mother breaks the silence.
"Han jii, bacha can go in the other room and talk," my Mum suggests.
"We have to go in ten minutes."
Magnum stands and walks towards the door. The bushy caterpillar on his top lip wiggles as he said, "OK, I won't be long."
It is the first time I had heard his voice. It's croaky, as if he has a permanent sore throat.
Before anyone adds anything more, I'm up and crossing the threshold into the corridor, relieved the prying eyes are left behind. Now I only have one set to contend with.
I don't care if Magnum follows or not. I sit nearest to the patio doors so I can feel the heat hugging me, even though the sun is hiding behind some clouds. I watch his reflection on the black TV. The lanky figure walks in and takes a seat on the old brown armchair nearest to the fireplace. His head moves left to right, scanning the photos hanging from the picture railing circling the room.
The faint aroma of him tickles the fine hairs in my nose. He smells spicy. My nostrils puff and blow him out. I force him to speak first by keeping silent.
"Do you want to get married?" he asks, looking straight at me with his big brown eyes.
I tuck my hands under my thighs and look down at my knees. "Yes. Do you?"
"Yes, I'm ready to settle down."
I curl my hidden hands into a two tight fists.
"Will you find it difficult to leave England?"
I frown. "Why would I leave England?"
"We're from New Zealand."
"Oh, OK." Why can't he find a wife in his own country? Don't they have women?
An uncomfortable silence stretches longer than it should have as I realize that I may have just found my way out of this marriage; I will just tell my parents I don't want to leave England. Surely they can understand that.
Sun rays break through the patio glass into the room, exposing the dust motes dancing in midair.
"Do you want children?" His left foot stops tapping the air and instead swings gently to the left and then right like windshield wipers.
I nod my head as I look away.
"Is there anything you want to ask me?"
I stare at the photo above his head of my parents' wedding day: Mum sitting cross-legged on the floor, dressed in her pink salwar kameez, her mini beehive hairdo covered by a chine; Dad beside her in a dark two-piece suit and a badly wrapped turban. They look frightened.