[Editor's note: After two decades of working with Indigenous communities, Gleb Raygorodetsky travelled the world — from Finland to Ecuador to Myanmar — to explore how they have become islands of biological and cultural diversity in the rising sea of development and urbanization. The result was 'Archipelago of Hope: Wisdom and Resilience from the Edge of Climate Change,' published by Pegasus Books this month. In this excerpt, Raygorodetsky shares the stories of the Tla-o-qui-aht on Vancouver Island's west coast.]
The thin, undulating bands of waves lap at the beach behind my back. The grey and damp morning seeps into the sand under my feet, turning it into a sticky paste, like wet raw sugar. The setting is anything but sweet, though. Looming over me, a giant index finger of a totem pole — stacked with black, red, and white animal-shaped rings — stabs the low-hanging grey sky, calling it to witness.
The southern end of Clayoquot Sound was the site of a government-funded and church-run Indian residential school until it was shut down and reclaimed by the Tla-o-qui-aht band council. For decades the Canadian government made every effort to assimilate First Nations into mainstream Canadian society. This policy became known later as "kill the Indian in the child." As if the phrase weren't gruesome enough, the means were even more so — forcibly separating children as young as two years old from their families for up to 15 years, forbidding the use of their language, and punishing them if they dared engage in any traditional practices.
Until the last school closed its doors in 1996, the lives of more than 150,000 First Nations children were irreversibly changed through systematic psychological, cultural, physical, and often sexual abuses in this act of cultural genocide.
For decades, there was little here to remind anybody of this tragic chapter in the history of the Tla-o-qui-aht. In the spring of 2013, to celebrate the survivors of the residential school system, the Tla-o-qui-aht people raised a striking totem pole in front of the Tin Wis Resort. They called it Tiičswina: "We survived!"
Hewn out of a single western red cedar log, the six-metre pole is a black-red-and-white pyramid of crests, or living beings, from the tiniest mouse to the imposing bear, representing all of the Tla-o-qui-aht groups affected by the tragedy of forced assimilation. Standing next to me is Joe Martin, the lead Tla-o-qui-aht carver. He explains that a totem pole is much more than a piece of art but rather an embodiment of their traditional laws — their constitution. "It represents our rights and responsibilities based on the natural law of Mother Earth," says Joe. "It is a reflection of hishuk ish ts'awalk — our understanding of the world where everything is connected."
According to Ecotrust Canada, summers on the Island are predicted to be drier, while winters will see more rain and less snow. Less summer rain will make freshwater a precious commodity here during the warm months, even though it is one of the wettest places in North America. And the winter storms will continue to get stronger, pummelling the Clayoquot coast more often, as the sea level continues to inch up the shoreline, eating it away. I want to understand what these new transformations mean to the Tla-o-qui-aht people in the context of past changes they have experienced — abrupt social shakeups; environmental changes, such as deforestation and overfishing; and unfolding climactic shifts, like warming air and water; and sea level rise.
Coastal temperate rainforests, like those of Clayoquot Sound, are as breathtaking as they are unique. Covering less than one per cent of the planet's land surface along the coasts of western North America, New Zealand, Tasmania, Chile, and Argentina, these forests are rare and getting more so as the timber industry continues to log the old growth woods, even though at reduced rates. A 90-kilometre stretch of Vancouver Island's west coast is one of the few remaining places on Earth where such rain forests endure.
The very presence of the old-growth rain forests here along the coast signifies that fundamental shifts in the Earth's environment have already taken place, for the trees could only take root when the glaciers and the sea had retreated as the climate warmed.
With the glaciers' retreat, the coastal waters, the land, and its forests became home to a rich diversity of life-forms. The warm North Pacific Current brings moist air from the western Pacific to the western shores of Vancouver Island, where the rising slopes of the steep coastal mountains check the eastward progress of the ocean and air flows. Having used up every iota of energy carrying its burden of moisture this far, the clouds spill the rain and snow over the large tracts of coastal rain forest. In the estuaries dotted with rocky skerries, or small islands, the sediment carried by the water from the forested mountain slopes settles into mudflats. The sea and forests, streams and mountains, fjords and mudflats — all form the rich matrix that creates abundant and diverse habitats that shelter and nourish a wide variety of local and migratory species.
But it is the Pacific salmon that is the life thread of the Clayoquot ecosystem. Every summer, after traveling for nearly 14,000 kilometres away from their nursery streams, fattening for years in the open ocean on herring, pelagic amphipods, and krill, the salmon return to fresh water to spawn and die. They brave the rapids and waterfalls on the way to their spawning grounds — the gravel bottoms of creeks and springs — where they lay their eggs. Along the way, their bodies — battered and scarred by obstacles and predators — change. They transform into ancient warriors wearing the war paint of their distinct clans — red sockeyes, purple chums, and rosy pinks. Though their fearsome headgear of hooked jaws and protruding teeth may be effective at keeping their own kin at bay as they battle for spawning partners, it fails to repel other foes, such as eagles, bears, and men.
More than 190 different species of plants and animals — from killer whales to giant cedars, from insects to lichens, from loons to bears — depend on the yearly arrival of this remarkable constellation of Pacific salmonids. Traces of marine nitrogen of salmon can be found in plants growing as far as 700 metres away from the stream. Plants 150 metres from the water are still "made of salmon."
Over millennia, this vibrant web of relationships has also supported human societies as rich and diverse as the ecosystems on which they depended. For thousands of years, flora and fauna of ocean and land — whales and salmon, halibut and berries, herring and ducks, clams and springbank clover — shaped their lives.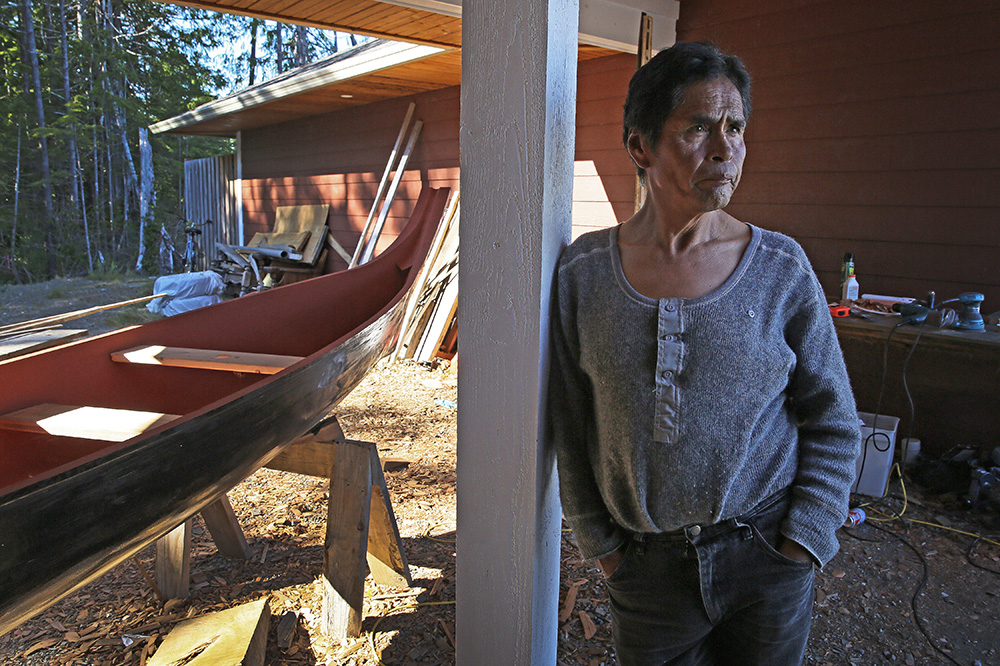 A childhood visit to the Clayoquot Sound, where his great-grandfather lived, gave Eli Ennis an overwhelming sense of belonging and connectedness to the landscape, something that has guided his life and work ever since. His heart and mind were firmly set on changing the status quo and creating an independent Tla-o-qui-aht nation on Vancouver Island. His relatives and elders recognized his passion for change but felt that he needed guidance. They introduced him to ha-ho-pa, Tla-o-qui-aht traditional education.
"Several things came out of that experience for me," Eli continues. "The first message was — 'live under the heavens and up on the earth.' And what that meant to me was to be aware of the sun and the natural moon cycles that govern our lives every day and every year, and act appropriately. Simple."
In 1984, after winning a court injunction barring logging, the Tla-o-qui-aht people established Meares Island Tribal Park to reaffirm their right to manage their lands and waters according to their traditional values, rather than following the rules of the dominant Canadian society, which led to large-scale logging of their land in the first place.
The Tla-o-qui-aht elders, however, were always unsatisfied with focusing solely on Meares Island without bearing in mind their entire traditional territory. They knew full well the meaning of their ancestral teachings of hishuk ish tsa'walk — everything is one, everything is connected," says Eli.
"You can't disconnect the island from mudflats, and inlets, and rivers, and salmon," says Eli. "So we always knew that we need return to managing the whole of our traditional territory. But we had to do it incrementally. We first focused on the next watershed that was threatened the most. That was the Ha'uukmin, the Kennedy Lake watershed, which became our first attempt to figure out tribal parks management based on our traditional principles."
The project team developed the Ha'uukmin Tribal Park Management and Land Use Plan, that, among other things, informs proponents of development projects about what kinds of activities are allowed in the park before the developers would even think about coming to the Tla-o-qui-aht traditional territory. Following traditional practices, the project team set aside the areas least disrupted by logging and other development activities as traditional qwa siin hap, or "leave as is," areas similar to what scientists would call a conservation, or protected, area. But other parts of the tribal park that had been logged or affected in some other way, like the Kennedy Flats, are called uuya thluk nish, or "we take care of." This is where certain types of economic development and ecosystem healing take place, like salmon habitat restoration.
"Then the gold mine proposal came," continues Eli. "So we established the Tranquil Creek Tribal Park and the Esowista Tribal Park to protect the rest of our territory from mining. Now we have pretty much the entire traditional territory covered. But our salmon go out into the open ocean, and our responsibilities follow salmon, because what happens in international waters is going to affect what happens here. We need to get Indigenous voices into discussions about international waters and the management of the Pacific Ocean."
Eli describes the Clayoquot as a true epicenter of social and economic innovation for aboriginal rights and title, which has chosen a path toward developing a conservation economy, which is meant not to destroy, but support the natural and social systems. The Tla-o-qui-aht people are hoping to strengthen local traditional subsistence, trade, and exchange models with newer elements of conservation economy.
"We have access to the whole territory," says Eli, "but the issue is, the territory needs to heal. It can't bear the burden, because it's been degraded and damaged. So we need a crutch to get us through and let the territory come back to life."
Initially, he tried to come up with ways of restoring their traditional territory to the ways it was during the time of his ancestors but realized that this would not work. Climate change makes it challenging because the environmental conditions that had enabled the temperate rain forests to mature for millennia are no longer there. There is just not enough salmon to bring the necessary nutrients into the system to sustain the growth of ancient trees. Moreover, the increasing air and water temperatures undermine the future of those wild salmon species, like sockeye, that depend on cold water to successfully reproduce and grow. This realization brought Eli back to another message that was revealed to him during his water healing ceremonies years ago, "Find strength in change." This kind of thinking now informs all of his work in the parks.
"What are our basic needs? Water, food, shelter, and energy. The most fundamental thing is water. We need clean drinking water sources for ourselves and for the future generations, and it is one of the key resources that we have in our traditional territory in abundance. So we intend to keep it that way. At the economic level, we are planning on developing a water-bottling business that could generate revenue. We'd use glass water bottles that can double as a souvenir. The time is right to work with the town of Tofino to ban the import of plastic water bottles so that tourists would buy our local water when they come to our territory.
"We have also initiated discussions with Creative Salmon, a local fish-farming outfit that, unlike the Norwegian-owned Atlantic salmon farms, raises Pacific salmon. There may be a good opportunity to develop an aquaponics system — a closed-containment fish farm — at Ty-Histanis. It would be an aquaculture-agriculture system, where you have some on-land closed containment fish-farming operations instead of open-water fish farming. The effluent from this would feed into the greenhouse and community garden system, and the energy for it would come from our geothermal station.
"Finally, we are working hard on ensuring our energy security. We've got our Canoe Creek run-of-the-river power project, which is environmentally friendly because it didn't require us to dam the river. It is 75 per cent owned by us, and 25 per cent by two people we've known for 20-plus years. We have a 25-year power purchase agreement with BC Hydro and have easy access to their transmission lines. The Canoe Creek is a 5.5-megawatt project that can provide electricity to several hundred homes. We have a couple more such hydropower projects around our territory in different stages of development.
"All in all, I personally feel that the western economic system is fundamentally flawed and is bound to ultimately fail because it's not following the natural law. What we are doing in our climate change adaptation work now on our Ha'huulthii is, basically, preparing for the big crash, when the global markets unravel under increasing impacts of climate change. And you know what? If the crash never happens, that's fine by us. Because these are still things that need to be done — people need local jobs; they need local food security; they need access to healthier foods. So we may be just creating a better way of doing things in the long run."
"One of the most important teachings that every Nuu-chah-nulth person would receive was about fear. Because, as my uncle Joe reminds me over and over again, if you're afraid and you want to learn something, you might learn this much." Eli spreads his arms wide, embracing the entire Ha'huulthii in front of him. "But if you're not afraid, you can learn anything! This is part of the teachings about our roles and responsibilities in the community to each other and other living beings. For all of us are the upholders of the natural law, accountable to future ancestors."
For more information on the Archipelago of Hope project, you can view a video here.The book can be ordered here.