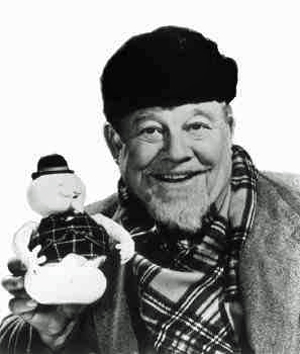 [Editor's note: Steve Burgess is an accredited spin doctor with a Ph.D in Centrifugal Rhetoric from the University of SASE, situated on the lovely campus of PO Box 7650, Cayman Islands. In this space he dispenses PR advice to politicians, the rich and famous, the troubled and well-heeled, the wealthy and gullible.]
Dear Dr. Steve,
I woke up this morning and Burl Ives was on the radio. I'm frightened. Are these the End Times?
Signed,
Doomed?
Dear Doomed,
Do not be alarmed. As strange and terrifying as this phenomenon may seem, the Book of Revelations says nothing about Burl Ives, or even Andy Williams. It is merely seasonal -- the annual musical climatic inversion that allows low pressure systems of "Have a Holly Jolly Christmas" to sweep in. Usually exceedingly rare, incidences of Jose Feliciano become common. Some call it the most wonderful time of the year, but being bombarded by "It's The Most Wonderful Time of the Year" doesn't help. It is holiday music season.
Christmas is about tradition, which can be nice. But not always. Imagine if there was a brief period each year when medical science was all about tradition. March could be Leech Month. Sulphur and molasses would be prescribed for all manner of ailments, or better yet, mercury. That is essentially what happens to the flow of public music in December. Our auditory canals are treated with liberal doses of musical mercury. Combined with the sudden influx of egg nog and Turtles, it is a wonder anyone survives this happy time of year.
Once upon a time medical science seemed fairly random. People came up with remedies that seemed reasonable -- lobotomies, say -- and added them to the repertoire. That seems similar to the construction of the Christmas music canon. How is it that some holiday songs become perennials? The process seems random. How did "Jingle Bell Rock" become standard? Isn't there a good reason why the songs of Bobby Helms have been expunged from the public airwaves and if so, why does that reason cease to apply after American Thanksgiving? With so many holiday recordings to choose from, why do we consistently choose "Rockin' Around the Christmas Tree"? Why does Paul McCartney's "Wonderful Christmastime" persist? Why is there pain and death?
At Christmas we are treated to musical styles extinct for 10.5 months of the year. It's a little like what happens with candy every Halloween -- the increased demand for bulk amounts of the cheap stuff opens the door to a lot of sketchy sweets that would not be considered in less desperate months. "Grandma Got Run Over By a Reindeer" is the musical equivalent of Rockets candy.
Stick to carols
If tradition must rule, I prefer the more traditional brand of tradition -- carols as opposed to Mariah Carey. But even here there are issues. "O Come All Ye Faithful" was one of my youthful favourites, probably because I hadn't paid enough attention to what is at times a tedious theological argument clumsily set to music. The line "Very God, begotten not created" harks back to the Nicene Creed and its attempt to instruct heretics in the proper dogma. As for that nimble lyric, "Lo, he abhors not the Virgin's womb," well, that's just evidence of a songwriting style that we can only hope has been eradicated like smallpox.
But there are some archaic religious cantos I cherish. My favourite is probably "The Cherry Tree Carol." The old song describes the journey of Mary and Joseph as they pass through a cherry orchard on their way to Bethlehem. Mary asks Joseph to gather cherries for her; Joseph cruelly suggests that the father of her child should gather the cherries instead. Then the Baby Jesus -- actually at this point still the foetal Jesus -- speaks up from Mary's womb. He asks the cherry tree to bow down so his mother can gather cherries. The tree bows down and Mary happily gathers cherries. A chastened Joseph suddenly understands that he has messed up big time. "Lord have mercy on me," he moans.
Believed to date back all the way to the 15th century, the carol is apparently derived from a tale told in one of the fascinating ancient manuscripts called infancy gospels. The infancy gospels told tales of the young Jesus, helpfully filling in the period of Jesus' life for which the traditional gospels are silent. The stories they told of Kid Jesus were terrifying -- it seems he could be a super-brat sometimes.
I always loved the "Cherry Tree Carol" because it was so honest, so human. Naturally Joseph would wonder why his virgin bride was pregnant, and here was one song that said so instead of describing angel choirs and respectful cattle. My Christmas canon also includes "In the Bleak Midwinter," which counteracts Elton John's "Step Into Christmas" like anti-venom.
It's not all pre-20th century stuff. My Christmas always includes the Vince Guaraldi Trio's A Charlie Brown Christmas. That Guaraldi could do a variation on "The Little Drummer Boy" that is not obnoxious is my idea of a Christmas miracle.
As for Burl Ives, well, the man looks like Santa and he's jolly. He's just an unavoidable element of the festive season. No sense complaining. Eat your fruitcake.