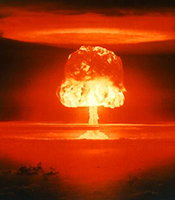 The Twilight of the Bombs
Richard Rhodes
Knopf (2010)
Richard Rhodes writes the world's most frightening techno-thrillers. They're true.
In a series of four books, Rhodes has chronicled the creation, use and threat of nuclear weapons over the past 70 years. He has looked at everything from their technology to the politics they've inspired. In this final book in the series, he shows us what's happened since the end of the cold war 20 years ago. And he offers a serious argument for getting rid of them altogether.
This is an important book precisely because we have done our neurotic best to forget about nuclear weapons since the collapse of the Soviet Union. For almost half a century, they scared the daylights out of everyone. I well recall the duck-and-cover drills in Los Angeles schools back in the 1950s, and the wail of the air-raid sirens when they were tested on the last Friday of every month.
Nukes, and the fear of them, drove the U.S. to bizarre lengths: deporting Polynesians so it could blow up and poison their atolls; sending fallout across the Midwest's millions from atmospheric tests in Nevada. The U.S. government actually measured radiation in "sunshine units" to make it sound better.
Ready to be dead next week?
Op-ed pages in the 1950s and '60s featured articles on whether you should admit your next-door neighbours to your fallout shelter. Movies like Five, The World, the Flesh and the Devil, and On the Beach showed us the awful aftermath of a nuclear war. Paperback SF prospered thanks to post-apocalypse novels like The Chrysalids. Our one big scare, the Cuban missile crisis of 1962, forced hundreds of millions to contemplate being dead next week.
Gorbachev and Reagan did good work in reducing their nuclear arsenals, but with the fall of the USSR we preferred to forget the thousands of remaining bombs. Yet as Rhodes shows, the nuclear threat was at least as great in the post-Soviet confusion, and by then the threat had spread to many other nations as well.
First of all, newly independent nations like Belarus, Ukraine and Kazakhstan were suddenly nuclear powers; returning their bombs and missiles to Russian care was an urgent diplomatic concern. Just following the paper trail documenting Soviet bombs was a nightmare. Another nightmare was the retrieval of leftover highly enriched uranium (which could be used to build new bombs).
By then, Rhodes tells us, the U.S. had a mixed record on stopping nuclear proliferation. In the mid-1970s, only the threat of a complete American withdrawal forced the South Koreans to stop building their own bomb.
Bargain-basement A-bombs
South Africa's apartheid government, at about the same time, made a deal with Israel to build atomic bombs. With just 150 personnel, and spending only $25 million, South Africa built six Hiroshima-style bombs. They conducted three tests over the southern Indian Ocean, only one of which was picked up by a U.S. spy satellite.
The South African program was finally cancelled -- in large part, says Rhodes, because the apartheid regime didn't want a future black government to inherit such weapons. The Israelis had no such concerns, and are now a major nuclear power.
Meanwhile other countries like Pakistan and India were building their own nukes, sometimes with Chinese or North Korean help. North Korea came within days of war with South Korea and the U.S. in 1994, largely over the issue of nuclear inspection. Only the mediation of Jimmy Carter, acting as a "private citizen," averted a true catastrophe.
Iraq explored the possibility of building nuclear weapons, but U.N. inspections after the Gulf War effectively shut down Saddam's program. (The Iraqis' technology was so ancient that the inspectors didn't recognize it until they found a mention of it in Rhodes's first book on the building of the first atomic bombs.)
After 9/11, George W. Bush revived the idea of an Iraqi bomb as a pretext for a new war. Rhodes makes clear that this was an exercise in deceit, but it deceived no one who'd inspected Iraq in the 1990s. Ironically, Saddam Hussein set himself up by destroying his former weapons of mass destruction without leaving any records, so Bush could claim that something might still be there.
And now, of course, Obama invokes the threat of a nuclear Iran.
Nuclear weapons as dead tech
By now, two decades after the fall of the USSR, technological advances have made nuclear weapons effectively obsolete. As Rhodes says, "The onrushing trend in military armaments is toward what one analyst calls 'weapons of precise destruction'... when a missile warhead can be delivered via GPS within a three-foot circle across 5,000 miles, a small charge of high explosives will do."
Rhodes draws a comparison between medieval times when private violence settled disputes, and the development of public violence in the form of the armed state. Now public violence is coming under control; even the Mounties must answer for their misbehaviour if a witness has a cell phone.
"In time," says Rhodes, "possession of a nuclear weapon will be judged a crime against humanity. Such a judgment would only codify what is already an evident fact."
In another parallel, Rhodes points out how public health (an idea only a century old) has saved hundreds of millions of lives thanks to cooperation between countries that otherwise detest one another: "Public health is medicine's greatest success story," he says, "and a powerful model for a parallel discipline, which I propose to call public safety."
To achieve and sustain public safety, nations would work together to keep track of nuclear materials, reduce potential threats, make life hard for troublemakers and if necessary disarm them by force.
The courage to be brave
Rhodes ends his book with a valuable insight: The policy of killing people on a genocidal scale is an expression of helplessness, of fear.
Fear has driven our lives since Aug. 6, 1945. To sustain themselves, our own governments have instilled fear in us as well as in their rivals. The very word "deterrent" comes from the word "terror."
They terrorize us to protect us from other terrorists. In the name of our security, they have made us mortally insecure, and therefore ready to commit any atrocity for the sake of our own terrified survival.
If we can find the courage to be courageous, Richard Rhodes tells us, we do not need the fool's protection of nuclear arms.