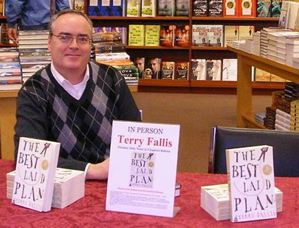 Political satirist Terry Fallis is either the publishing world's worst nightmare or its saviour.
He's at the Vancouver International Writers and Readers Festival October 22 to discuss his send-ups of Canadian politics, The Best Laid Plans and The High Road, which have made Fallis something of a legend in the publishing world. He did what is supposedly impossible to do -- he self-published his first novel and took it directly to the audience, via podcast, and then to the Stephen Leacock Medal jury, which awarded him the prize in 2008.
Within a week of being nominated, the communications consultant had the agent he had tried to find for more than a year. After winning, McClelland and Stewart offered him a contract to reprint the book and its sequel.
While he saved M&S a lot of work finding a bestselling author, he also exposed a new reality: authors need publishing firms far less than they once did.
'I fell back on what I know'
Although the one-time political staffer insists that his self-publishing gambit wasn't part of a grand scheme to do an end-run around those staid old publishers. He used the social media tactics that usually benefit his corporate clients because he didn't know what else to do. After going the traditional route of sending out book proposals and sample chapters -- and receiving not even a rejection letter in return -- it was a last resort.
"I did it out of a combination of frustration and naivete," says Fallis, in a phone interview from his Toronto office. "I fell back on what I know: My theory was that if people heard the podcast, and liked the book, they would buy it."
He spent $3,500 on a publishing package with iUniverse, which included one hard copy of his book, along with 10 trade paperbacks. That turned out to be the perfect number: his Leacock application required 10 copies.
"If it had been 12, I don't know if I'd be talking to you now," he says, wryly. "I don't know if I would have had the gumption to buy another book."
He sold about 1,500 books (printed on demand), which is roughly what the average literary novel sells -- a bestseller in Canada is 5,000 copies. The Best Laid Plans has since sold close to 10,000.
Political comedy
With his modest manner, Fallis sounds much like Daniel Addison, the hero of his gentle comedy. In the novel, the political operative-turned-professor ends up looking like a genius as he maneuvres a reluctant engineering prof into winning an unwinnable riding. Through a series of comic accidents and coincidences, combined with an unflagging spirit of civic responsibility, Daniel and the unlikely Liberal MP Angus McLintock bring down a corrupt Tory government.
Hearing the book, it's not hard to guess that Fallis is a lifelong Liberal. He studied engineering at McMaster University but got sidetracked into student politics and then professional ones on the Hill and at Queen's Park.
Despite his experience in one of the world's nastiest businesses, the sweetness of Fallis's story recalls Stuart McLean's quirky characters in the Vinyl Cafe. The novel feels quintessentially Canadian, partly because everyone in it is just so darn nice. The subtext is a plea for less cynical government and Fallis takes aim at those scourges of contemporary politics including uncivil question periods and vicious negative campaigning tactics.
"I was proselytizing through Daniel and Angus," he admits. "I've become jaded and frustrated with how short-sighted politics has become."
Summoning his PR expertise
Fallis would have us believe that, like Daniel, his own triumph was merely the result of lucky accidents -- which may be partially true. But there is also no underestimating the degree of skill involved in his publishing coup. He employed more than 25 years of public relations savvy -- he's a partner in the firm Thornley Fallis -- and took a page from American science fiction author Scott Siglar, who delivered the first podcast-only novel EarthCore, in 2005. (He went on to be a New York Times bestseller.)
Still, Fallis says he was surprised by the reach of narrowcasting. He got an email from a fan in Scotland advising him on the correct pronunciation of Angus's favourite single malt, Laphroaig. Within 90 minutes of posting one chapter, he got an email from another fan in Shanghai who wanted to thank him for the welcome distraction during the morning traffic snarl.
He continues to benefit from the long tail advantages of the digital world. The release of The High Road has given The Best Laid plans a bump in the iTune rankings, three years after its launch.
How did he know his book was any good before he went down that road?
"I didn't," he admits. He was reluctant to believe friends who said they liked it, but he was encouraged by the reaction to the podcast. It even helped him act as his own editor.
"When I started recording, and I was reading out loud, I found sentences that didn't hang together well, so I would stop, and fix it."
Quality DIY production
In an era when bestseller lists are dominated by the likes of Twilight and celebrity memoirs, and mid-list authors are being squeezed out of the industry, the success of Fallis's charming little tale is all the more astounding. So he managed to persuade M&S to buck received wisdom that no one will pay for something that can be had for free, and again used podcasting to help find the audience that loves that peculiarly Canadian brand of sweet-natured humour. (The High Road can be found on iTunes.)
While Fallis makes it sound like anyone could do what he did, he's downplaying both his genuine talent -- speechwriters are among the most skilled wordsmiths in the writing trade -- and his well-honed media skills. He reads the books himself, and it's a rare author who has the voice to do that. His DIY producing is remarkably professional, albeit done in his home office with less than $500 in equipment -- an Apex condenser mic, a Zoom H4 recorder, and free Audacity editing software.
More crucial to his success is that he understands something that most marketing folk find difficult to grasp -- that social media are conduits for conversation rather than tools for the hard-sell. His podcasts have that essential quality of intimacy as he tells the audience about the book's progress or reads an email from a fan. After a couple of chapters he feels like a pal, and you can't help but root for the guy.
It's an astonishingly sophisticated performance, especially from a green author, and while he would never say so, it's clear he could teach the archaic publishing world some tricks about how to peddle books.
Fallis notes that he is still his own biggest promoter, setting up three book readings for every one the company publicist initiates. He often spends hours on the road travelling to readings in small town libraries because that will move a few dozen books. He also visits book groups via phone and Skype if he can't make it in person. He runs his own Facebook page and Twitter feeds, which is the trend among up-and-coming writers and famous authors alike -- Margaret Atwood is a prolific tweeter, with an audience of more than 80,000.
Don't try this at home?
Despite his success, Fallis doesn't advocate the self-publishing route. He learned the hard way that there's a stigma attached to what is commonly called vanity publishing. Then there's the difficulty of standing out from the pack. The New York Times reported that the print-on-demand publisher he used published 500 titles a month in 2008.
He says that especially for a novice novelist like himself, nothing beats having a publisher with the prestige of M&S. He advises the many would-be authors who want to know how they can replicate his journey to avoid rushing into print with weak manuscripts, since no amount of social media action will compensate for a poorly written book.
So even with all his public relations expertise, he believes that an independent author still can't do an end-run around established publishing houses.
"Distribution is still a problem for authors: bookstores won't take self-published books since they can't return them. And it's nice to be invited to writers festivals -- that doesn't happen if you are self-published," Fallis says.
But the single most important difference is that Fallis now has legendary editor Douglas Gibson working on his books, which puts him on a roster than includes Alice Munro, Robertson Davies, and W.O. Mitchell.
"This book is so much better for his support and his eye," Fallis says.
Still Fallis's experience makes it clear that publishers are no longer the gatekeepers they once were, even as it underlines how much writers have to do for themselves even after they get into print.
It's revealing that after two days of trying to set-up a 10-minute phone interview for this story with anyone at M&S, the best their marketing department could manage was "someone will get back to you as soon as possible." They didn't even bother to ask what my deadline was.
Fallis, by contrast, responds to emails in minutes.
Any bets on who is going to survive the online revolution?
© Shannon Rupp. For permission to reprint this article please contact the author: shannon(at)shannonrupp.com.