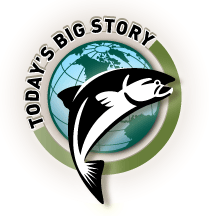 If you know all about The 100-Mile Diet (including the new book) and would like to ask its inventors, James MacKinnon and Alisa Smith, a question about their living experiment, skip right to the end of this piece. Otherwise, this'll catch you up...
On March 21st of 2005, MacKinnon and Smith took a vow to eat only food and drink produced within 100 miles of their home. They called it "The 100-Mile Diet."
They wrote about their efforts on The Tyee regularly. "This may sound like a lunatic Luddite scheme, but we had our reasons," they wrote. "The short form would be: fossil fuels bad. For the average American meal (and we assume the average Canadian meal is similar), World Watch reports that the ingredients typically travel between 2,500 and 4,000 kilometres, a 25 per cent increase from 1980 alone. This average meal uses up to 17 times more petroleum products, and increases carbon dioxide emissions by the same amount, compared to an entirely local meal."
In their Tyee columns, they wrote about their efforts to find local food (salmon, berries, chicken, grain), along with how to survive holidays like Thanksgiving.
Their vow became one of the most closely watched experiments in carbon footprint reduction. Individuals and groups from across North America contacted them for information on how to start 100-Mile Diets in their communities. Powell River, B.C., for example, started a 50-Mile Diet.
And this weekend, in the most emailed and blogged story on the New York Times, "The Year Without Toilet Paper," Colin Beavan and Michelle Conlin cite Smith and MacKinnon as their inspiration for a new lifestyle experiment called No Impact. Beavan and Conlin are "four months into a yearlong lifestyle experiment" in which they will be "eating only food (organically) grown within a 250-mile radius of Manhattan; (mostly) no shopping for anything except said food; producing no trash (except compost, see above); using no paper; and, most intriguingly, using no carbon-fueled transportation."
Next week, MacKinnon and Smith's book The 100-Mile Diet: A Year of Local Eating (titled Plenty: One Man, One Woman, and a Raucous Year of Eating Locally in the U.S.) hits bookshelves.
Have you heard of any carbon footprint experiments -- any efforts to live sustainably? Have you participated in any yourself? If so, why not post them in the comments section, below.
Do you have a question for James MacKinnon or Alisa Smith? E-mail it to editor@thetyee.ca with the subject line "100-Mile" and we'll pass it on to them. We'll run their responses next week.