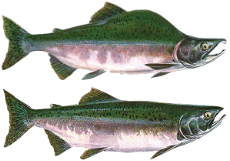 [In the interest of preserving the environment, the authors are on a '100-Mile Diet'. They have vowed to eat nothing originating more than 100 miles from their plates. This is sixth in series.]
The long northern dawn fills the cedar-walled room with a cold blue light. Cold is the operative word - I snuggle deeper under the blankets and ignore James's purposeful words: "I'm going fishing." Less than an hour later, at 8 a.m., I walk down to the river to see if the weary fisherman is going to come in for breakfast. He is standing up in the yellow canoe. "I've got one!" he calls out. It is a nice pink salmon, around ten pounds. While we'd seen them leaping and frolicking everywhere through our channel of the Skeena River for the last few days, I am still amazed to see one subdued and ready for the fry pan. Last summer, here in our corner of Northern BC, we had haplessly cast for the multitudes of sockeye flowing through, until a neighbour told us "sockeye don't take the lures." Nodding sagely. Well, live and learn.
Pinks are a humble salmon, unloved by sports fisherman for their smaller size and lesser fighting spirit, and often disdained by chefs in favour of the rich sockeye. Well, it's our river and our fish, so eating it should be a fine enough thing, I think to myself as I hold it gingerly by its hard gill cover, and put it in a pot of fresh water to keep until lunch. A little butter, celery, onion and summer savoury on the fresh-cut fillets-amazing. Nothing like the sad mealy pinks I've had in Vancouver.
A month later, talking to chef Robert Clark of the noted C Restaurant in False Creek, I find out why.
"Sockeye can be sold as 'fresh' after two weeks of refrigeration. Pinks only keep well for two or three days," he says, lively chatter in the background as he speaks to me on the phone from his new seafood restaurant, Nu, the casual next-door sibling to C. "I go around promoting pinks on TV cooking shows, though I know I look like a fool for it. People will go out and buy one at the local shop to try it, and it won't be any good. It's been kept too long." Clark sighs.
Emptying out the Strait
The sustainable fisheries advocate -- his restaurant's menu is supported by the David Suzuki Foundation -- has plenty to sigh about, though he mostly sounds feisty and talks fast, apologizing occasionally for getting "too political." Not at all. What is more political than the food we eat, especially the seafoods that are disappearing from our doorstep? "There are no fish in the Strait of Georgia," he says flatly. "I used to get some octopus. Now there's not even that."
That may be an exaggeration, but not much of one. Of the 32 commercially available fish species in BC, only five, all salmon types, were caught in the Strait of Georgia and mouth of the Fraser in 2004, even though species from Dover sole to halibut used to be abundant. Department of Fisheries and Oceans figures have not yet been tallied for 2005, but we do know that the Fraser salmon fishery has been shut down so far. As James and I continue to try eating within a hundred-mile radius, it's beginning to look like winter will be a light on protein.
Unfortunately, when it comes to fish, there is a whole lot more to think about than the distance the food has traveled. My conversation with Clark brings this home. He says that he chose Skeena River salmon rather than Fraser because he learned about a fishing family, Fred and Linda Hawkshaw of Prince Rupert, who catch fish in a whole new way. While unwanted fish species are often killed when caught in commercial gill nets, the Hawkshaw net method keeps them alive until the very last minute, so they can be thrown back mostly unharmed.
"Everybody should fish the way they do," Clark says. While he is excited about the sustainability angle, he is equally excited about the flavour. "In commercial fisheries, the fish lie dead on the deck on ice overnight until they have gutted them all. But Fred won't take more than 200 fish a day. They're so fresh I actually have to refrigerate them for two days before I can even cut them."
Clark won't serve rockfish or ling cod because the whole southern fishery has been wiped out in recent years, and he doesn't feel right about moving on to the relatively abundant fishing grounds north of the Queen Charlottes when methods haven't changed, he says. One fish he does happily serve is sablefish, which I noticed on his menu right away because he named it the 200 Mile sablefish. Yes, it's always caught within 200 miles of Victoria. Not 100 miles, but really, I won't quibble. While C is pricey as befits its fine-dining status, Clark says that lower-priced Nu uses them same high-quality, highly ethical seafood. This sounds like the perfect place for a 100-Mile eater to socialize with friends.
Mysterious origins
However, I am more stymied than ever about our local winter supplies. Is any fish okay? Before we went on our Skeena holiday James had discovered a Vancouver-based fellow who line-catches salmon in Johnstone Strait, but after enthusiastically deciding to order five fish, we realized the inlet was outside our boundary. It's starting to sound like a sparse winter.
I bike down to the Salmon Shop on Granville Island to see what I can learn there. Manager Gordon Louie snaps off his rubber gloves and comes over to tell me where his catches come from. What I learn is a revelation about the industrial system. James and I had noticed that, when we ask about fish, the answer is often quite vague. Now I know why. Louie says that only salmon must have tail tags stating their specific location. Otherwise, the fish seller might know where the catch comes from, but the only thing they are obliged to know is whether the west-coast catch is Canadian or American. If you are really curious, the fishmonger would have to phone his supplier who would have to phone his buyer. Good luck.
Louie says that only a "small percentage" of all the fish he sells is likely to have come from the Strait of Georgia. At the moment he has some Puget Sound salmon, but some of this zone is outside our 100-Mile limit. The thing you can be more certain about, Louie says, is shellfish, because oysters, mussels, and clams are farmed, often on Saltspring Island or Fanny Bay on Vancouver Island, both 100-Mile locations. He points to some gleaming black Gallo mussels from Saltspring, and I feel heartened again. Steamed in local white wine--or gooseberry wine in a James innovation--they'd be mighty fine. Louie also has west coast sardines in, larger fish than I imagined, more the size of a small trout than those little tins I associate with the fish. The ambitious could try to catch their own, I imagine-on the weekend I had seen old men in hip waders tossing nets in the ocean from Kits Beach through to Spanish Banks.
Coho in Agassiz
I asked about eulachon, the little fish prized by the coastal First Nations people for their grease. I had bought some smoked at The Salmon Shop last fall. "It was a poor run and we didn't get any this year," Louie says. I think back to my conversation with Clark, when he said he didn't get his Skeena salmon this year for the same reason (shortly after we caught our pink, the run slowed down, and then the sockeye fishery was cancelled). Clark has all Nass River fish this year. That's a sad thing when the province's two great rivers, the Fraser and the Skeena, can't even supply the needs of our dining establishments.
That's where innovators like Bruce Swift of Agassiz (Swift Aqua Culture, 2244 Wilson Road, 604-796-3497) come in. He has started raising coho in land-based pens, which deals with all the ecological arguments against open-net ocean farming of Atlantic salmon. Swift himself is neutral on the topic. "I have nothing to say against the industry" and "I just happen to live in Agassiz and I love raising coho", he offers.
He says the aquaculture industry used coho decades ago, but they matured at exactly the same time as each other and at the same time as wild stocks, so its financial benefits were limited. However, Swift has found that by keeping the pens in a barn and controlling when the fish are exposed to light, he can mature them in January and February, when prices are highest because there are no wild runs then. C Restaurant and Raincity Grill have been regular customers and promoters, and the David Suzuki Foundation supports his efforts. "But I barely pay the bills right now. It's an uphill struggle against the word 'farmed,'" he says. The fish waste from his operation is, get this, used to fertilize his wasabi plants. That's a sushi meal ready to go, within 50 miles of Vancouver.
Swift says he invites people out to "catch one with a net if they want." We might find ourselves doing exactly that. For now, though, James and I have a fishing rod, licenses, and big dreams about the Squamish river system. There are runs until the end of October, although they're not guaranteed against ecological disaster, nor the heavy sport fishing that goes on next door to British Columbia's largest city.
Though the Fraser salmon fishery has been closed this year, some of its runs are still strong, so marine campaigner Jay Ritchlin of the David Suzki Foundation says we shouldn't give up hope yet. "It's all a matter of figuring out how to fish them selectively," he says. People can head down to the Suzuki office (suite 219, 2211 West 4th Ave.) to pick up pamphlets on sustainable fisheries, including a new series that is going to press right now that looks specifically at British Columbia.
The moral of this story? There are only two ways to eat fish locally and sustainably. The first is to ask a lot of questions until you get the straight goods from direct suppliers. The second is to catch them yourself. Yes, I think I'll catch our next salmon, maybe in the Cheakamus River. Though I think I'll let James gut it.
Alisa Smith and J.B. MacKinnon will be writing twice a month for The Tyee about their attempt to eat well on the 100-Mile Diet. For more information on finding locally produced food visit the web site of FarmFolk/CityFolk.
Read the rest of the Series.