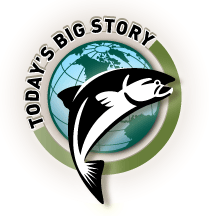 Admittedly, this Big Story is a couple days old, given that U.S. President Bush spotlighted ethanol and other bio-fuels in his State of the Union address Wednesday evening. But given that Bush pinned his nation's future on distilled corn in gas tanks, bio-fuels will be a Big Story for quite some time.
You'd think a presidential embrace might drive up corn prices, but right out of the chute, they dropped. Analysts blamed Bush for not putting in a huge order right off the bat. It takes a lot of corn to grow a lot of pork in Washington, D.C. As The Guardian dryly pointed out, Bush's "enthusiasm for ethanol is shared by American farmers and Republicans representing heavily agricultural states."
That's already the problem with "king corn," says noted author Michael Pollan. It makes the economy lazy and people fat. "We structure the subsidies to make corn very, very cheap, which encourages farmers to plant more and more to make the same amount of money...We're subsidizing obesity. We're subsidizing the food-safety problems associated with feedlot beef. It's an absolutely irrational system."
But what could be wrong with using corn to make fuel? For starters, a lot of energy goes into making ethanol before any comes out. A rather confusing report out of MIT concludes: "replacing gasoline with corn-based ethanol does significantly reduce oil consumption because the biomass production and conversion process requires little petroleum." However, the same researcher said travelling a kilometre using ethanol does indeed consume more energy than travelling the same distance using gasoline.
If you want a detailed argument that using corn or other crops to make fuel takes more energy than it's worth, David Pimentel is your man. At least two American Democrat presidents have slammed ethanol as a boondoggle, too. Both, however, were on the television show West Wing.
Among sustainability thinkers backing ethanol, count David Morris, vice president of the Minneapolis and Washington, D.C. based Institute for Local Self-Reliance and an advisor to the U.S. Department of Agriculture. "Is it a perfect solution? No. Nothing coming out of Washington ever is. Will it be a boon to midwestern corn farmers? Yes, in the short term. But in the long term ethanol will be made from rice and wheat straw, municipal garbage, grasses and many other raw materials," writes Morris.
"We should strive to have a biorefinery in every rural county," he adds. "If the nation designs incentives that encourage modestly-sized, farmer-owned facilities, competition will flourish and local economies will prosper."
And if not, there's always Canada's idea to put a nuclear generator on Alberta's tar sands.