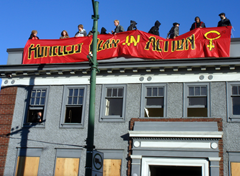 [Editor's note: What were the top five stories of 2006 for B.C. and beyond? Every day this week The Tyee publishes its picks.]
Rising homelessness in B.C. is hardly a brand new story; numbers doubled in the Vancouver region between 2002 and 2005. But this was the year when the media began to pay critical attention and politicians scrambled to respond.
The catalyst: militant activists started seizing vacant buildings, flexing their ability to tarnish the Olympic golden moment. The Anti-Poverty Committee kicked off its strategic offensive in October with noisy squats in Vancouver and Victoria. Their next target was right across the street from Vancouver City Hall. Activists unfurled their rooftop banner as mayor Sam Sullivan held a press conference at which he stacked pennies to plead poverty -- at least compared to the budgets of provincial and federal governments.
He had a point, sort of. Upon election, Gordon Campbell's Liberals not only axed social housing spending, but also cut welfare payments, while making it harder to receive them. Chrétien's Liberals had already whacked federal housing assistance back in 1993.
But after Sullivan's duck and weave, exasperated journalists like the Vancouver Courier's Allen Garr pointed out that the NPA had itself throttled back social housing approvals. This while proposing to put poor people in rooms the size of cells, or, as NPA councillor Kim Capri preferred it, "cruise ship cabins." Hey, what happened to that super-sustainable Southeast False Creek housing? Sorry, it went upscale, by order of the NPA.
So, plenty of blame to go around. But plenty of money to be made by some. Sullivan decided to pay Premier Campbell's former top aide, Ken Dobbell, $300,000 to finagle private investment for homeless housing. By no coincidence, that move dovetailed with the Vancouver Board of Trade's urging that city hall give developers "discounted land, property tax incentives, density bonuses, heritage incentives, or grants to help offset development fees, etc."
As nasty weather set in, the homeless story stuck like wet snow. Officials punched calculators, toting up the cost of denying citizens housing. The spectre of homelessness tripling by 2010 was raised, and proposals accumulated from three levels of government.
The B.C. Liberals decided to hand out rent subsidies of about $100 per month to poor people as long as they weren't taking welfare. And earlier this month Housing Minister Rich Coleman revealed to The Tyee that his government was ready to fund a dozen new Vancouver housing projects if the city could find the land and handle the NIMBYs.
The Tories, meanwhile, re-upped (and renamed) the previous federal government's homeless initiative at $270 million per year.
And Vancouver's penny piling mayor rolled out his Project Civil City, which will bring order to streets, shelter to the homeless, and hope to the world (if you believe what Sam Sullivan told The Tyee). Or else it undercuts the city's earlier plan for the homeless and is about "treating them the same as garbage and sweeping them aside for the Olympics" (if you believe opposition Vision councillor George Chow).
Sullivan has spun hard to emphasize his proposal will make life safer for the middle class, promising to fine or arrest dangerous riff-raff. But Lorne Mayencourt aside, it's the homeless themselves who face most danger on the streets, ranging from infectious disease to throat slashings.
As the policy debate becomes more Byzantine, one fact remains stark. The Campbell government expects to run a $2 billion-plus surplus this year but refuses to bump housing assistance rates for our poorest citizens until the warmth of spring arrives.