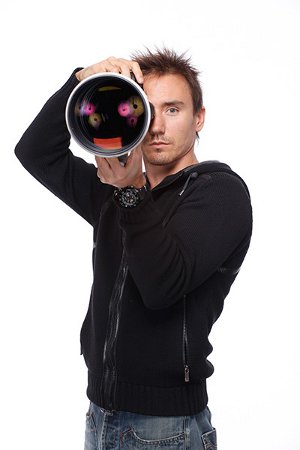 The first time I met Rob Stewart was at an environmental film festival in Barcelona. The program director said I had to meet the other Canadian, the guy from Toronto. I looked around the outdoor table, glanced at the good looking young guy dressed in stylishly casual European clothes, and searched for a Canadian director in black jeans, t-shirt and ball cap. When the guy in the bright Barcelona attire introduced himself, he told me he'd been in Europe for so long with his film Sharkwater that he'd gone native. That was back in 2007, and Stewart has been so busy touring with his film for the last four years that he's barely touched down in Toronto since then.
For Stewart, Sharkwater wasn't a movie so much as a mission. The award-eating documentary, which included his adventures with Paul Watson and the Sea Shepherd society, was the perfect excuse to get people talking about saving the sharks, the same way we talk about saving the whales and the wild salmon.
As he toured the world with his documentary, Stewart became a one-man antidote to Steven Spielberg's Jaws: trying to transform our primal fear of the blood-scenting fish with the really sharp teeth into a campaign to protect them from ending up in Chinese soup. The movie contributed to several countries banning the sale of shark fins, and raised awareness about the plight of the species pretty much everywhere.
When we met a few weeks ago in a downtown hotel suite just before his film Revolution premiered at the 2012 Toronto International Film Festival, the still too-stylish-to-be-from-Toronto filmmaker talked about how saving the sharks led to his new mission -- which is also the title of his just released biography/manifesto written with Evan Rosser -- Save the Humans.
Sharkwater's wake
Stewart's mission arrives in Vancouver this week, with the premiere of Revolution at the Empire Granville 7 on Saturday, Oct. 6 at 6:15 p.m. as part of the 2012 Vancouver International Film Festival, and a reading from his new book, just released by Random House, at Capilano College in North Vancouver on Friday, Oct. 5 at 7 p.m. He'll also speak at The Guild Agency at 9 a.m. at the Hilton Vancouver Metrotown as part of the Western Cities Conference.
The film, Revolution, chronicles Stewart's Sharkwater revival tour. It stems from the moment a student at a Hong Kong screening asked him why he was bothering to save the sharks when we were on the verge of losing the oceans. The question hit Stewart harder than Spielberg's infamous Great White. Suddenly he found his focus shifting from saving the sharks to saving the oceans.
The book, Save the Humans, chronicles Stewart's 32 years on the planet. "The book is 32 years of my life, Revolution is four years of my life and (making) Sharkwater is four months of my life," says Stewart. "It covers every crazy pet I've had, every experience."
Those crazy experiences include taking underwater photos from the age of 13 and being certified as a scuba instructor trainer at 18. He met his first shark when he was a kid and it was love at first bite.
"My parents took a vacation in the Caribbean every year and I got to hang out at coral reefs and meet these animals." Asked if seeing his first shark was what turned him green, Stewart smiled. "I think I was passionate from having a goldfish from the time I was zero onwards."
Stewart says Sharkwater inspired the creation of at least a dozen different conservation groups.
"The conservation movement credited it as being one of the big instigators for pushing shark fin bans and getting the community and public involved.... We got Sharkwater seen by 120 million people in China. So, you know, the word's out there for sure. Yao Ming has become an active spokesperson for anti-shark (finning) movements for the past four, five years. It's happening."
Climate awakening
Once he shifted his focus from sharks to humans, Stewart connected with environmentalists like University of Victoria climate scientist Andrew Weaver who he calls "one of my favourite scientists," and started trying to figure out what was wrong with the planet and how to save it and us.
"I think I'm going to work with Andrew in the future. I think he's going to be involved in our conservation group. I've come up with something called the Collapse Prevention Report, CPR, which I want conservationists to give to every country in the world for their birthday, which will be constantly updating graphical representations of the country's resources. How much of each resource do you have, and what are the current consumption trends and why will your country collapse?
"Canada would collapse for different reasons than Chad would collapse, for example. So from that point on, every citizen can hold their government and corporations accountable for the resources that they have and for the destruction of their life systems. Right now we can't manage what we don't know; all this stuff is getting destroyed without us knowing it. Andrew wants to be involved with that."
Stewart also created an environmental group of his own, United Conservationists, "designed to show people how to change the world, to help try to get humanity back towards sustainability."
As soon as I ask about it, he offers to read me the mandate, which begins: "We're realists, dreamers and revolutionaries. We believe in Earth, life, and that 3.5 million years of evolution humans created a world of unmatched productivity and diversity."
Stewart says he's still figuring out how to make the group work because his original dream was to bring conservation groups together "like a unionization, so we can present a united front to governments and corporations."
He abandoned that mandate after discovering something that won't surprise B.C. environmentalists -- he couldn't get green groups to play well together.
"We were embraced so beautifully with Sharkwater -- finally scientists had a voice and were using it to raise money, this was all great. Then I start a conservation group and all of the sudden everybody was competitive with me. They're not inviting me to their events. It changed overnight, just like that."
Although Stewart's mission has shifted from saving sharks to saving people, he hasn't given up on fighting for his finned friends, and wanted to make sure this story mentioned Vancouver's Claudia Li who runs Fin Free Vancouver -- Shark Truth.
[Editor's note: Stewart will speak after every showing of his movie at VIFF and at the screenings on Oct. 6 and 7, he'll be joined by his parents and executive producers, Brian and Sandy Stewart. On Oct. 6, author of this story Mark Leiren-Young will host the Q&A after the show. Stewart will be the one in the cool clothes.]