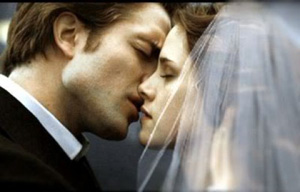 With Breaking Dawn, the latest incarnation of the Twilight vampire saga soon to arrive in theaters, it's worth examining how the portrayal of the vampire has changed drastically in recent years. Once hated and feared, the vampire has been completely rehabilitated, and this rehabilitation tells us something important about popular culture, politics, and capitalism.
As symbols of repressed sexuality, vampires have always drawn us to them, but they were also irredeemably alien and evil. They didn't just leave you with a puncture wound and a mild case of anemia. They took your soul. That is to say, they took from you all that was uniquely human to feed themselves. Humans and vampires were locked in a struggle in which one side gained only at the other's expense.
Because they were un-human, vampires did not look human. Thus, the first significant cinema vampire was the hideous Nosferatu. While Bela Lugosi's Count Dracula was more presentable, he was obviously a decadent hangover from the worst excesses of a decayed feudal aristocracy in a time-forgotten fiefdom, and this placed him as far outside human society as his sleeping arrangements in a coffin.
Support your local vampire?
Today's vampires are more human than humans. They are better looking, better educated, and better adapted than humans. They are diverse in gender, race, ethnicity, sexuality, and lifestyle. Some don't even drink human blood anymore. In the Twilight series of movies, vampires are "vegetarian," by which is meant they drink only animal blood. In the HBO television series True Blood, good vampires substitute artificial blood for human. Because they are more powerful and attractive than humans, today's vampires are more likely to be sought after than feared. Thus in True Blood, some humans are known as "fangbangers" for their sexual preference for vampires. When Buffy the vampire slayer can declare her love for a vampire, clearly relations between un-humans and humans have gone beyond parasitism and enmity.
When and why did the vampire become respectable? "When" is easy. The first popular revisionist effort was Anne Rice's novel, Interview with a Vampire, published in 1976. In the book, the ensuing series, and the 1994 movie starring Brad Pitt and Tom Cruise, the vampire was reconstructed as an attractive, misunderstood creature. Other work, such as Buffy the Vampire Slayer, a 1992 movie and a TV series from 1997 to 2003, taught us not to hate and fear vampires but to identify with them. Now, mutual tolerance and respect are the correct responses when vampires move into the neighbourhood. Humans who meet them with firebrands, crosses, and disgust are considered hopelessly narrow-minded and bigoted. Thus many popular and academic analysts see the new portrayal of vampires as progressive, as an embracing of multiculturalism, of enlightened ideas of race, sexuality, and gender, and there is something to that.
But when we look at the vampire through the lens of class, we begin to understand its rehabilitation differently. By class, I don't mean the division of people into strata of upper, middle, and lower incomes. Nor do I mean the division of people by education, accents, lifestyle, or manners. Class is the actual division of society into a small group that owns and controls land and wealth and resources, and a much larger group that must work for that smaller group.
Werewolves in chains
Class runs all through vampire mythology at the fundamental level of how life is sustained. Dracula is a count, a feudal lord who literally lives off his peasants. In Interview with a Vampire, Louis is a slave owner in New Orleans who slaughters all his slaves when he becomes a vampire, that is, when he transitions from sucking the labour out of people to sucking the blood out of them.
The vampire's relationship to another creature, the werewolf, is also marked by class. In some tellings, werewolves are the slaves of vampires. Vampires are usually wealthy and freed from having to toil for their daily blood. To be a werewolf is to be cursed in the same ethnic and religious traditions that saw God deliver, in Genesis 3:19, the curse of Adam, which is to have to labour, for only "in the sweat of thy face shalt thou eat bread." Vampires are elegantly dressed; werewolves buy off the rack. In True Blood, the werewolf Alcide is decked out in the contemporary stereotypical male proletarian garb of jeans and plaid work shirts.
While both vampires and werewolves may transform into animal form, werewolves are closer to animals. They are less rational and more physical; even in their human form, they often retain animal characteristics, such as a heightened sense of smell and more hair. Like workers, but unlike vampires, werewolves usually cannot control their transformation into beasts of burden, and becoming a werewolf is physically and emotionally draining. In their human form, werewolves are often gaunt, their sunken faces and hollow eyes revealing they are worn out by their labours.
Two final class markers: vampires are usually repelled by garlic, long disdained by elites in North America because it was the pungent flavouring of non-Anglo immigrant workers, and werewolves may be killed by bullets of silver, just as workers give up their lives for wages; over 1,000 workers a year are killed on the job each year in Canada, about twice the number of Canadians who are murdered.
As with workers and employers, werewolves and vampires are in constant conflict. In the Twilight series, one vampire, Edward, competes with the werewolf Jacob for the love of the human, Bella, and more broadly in the series, vampires and werewolves are in violent struggle. In the Underworld series of films, this struggle becomes outright warfare. Karl Marx's description of class conflict in The Communist Manifesto applies equally to vampires and werewolves: "In a word, oppressor and oppressed stood in constant opposition to one another, carried on an uninterrupted, now hidden, now open fight."
'The living blood of labour'
Marx drew the parallel between the vampire and the boss explicitly in 1867, some 30 years before Bram Stoker's novel Dracula was published. "Capital," he insisted, "is dead labour, that, vampire-like, only lives by sucking living labour, and lives the more, the more labour it sucks." When workers are forced to sell their labour, they find that the vampire will not loosen its hold on them "so long as there is a muscle, a nerve, a drop of blood to be exploited." And the vampire must continue to suck, for it can live only off the life of workers; even "the prolongation of the working-day beyond the limits of the natural day, into the night, only acts as a palliative. It quenches only in a slight degree the vampire thirst for the living blood of labour." Marx's observation was shared by Phillips Thompson, the Canadian socialist, Knight of Labour, journalist, and grandfather of writer Pierre Berton. In his song "Pass the Watchword," written in the 1880s, Thompson too was quick to label employers as "vampires in the darkness [who] prey on flesh and blood."
How then did the undead become cool? The timing of the rehabilitation illuminates the political nature of the remaking of the vampire. In 1974, just before the publication of Rice's novel, the post-Second World War boom came to an end and class conflict became more overt. It was the beginning of the end of what historian Eric Hobsbawm has called the Golden Years, part of the cyclical boom and bust nature of capitalist economies. When profit rates dropped in the 1970s, business turned on workers. Wages were frozen. The working day got longer. The law was changed to make unions harder to organize and easier to break, and the percentage of workers in unions dropped. Safety regulations were gutted, employment insurance and welfare benefits were reduced, and unemployment was allowed to rise until now, and it is higher than any time since the Depression of the 1930s.
At the same time, governments reduced taxes on the rich and the corporations; their taxes are lower now than they were in the 1950s. Taxes on workers, including regressive taxes such as the GST and HST, have replaced taxes on corporations and the wealthy. Even those who profit from this have voiced concerns. Canadian Business magazine, hardly the vanguard publication of the international communist conspiracy, reported in its December-January 2011 issue that inequality in Canada has grown since the 1970s. One of the richest people in the world, Warren Buffett, has famously warned, "There's class warfare, all right, but it's my class, the rich class, that's making war, and we're winning."
Like any war, this class war was accompanied by a massive propaganda campaign. In the 1970s, right-wing think tanks such as the Fraser Institute, the Heritage Foundation, the Cato Institute, and the Adam Smith Institute were founded to combat the public's negative assessment of corporations and unbridled capitalism. In 1975, the Trilateral Commission, so beloved by conspiracy theorists, argued in The Crisis of Democracy that too much democracy, rising expectations, and an over-educated public threatened capitalism. It concluded that workers needed to be broken on the wheel of industrial discipline.
Thus popular culture started to rehabilitate the vampire at the same moment capital launched its new class war. We were told to forgive, embrace, even love, bloodsucking parasites, from Lestat to the boss.
Grab a torch
This doesn't mean that bosses hired Anne Rice to do some PR for them, the way John D. Rockefeller hired William Lyon Mackenize King in the aftermath of the Ludlow massacre of 1914. It does mean that in an age when culture is a commodity we buy, rather than something we do, culture will tend to reflect and reinforce the social structure that spawns it.
Does the changing portrayal of the vampire matter? Ending inequality requires taking from the rich and giving to the poor. The rich will protest that such redistribution of wealth is theft. The response is that the rich do not create wealth, they expropriate it from the labour of others. Thus redistribution is not theft, it is justice. But when the mass culture insists that the bloodsucking parasite is our friend, the nature of profit is veiled and the vampire continues to feed undisturbed.
Typically, the vampire is vanquished when people figure out it's the suave count who is killing everyone off, then band together, light the torches, and sharpen the pickets. With pickets at Occupy Wall Street, Vancouver, and scores of other places, we all have a stake in figuring out who the vampires are and how they feed.
[Tags: Labour and Industry.]