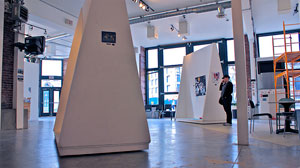 While the Downtown Eastside is known as Canada's poorest postal code, it's also the cultural capital of this country, some argue, boasting more artists than addicts. And while the international media has descended upon this neighborhood in order to show the dark side of our sparkling Olympic city, what's missing from the story is its creative, artistic side, a side that is largely hidden from even Vancouverites.
Inside the Vancouver International Centre for Asian Art, or Centre A, at Hastings and Carrall Streets, executive director Hank Bull, curator Makiko Hara, and several staff are getting ready to host the World Tea Party. Bull and Hara take a break to share a cup with me. When I relate the chaos and feeling of electric anticipation that I felt out on the street, Bull nods knowingly.
"There is so much going on down here," he says. "Art is always left out of the discussion on the Downtown Eastside. But this neighborhood has the highest number of artists per square foot than any other neighborhood in Canada."
Bull describes a recent visit to the Vancouver opera. The performance was La Boheme. As the curtain raised on the set of Paris' Latin Quarter, circa 19th century -- picture crooked, decrepit buildings, squalor and chaos -- he had a revelation.
"I saw that and thought, that's the Downtown Eastside!" Bull exclaims. "We're going to look back as if it was the Rive Gauche, the left bank. It was a terribly dysfunctional neighborhood, just like this one... but also full of art, beauty, creativity."
Like the left bank in the 1800s, for many artists in Vancouver today, the Downtown Eastside is one of the only affordable places to live and work. Many have found space in so-called "phantom galleries," empty retail spaces that have been boarded up for years, forgotten and neglected.
Unlike Hastings Street galleries like W2, Centre A or the Interurban, these places are unmarked and easy to miss. To find them it helps to know someone in the know -- a person like David Duprey. Duprey makes most of his living from his Main Street restaurant, The Narrow Lounge, but also turns a profit leasing and renting out abandoned retail space in the Downtown Eastside. The owners are happy to see some life back in their buildings, and his tenants, mostly visual artists, are happy to have affordable studio, gallery and performance space.
Hidden bones
Duprey offers to show me one of these properties, which he calls, simply, "108." We walk down Hastings Street, past the Carnegie Centre, past the decrepit Pantages Theatre ("Such a shame," mutters Duprey), and past a half dozen neglected storefronts, their windows dark and faces obscured by metal cages which have filled with empty coffee cups, cigarette packs, rusting metal and moulding clumps of newsprint.
Duprey stops suddenly at a grey door and pulls out a ring of keys befitting a jailer. We open the door and walk up a flight of stairs. Inside it's plain, but clean, and bright. This three-storey building is 18,000 square feet altogether, with eight studio units on the top two levels and two galleries spaces on the street level.
Upstairs, we find Mike Haller, working on an impressive piece; a large piece of black canvas covered in gleaming white bones. He extends a plaster-covered hand and then, thinking better of it, withdraws it, smiling. The bones aren't real, he tells us, though they're cast from the real thing.
"I was looking on Craigslist for a long, long time when I found this space," says the Emily Carr alum. "It's really difficult."
Haller likes it here. He pays just $1 per square foot, he's allowed to use a kiln (which is a fire hazard in wood-frame buildings) and he's right in the thick of the art scene.
"There are nine galleries within five blocks of here," Haller says. "I go to my friends' shows every weekend. It's fantastic."
'We're definitely not making any money'
Downstairs, on the street level, is the Gam Gallery. The tiny space stands out on this block. It's lit up, there's no litter piled up outside, and although the glass windows are still protected by metal bars, they are painted white. A neat, handwritten sign on the door asks visitors to knock. Loudly.
When I do, a smiling young woman answers the door in her sock feet. She introduces herself as Jamie Reid, and invites me in.
The gallery space is bright and sparse. There is a rack of handmade clothing pieces, and one installation -- sewing patterns, cut like animal skins and strung up across the window -- and that's it. At the back, there's art covering nearly every available surface. Reid apologizes for the mess. "We're getting ready for a show this weekend," she explains.
Reid and four friends, all women, all from Red Deer Alberta, opened the Gam last December because they wanted a place to do art, and a place to show art.
"We're definitely not making any money," she says. "It's just something we always wanted to do... and you could never do this in Central Alberta."
Reid says they thought about applying as a non-profit, but decided against it. They hope to use the space for art workshops in the future, as a way to earn money, and will also rent stalls here for artists who want to sell their work during ArtWalk Vancouver, an event that Duprey organized to showcase Downtown Eastside artists during the Olympics. Along with established galleries like the Gam, there will be 15 additional "pop-up" galleries in total, temporary galleries housed in the empty retail space that proliferate the neighborhood.
Phantoms with a history
Filling empty storefronts with art is not a new concept. Cities like Los Angeles have well-established networks of these so-called phantom galleries. Here in Vancouver, the practice is just catching on. Duprey doesn't see himself as a trailblazer in this regard -- he's just a guy trying to bring some fun back to the city. "I'm doing something that people in Vancouver should have done a long, long time ago," he tells me.
There is a criticism of phantom galleries, points out Lani Russwurm, coordinator of the Community Arts Network (CAN); that they are simply window dressing that makes a depressed area more attractive to developers. Eventually, artists can't afford to operate there anymore. This is a legitimate fear in the Downtown Eastside -- that eventually, it will go the way of the Rive Gauche and many other artistic neighborhoods that have been slowly sanitized as monied classes move in.
"You can see this in the Mount Pleasant area, which has a kind of hipster air to it," says Russwurm. "But the people who made it that gritty, edgy kind of place in the first place won't be living there anymore. It's sort of a catch-22."
CAN's raison d'etre is to bring artists and organizations together to try and intervene in the gentrification process, and find ways to make it benefit artists and people who live in the community.
Says Russwurm, "Hopefully in the future there will be more infrastructure, resources, that low income artists can access and so that's not just middle class private art galleries."
'Very much the arts precinct'
That is the goal of W2, a community media arts centre that will move into the basement of the new Woodward's centre this spring (for now, it's located across the street, where it's serving as an independent media hub for the Olympics).
Its executive director, Irwin Oostindie, has run cultural projects in the Downtown Eastside since 1989. In that time, he's seen an exodus of artists from the area, and more recently, a resurgence.
"This is very much the arts precinct," he confirms. "Although people tend to think of South Granville as the arts precinct, that's more market-based, commercial galleries, and what we have here in the Downtown Eastside, from Gastown to Chinatown, is a mix of artist-run centres and independent art galleries that span contemporary arts to outsider and street art traditions."
W2 will emphasize digital storytelling, says Oostindie, including blogging workshops, community or radio production training. He is keenly aware of gentrification fears, particularly among aboriginal residents, and he says its something the centre wants to address.
"[W2] is about building some cultural infrastructure in the 'hood... that will help mix low-income populations with cultural media production that is typically only for the middle class."
Diversity plus inclusiveness
"Many people do refer to artists as the storm troopers of gentrification," points out Oostinde, "and so what we're looking for is inclusive benefits for local artists so that when the city of Vancouver funds revitalization efforts... local artists actually benefit from the revitalization rather than simply being something just to fuel real estate speculation."
The notion that artists themselves are responsible for gentrification, says Bull, is "hogwash."
"To pit the artists against the poor is a false division," he says. "Artists are poor."
And there's something about the Downtown Eastside that makes even rich artists want to stay here, he points out. Internationally-renowned artists like Stan Douglas and Jeff Wall have studios here.
So what makes a community creative? At Centre A it's fueled by diversity, and inclusiveness, says Bull.
"Everybody's got a habit. Down here on the street, people know that and you don't get judged."
And ultimately, he says, "Art is about people."