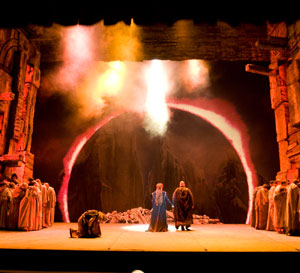 The Tyee is rummaging through the closet for something to wear. We're going to the opera.
Why? To prove that this old, over-the-top, and near-to-hysterical art form isn't dead yet, and the part that's alive and thriving doesn't just belong to "them." It belongs to "us."
That means any of us interested enough to give it a try, from diamond-wrapped socialites to the homeless, from hipsters to hosers who couldn't get tickets to the Canucks game.
Join us for the 2009-2010 season of the 50-year-anniversary-celebrating Vancouver Opera. We begin today with the season opener, Norma, a Bellini masterpiece about a Druid priestess secretly sleeping with the enemy. It's been called "the finest singers' opera ever written," and a great vehicle for a rising star to either ride to acclaim or else wobble and crash from the intense vocal challenge.
Unless, of course, you hate opera, for one of the following...
10 (Bad) Reasons to Hate Opera
1. It's elitist. Actually opera started out and still is popular entertainment. It is not the exclusive privilege of the upper class. There's no club you need to join to be an opera fan. You like it? You're in. And perhaps even curious enough to catch a live performance. In some places the audiences eat and drink and talk and laugh out loud during shows. They cheer their favourite singers and hoot down the ones who don't measure up. These are real opera fans.
2. It's boring. It certainly can be, like a hockey game hijacked by two trapping teams or a film with Kevin Costner. But operas are written to excite and shock and pummel the emotions. They tend to go for the swoop of the grand theme and the thrill of the quick kill. If sex, murder, war, obsession, torture, love, politics and more murder don't interest you... you might take a good look in the mirror. Maybe you're the boring one?
3. It's expensive. It's (mostly) true that opera tickets aren't cheap. You can't avoid the fact that it takes a lot of money to produce a live musical drama. Consider a platoon-load of performers, set-builders, lighting crew, ticket-takers, as well as the administration, months of rehearsals, public relations, and the list goes on. But you can still become a true aficionado without spending a dime.
Start with the free live radio broadcasts every Saturday afternoon. Vancouver's own Bill Richardson hosts a recorded selection of something intriguing each week leading up to the Met Opera broadcast season starting this year on Saturday Dec. 12. When you tune in to the Met, you know you're listening to some of the greatest singers available together with opera lovers around the world. Imagine the pressure on the prima donnas and primo uomos not to crack on that high note.
For more freebies, check out the wide selection of DVDs and CDs at the Vancouver library (if they don't lock the doors and turn off the lights on our multi-million-dollar investment to save a fraction from the city budget). Lastly, about those outrageously expensive tickets: the cheapest seats (bring your own binoculars) start at $29. You can subscribe to the entire four-opera season for $99, less than you might drop on a hockey game or meal in a fancy restaurant.
4. It's for oldsters. The Vancouver Opera just launched Get O.U.T. (Opera Under Thirty), a discount program to allow those aged 18 to 29 to buy great seats for just $25. Those of us above that mark ought to be rattling our walkers in rage at the ageist implications, but what can you do? Whippersnappers.
5. It's irrelevant. The same stories that amused, depressed or delighted audiences hundreds of years ago still have that effect today. Old operas from the classic era are based on themes which, like those of Shakespeare plays, don't go out of style. Better yet, opera is still alive. Later this season, the Vancouver Opera will do John Adams' much-anticipated Nixon in China. Next year the Vancouver Opera will debut a Canadian work so new it's still being written: Lilly Alling is based on the true story of a Russian woman who arrived in New York in 1920 and walked all the way to B.C. because she couldn't find her train ticket. I'm not making that up, except for the part about the train ticket.
6. I don't speak Italian. Opera isn't just in Italian. It's a global art form that comes in all languages. Philip Glass even wrote one in Sanskrit. The language is important, but perhaps more for the musical flow and rhythm of the words. The meaning you can get from the subtitles included at live performances. A quick glance at the lines above the stage is enough to give the drift, then you're free to focus back on the action while the music, including the rippling (Italian?) or assertive (German?) syllables of the words washing over you.
7. I don't own a tux/gown. This is Vancouver, where "elegant attire" means your fleece liner matches your raincoat. Some do get into dressing up for the opera, and even head as a group to the used clothing store to get some swellegant threads for an opening night romp. But you don't have to. There's no dress code. At one opera I actually saw someone in sweatpants! Okay, it was me, and they were nice sweatpants, but the point is: you bought the ticket, it's your seat, and you can sit in it wearing whatever you damn well please. In any case, you won't feel out of place in jeans since there's bound to be someone in shorts nearby.
8. It's a bunch of oversized galoots with Viking helmets. No, that would be football. Real opera singers don't fit the stereotype any more than the nerdy scientist or the ass-crack-flashing plumber. Which is to say, yes, some of the stars are huge, but they come in all shapes and sizes. One thing they share is a remarkable physical ability. Think of them as the equivalent of Olympic sprinters, specialists who can push a combination of great genes and intense training into a high-performance pursuit that always verges on the edge of a blowout. It never fails to astonish me to hear how someone can project a single human breath above several dozen people furiously blowing, hammering or sawing away at instruments... and do it so beautifully you might want to cry.
9. I'm no expert. Yes you are. You have all the expertise you need already to know what you like. If you never try, you'll never know. Opera isn't music, or drama, or dance, or poetry, or a visual art, it's all of them at once. A story holds it together, turning the emotions into music. To really "get" opera, you must immerse in it. It wasn't made to be background music. The best way is to see/hear it in a live performance. But you can also get a lot out of watching a recorded DVD, or by listening to a CD or radio performance while reading a translation of the libretto (script) which you can get from the library or on the net.
10. I know I won't like it. You're bound to be right, then, so better luck with another art form. For the still open-minded, you should also know that you don't have to like the first, or any, of the operas you try. Aficionados get themselves into a lather over their preferred or despised works. It isn't hard to find a Puccini lover who will swear that Wagner wrote operas only a Nazi could, and should, endure. There's no right or wrong answer on this test. But when it works for you, when you give yourself up to the experience, be prepared to find something transcendent.
Back to 'Norma'
I can't honestly say that I found something transcendent on the opening night of Vancouver Opera's staging of the notoriously difficult Norma by Vincenzo Bellini. I'll say more about why later -- but I should point out that as a long time aficionado of opera, I did bring certain expectations (prejudices?) to the production.
To prove (or maybe crush) my point that opera is accessible, I also brought along a newcomer, James. He'd been homeless until recently, having just secured a room on the corner of Hastings and Main. At Norma he joked that by taking the aisle seat only one audience member would need to worry about catching bedbugs (me).
After the opera I asked: "So what did you think?"
"I was really impressed," he said. "A little bored at certain stages, but a lot of that had to do with those subtitles or whatever they call them. They were too high. Luckily there was plenty of time to read them because the singing went on much longer than the words written down.
"It was way more moving than I thought it would be. I was surprised to find out I knew the first music they did before the curtain went up. It almost made me cry. I used to listen to the radio at three in the morning and they would always play opera. That was one of the songs I tried to play on the harmonica, and my daughter would always yell at me to stop trying to play it.
"The first time the lead woman sang, I could not only hear it but feel it. You know what I mean? I could feel the vibrations in the air as they came to me. It was amazing. I think if I was a deaf person I could still tell she was singing because of the vibrations. When she went into her high pitched thing, I got tingles.
"When the two women were singing together, competing with each other, both trying to throw it out there, it was something. The younger one leaned back to get more of her chest into it. I was looking at her stomach, and man, the girl was ripped," said James.
Highs and lows
During the production, I zeroed in on different details.
The high point of VO's formative years, we're told, was a now-legendary 1963 performance of Norma with star-to-be Joan Sutherland singing together with Marilyn Horne. Great idea, then, to bring back the conductor of that performance, Richard Bonynge (also known as Sutherland's husband). The maestro hasn't done so badly himself in the interim, rising to become one of the world's foremost Norma authorities.
But they won't be talking about Bonynge's 2009 Norma in 46 years. The uneven performance had its moments, and was notable for the chance to watch American mezzo soprano Kate Aldrich steal the show in the supporting role of Adalgisa, but the magic dust never had a chance to settle.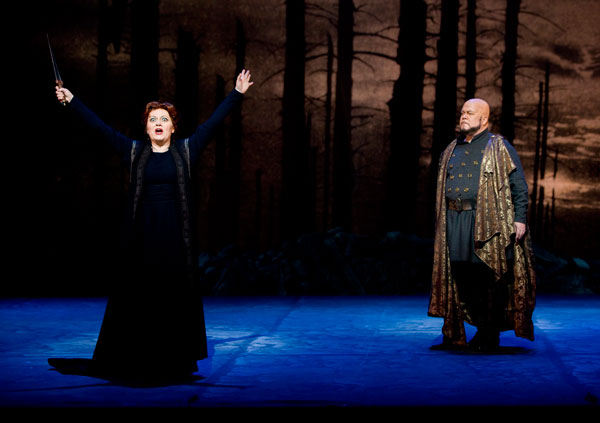 The sets were one gathering disappointment. Each time the curtain rose, it revealed the same sparse plywood-as-rocks exterior as the scene before.
The title role was wrestled by Armenian soprano Hasmik Papian. She sang her part with a ringing upper range that was almost heavenly, which went well with her role as a Druid priestess. At other times, her high notes passeth all understanding.
Least convincing was Papian's acting ability. Again, it's no small theatrical feat to have to pick up a dagger and contemplate stabbing your own kids, but Papian's arm-waving histrionics looked more like aerobics. She was not helped by some clumsy directional choices that may have contributed to the sense of awkwardness between the main characters.
Richard Margison, B.C.'s own world-class tenor, filled the shoes of Norma's illicit partner Pollione with effortless grace. He had the well-rounded tones to test the Queen Elizabeth's new sound upgrade, and both could be given high marks. If anything, he may have made it sound too easy.
If anyone appeared truly engaged it was Kate Aldrich, a singing actress who blended beautifully with both Papian and Margison in their devotional duets. These were the scenes that showcased some of Bellini's most achingly beautiful vocal lines.
Those, then, are my critics' notes. Here are a few more from James:
"The biggest disappointment for me was that I'd seen the picture in the newspapers of the scene with all that red and the ring of fire. I recognized it right away. It was the gates of hell. I know that place. Anybody who's lived in the streets knows the doorway to hell. So I was looking forward to that scene to see how they worked everything out, but it turned out to last only three seconds. And it wasn't even real fire."
Three performances of Norma remain on Dec. 1, 3 and 5.