You can count on it. There will be an audience wanting to see Carmen smoulder and Butterfly swoon. If opera is going to stay relevant, however, this occasionally overbearing mother of all art forms must also nourish the new. That can be a challenge for ticket-buyers who already know what they like -- and it doesn't include chainsaws.
But here's the good news -- the bigger the risk, the bigger the payoff. As in Vancouver Opera's admirable decision to mount the Canadian premier of John Adam's Nixon in China, the most exciting production seen here in many years. It also helps mark Vancouver Opera on the cultural map as a place where new ideas can thrive.
It might help if you're a bit of a political junkie, keen on history and foreign affairs, remember the revolutionary appeal of the poetry-loving Mao and the creepy flop sweats of Nixon, and don't mind the pulsing mini-loops of minimalist music. I'm fascinated by inside stories of the historically powerful which reveal their humanity (or, for thugs like Nixon and Mao, their lack of it). I also like minimalism the way I like tofu and reggae -- the deceptive simplicity of the form encourages one to fill in the spaces. (Although not in all cases; I also think Philip Glass CDs should not be sold without Advil.)
So I was primed to appreciate the performance. To round out this review, and to continue the theme of the series, on opening night I brought along an opera newbie, this time a hipster (read his take below).
'My business is philosophy'
The notion that a week of diplomacy in 1972 can become an opera may strike some as absurd. Why tell a musical drama about a chat between two of the most power-twisted paranoids of the 20th century? When we know the real drama will unfold later as Mao descends deeper into an amoral emperorship that kills millions, while Nixon notches his own belt with the bombing of Hanoi before the ultimate disgrace of becoming the only U.S. president to have to quit.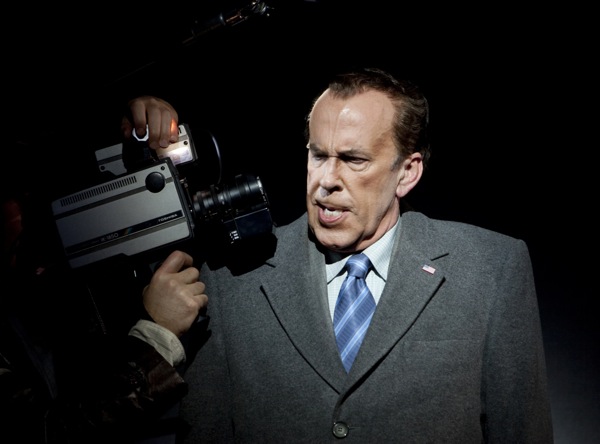 History has not been kind to either of the uncharged war criminals, but what about opera? It turns out composer John Adams' music and poet Alice Goodman's words treat them with more compassion than either showed any of their political foes.
Mao (sung by Alan Woodrow) comes across as a blunt, opaque and witty philosopher king enamoured with his own platitudes.
As history may swing on the basis of his babbles, no wonder his every word is captured and sometimes chanted back by handlers. Mao at some times sounds like he's off his medication and at others like the shrewdest player in the match. In real life, as in the opera, he may have deliberately gotten Nixon and Kissinger off their game by deflecting any real talk of foreign affairs to his underling, knowing Chou En-Lai would be afraid to lift a finger without approval. Mao says, "My business is philosophy," and goes on to ask, "You also dally with your girls?" (Read The Private Life of Chairman Mao by his personal physician, Li Zhisui, for an eye-opening account of the dear leader's debauchery, including spreading venereal disease to platoon-loads of virgins.)
Madame Mao and Pat Nixon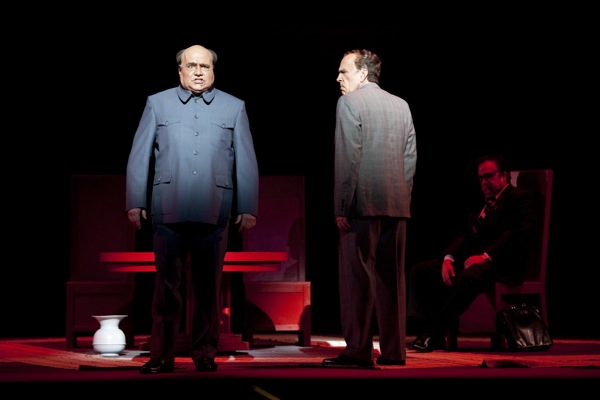 The opera, to its creators' credit, doesn't try to understand the twisted mind of Mao or his suave deputy (whom the Dalai Lama's brother used to call "Chew and Lie" after Chou tried to convince him to kill the Dalai Lama). Nor does it attempt to Sino-cize their musical cues or exotic locale. Adams deliberately portrayed the East from a Western musical perspective. Thus the pleasant surprise during a demented revolutionary ballet overseen by Madame Mao (sung by Canadian firecracker Tracy Dahl) to hear a brief aural homage to Wagner's "Gotterdammerung."
Since not a lot happens plot-wise, the opera is mainly about its characters, and here it excels. Who would have thought a stiff-necked hack like Nixon could be portrayed so charismatically? Full marks to casting for finding Robert Orth, a baritone who not only sounds but also looks like Tricky Dick. He portrays the unlovable leader as awestruck by his own role in the media-fed unfolding of events, a little out of his league in trying to match aphorisms with Mao, and somehow almost normal in encounters with his wife Pat (sung by Sally Dibblee, who gets to deliver some of the score's most beautiful vocal lines).
This opera got on my good side so winningly I even liked the parts I didn't get. No matter. Rather than be annoyed, I think I'll enjoy puzzling out the meaning of the third and final act, when the main players do a surreal dance before the story's mood becomes wistful and almost sad. The leads all get nostalgic (except for Henry Kissinger, the only truly unsympathetic character, who leaves to take a dump).
Fresh arrival
But that's me. How might "Nixon in China" play to a new generation of opera fans?
Esteban agreed to comment as guest hipster -- a label I wasn't sure about sticking on anyone, but then he's the one with the goatee and the tattoos and the skateboard. He's also 25 years old, listens to punk rock, plays bass, has done sound work for the band Suicidal Tendencies and studies sociology at UBC. I asked what he thought of his first opera.
"I really liked it. The music was great. I enjoyed the power of the voices. I'm used to music that is high energy the whole time, but with this there were different emotions that I could feel coming through the music. At one point when it got faster and the voices got louder I think my heart rate went up.
"One of the biggest differences between this and the live shows I usually go to was the level of interaction. In a rock show you sing along or dance in the pit or do stage diving or whatever. In opera it's very static. You're supposed to just sit there and enjoy it.
"Punk rock is pretty straightforward, but this had many levels. Text and subtext, people singing different melodies at the same time. Anybody that can appreciate music would appreciate this.
"It gave me a new respect for opera. Listening to it requires a lot of attention, but it's worth the effort. The musicians were very good. There were a lot of time changes but they could turn on a dime seamlessly.
"For people who are not from opera circles, one of the most intimidating things might be the dress code. I was about as dressed up as you'll ever see me (in a black polo shirt and Dickies pants), but there were a lot of people in their Sunday finest. I didn't feel underdressed, but I'm used to showing up at places looking different. If I were younger it might have bugged me. Actually, the people around us were very nice. I found it to be a friendly environment.
"I thought the sound was great. But I didn't really understand why they required extra amplification. I was looking forward to experiencing the raw power of a person filling the room with their own voice. At least the mix was great, and I could hear everybody perfectly.
"Would I go to opera again? Definitely. If it looked like an interesting opera and I had the bucks, I would go. I'm open to the plan now. It was very cool."
Nixon in China plays three more nights -- March 16, 18 and 20.