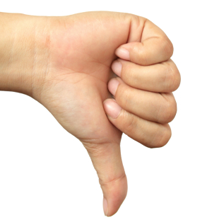 Even Genghis Khan learned to be peaceful... when he saw how much more rewarding it was to tax peasants than to kill them. -- Monica Prasad
British Columbians strongly oppose the 50 per cent increase in the B.C. Liberals' carbon tax imposed July 1, new polling conducted exclusively for 24 Hours newpaper shows.
Polling by Strategic Communications shows that 65 per cent of those surveyed disagree with the 1.17 cent per litre carbon tax increase on gas and 1.35 cents on heating fuel.
And a full 47 per cent "strongly oppose" the carbon tax increase, while only 30 per cent of those polled support the gas tax hike and just 11 per cent "strongly support" it. Another 5 per cent don't oppose or support it.
The new carbon tax rate is 3.51 cents per litre on gas and 4.04 cents per litre on heating fuel. It continues rising annually until it hits 7 cents per litre on gas and 8 cents on heating fuel in 2012.
Strategic Communications President Bob Penner says that despite the recent re-election of Premier Gordon Campbell, who introduced North America's only carbon tax, it is still strongly opposed.
"It's obvious nobody likes paying a tax increase, but it's pretty clear from this poll, and previous ones that we and others have done, that regardless of the substance of the issue, the Liberals have so far completely failed to sell this carbon tax," Penner says. 
Online poll, small regional samples
The poll of 1,000 British Columbians conducted online from June 22 to 29 shows an interesting urban-rural split, with 48 per cent of Vancouver residents supporting the tax and 41 per cent opposed -- the only place where the tax increase is slightly favoured.
In the rest of Metro Vancouver, the gas tax increase is opposed by 65 per cent, with 45 per cent strongly opposed; on Vancouver Island 66 per cent opposed; in the interior 72 per cent opposed; and in the north 84 per cent were against it, with 72 per cent strongly opposed. One caution: regional breakdowns are based on much smaller samples.
Every age group of British Columbians surveyed opposed the gas tax hike, from 50 per cent of younger people opposed and 35 per cent supportive to 50 to 64 year olds being 71 per cent against it and 25 per cent in favour.
And interestingly, women are more opposed than men -- by 66 per cent to 63 per cent.
Strongest tax support from the wealthiest
Also worth noting is that the strongest support for the carbon tax comes from the wealthiest British Columbians. Those with an income over $100,000 support the carbon tax increase by a margin of 44 per cent to the 51 per cent who are opposed.
For lower income earners it's another story. Sixty-one per cent of those making less than $30,000 oppose the gas tax jump versus 29 per cent who agree, while those with income between $30,000 and $70,000 oppose it by a margin of 65 per cent to 33 per cent.
The strongest opposition comes from those with incomes between $70,000 and $100,000, with 72 per cent against and just 25 per cent in favour.
'Axe the Tax' vindicated
The polling clearly shows that some environmentalists and others who argue imposing the carbon tax was a political winner for the B.C. Liberals and opposing it a mistake for the B.C. New Democrats are wrong.
The Strategic Communications poll also indicates that a much smaller poll of 250 British Columbians in mid-June by Environics Research that claimed "public support rises for B.C. carbon tax" is likely incorrect in its conclusions.
That poll -- released at a conference titled "Decoding Carbon Pricing" that was hosted by the Pacific Institute for Climate Solutions and Sustainable Prosperity -- had 48 per cent in favour of the gas tax and 47 per cent against.
Environics Research also released a poll in July 2008 that showed only 40 per cent support for the carbon tax and 56 per cent opposition just after it was first implemented.
As argued here, the B.C. Liberals won in spite of the tax, not because of it.
Related Tyee stories: