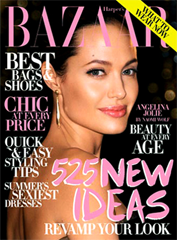 "Oprah Winfrey is dead. Long live Angelina Jolie," trumpeted one paper last week. In this year's Forbes' rankings, kind of like the Stanley Cup of celebrity competitions, Jolie deposed Winfrey's long reign as monarch of fame. She whooped some serious head-of-state heinie too: Obama was the top-ranked head of state, but with his paltry $2 million annual salary, he came 49th.
Since the win, plenty of people have been weighing in about why Jolie now wears the crown. After all, the new queen is a mediocre actress in "movies full of abrupt transitions and overblown characters." Winfrey makes 10 times Jolie's salary. And though Jolie is a UN ambassador and all, it's not like she has a real job. She plays make believe for a living, and collects children and houses.
Figuring out why certain people become mighty, even though they're almost identical to other people who live in normal obscurity, is arguably some of the best sport there is. So it's no surprise that the celebrity academics are suiting up. And in this month's Bazaar, heavyweight third-wave feminist, Naomi Wolf, Rhodes Scholar and author of the Beauty Myth, who most recently postulated on the hairy legs versus high heels debate in "Who Won Feminism," weighs in on how Jolie has risen from her awkward near-Goth beginnings to being the most desired person on the planet. Wolf's essay occasionally verges on fandom, or at least overt admiration, but that's maybe because she sees Jolie's win as a feminist triumph. Either that, or she's just been reading too much Perez Hilton.
In Bazaar's cover story, "The Power of Angelina," (the other headlines offer such delights as 525 new ideas to revamp your look, but never mind that), Wolf says it's because Jolie is the new embodiment of having it all -- something women have never actually been able to pull off before.
"She has created a life narrative that is not just personal," writes Wolf. "Rather, it is archetypal. And the archetype is one that really, for the first time in modern culture, brings together almost every aspect of female empowerment and liberation."
Beauty on the outside, actually
Wolf's first theory: um, Jolie is gorgeous. "Bosomy and wasp-waisted, with that curtain of hair and those crazy pillowy lips, she is an obvious male sex fantasy." But equally interestingly, polls show that her "appeal and magnetism play at least as powerfully in the fantasy life of females." Straight, lesbian and bisexual women would choose Jolie, if they had to choose a female lover. You know how the saying "women want to sleep with him, men want to be him," gets applied willy-nilly to powerful, attractive men? Well, in this case, women and men want to sleep with her, and women want to be her.
The reason for the lady lust, according to Wolf, is that Jolie has become what psychoanalysts call an "ego ideal" for women -- "a kind of dream figure that allows women to access, through fantasies of their own, possibilities for their own heightened empowerment and liberation."
Wolf argues that until now, patriarchal civilization has managed to convince women that identity is a series of high-stakes either-or choices. You're a virgin or a whore. You're a mom or a home wrecker. You're successful in your career or you're feminine.
But Jolie not only has it all, she does get away with it. And that gives her audiences a vicarious thrill.
Single motherhood rebranded
After starting out in the public eye as a slightly odd, brother-kissing, blood-vial-wearing sex symbol, she started to emerge when she became a single mother who didn't seem to need a partner (financially or otherwise) in order to be able to be a parent. A quarter of American households are headed by single parents, often portrayed as sad, poverty-stricken and pathetic, and Jolie turned that it into a "fairly radical, vision... that made the relationship seem tender, glamorous, and complete, father figure or no father figure in the picture." She re-framed single motherhood "from a state of lack or insufficiency to a glamorous, unfettered lifestyle choice." I wonder if it's easier to be a single mom if you're a millionaire? Hmm. At any rate, "paradoxically, having done so, she makes the choice of a man to help her raise her kids seem like one option among many for a self-directed woman rather than either a completion of a woman or a capitulation."
As selfish as any man
That man, Brad Pitt, also adds to her mega-power, given that he's "the male seen as the most desired of the tribe, who is always ranked at the top of indexes of male beauty and virility," (though eight spots behind her on the Forbes list). It wasn't a given that he would: her scarlet-letter infraction, her "megascandal," her alleged seduction of him while married (to a celebrity with an American girl-next-door sweetheart persona no less) could have discredited her completely. But she turned the home-wrecker label into a "wholesome, family-friendly triumph." Shortly after she and Pitt got together, on the set of Mr. and Mrs. Smith, there were photos of her new uber-partner (formerly childless) playing football with Maddox, her adopted son.
And in the end, "Jolie's evident disdain of that social constraint [of falling for a married man] certainly, for better or worse, put her in the same self-entitled category as those men who have traditionally taken what they wanted and let the emotional chips fall where they may."
Wolf then argues Jolie "kicked her career into overdrive" when she started doing public appearances (and work apparently) in aid of stricken women and children worldwide. Then Brangelina's rapid adoption of additional children, though problematic for many reasons, in my opinion, "certainly stood out in a raft of narratives of stars who simply shop, tan, and go into rehab."
I am woman, hear my plane roar
Oh and "then there is the plane." Yes, she flies. Her own plane. Because women are usually "dependent on others (certainly on men) for where they go, metaphorically, and how they get there, the plane " is the classic metaphor for choosing your own direction."
But as other feminists have pointed out, Jolie is still not much more than a sex symbol, "a pornographic feminist fantasy," who talks.
Look, I get that Angelina Jolie does some volunteer work and gives money to charity, and sure I'm pleased about that. Just as I am that someone is rebranding single motherhood, and that a celebrity with some conscience beats out others like Paris Hilton. But does she match Oprah when it comes to personality or service?
Jolie's win shows that men and women's fantasy female is built primarily from boobs and lips. Is Jolie really all that knowledgeable about world politics (like Wolf)? Of course, we don't even really know what she is knowledgeable about: Jolie is a professional pretender, a blank canvas for our projections.
Maybe we shouldn't declare that women can now have it all. Unless, of course, we're willing to admit that's our fantasy of choice.
Related Tyee stories: