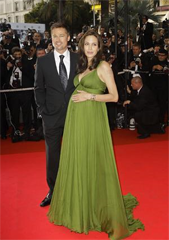 Although the babies are mere days old, there's a price tag on their bald, wrinkly, blind-ish little heads: $11 million for photos of the pair. And some say it could go as high as $20 million before the bidding war is done.
Back in 1989, the National Enquirer paid $100,000 for photos of Lisa Marie Presley's baby. "At the time, I thought it was outrageous. Now it's chump change," said executive editor Barry Levine.
Indeed, Christina Aguilera reportedly got $1.5 million in February for shots of her newborn, Max. And People shelled out a whopping $6 million to Jennifer Lopez and Marc Anthony for the first photos of new twins Max and Emme. But the photos of Knox Leon and Vivienne Marcheline Jolie-Pitt would be the highest priced in history.
Interestingly, the Jolie-Pitts reportedly received several million dollars from People magazine for the first shots of Shiloh Nouvel (the actual figure was never made public), but not for the first shots of their adopted kids.
So why do readers want to see the genetic spawn of people who memorize other people's words for a living?
Business theory, evolutionary psychology and cultural politics might suggest why. Here are 10 theories:
1. Show me the money
"The $11 figure just shows you how big the financial component is," says Jake Halpern, the author of Fame Junkies: The Hidden Truths Behind America's Favorite Addiction.
He says the Washington Post still lives off the Watergate story. And even though first shots of the Jolie-Pitt twins don't have that kind of socially redeeming value, they add to the tabloid's cred. "Even if they don't make the money back with that story specifically, they get the cache of having the inside scoop."
2. Voracious voyeurism
"Celebrities have gradually ceded almost every vestige of their privacy" over the last 30 years, says Halpern. "There is very little that the world doesn't see anymore. Newborn baby photos were one of those few things. They're the inner sanctum of private life, and "because these private moments are so incredibly rare, they have become an enormous commodity."
"It stands to reason in a world in which people pay top dollar for intimacy, to get a shot of holy of holies," is worth a lot. "It's about wanting to get as far into these people's lives as possible: voracious voyeurism is driving this."
3. No business like 'show' business
Angelina Jolie herself said, "In my father's generation, the product was 80 per cent of what you were putting into the world, and your personal life was 20 per cent." She says now it's the opposite.
What's interesting about the Telegraph's video clip of the pregnant Jolie with Pitt is their behavior. I don't know about you, but I don't tend to pose like this when I go out for dinner with my boyfriend. But that's their life: they're at work together.
So another way to look at Jolie's comment is that she knows 80 per cent of her pay cheque indirectly comes from marketing her private life.
And let's be honest -- it's not just tabloids auctioning off the newborns as the Jolie-Pitts innocently stand by. It's Jolie and Pitt's "people" negotiating these deals so that they get the most control, exposure and money.
Even if they give all the money away to charity the publicity that comes from such a gesture is worth more than money-in-hand. And for them, $11 million isn't much -- as one friend of mine said, "if the Jolie-Pitts give away $10 million, that's like me giving away $500."
It's also because they're negotiating for so much, and the tabs are paying so much, that this is a big story, a 38-year-old marketing exec friend of mind pointed out. The higher the price goes, the more it's sensational, the more audiences want to tune in.
4. Belongingness theory
But business theories don't entirely explain why audiences are interested in the intimate lives of strangers at all. And really, that's weird.
"Some research psychologists have come to believe the need to belong is every bit as urgent as the need for food and shelter -- the desire to belong is actually humankind's driving force," explains Halpern in Fame Junkies. He says some psychologists think the primal yearning for social acceptance trumps sexuality.
"Humans who formed groups in ancient times increased their chances of survival and reproduction," so evolution created a kind of internal mechanism that makes us stressed when we're isolated and stimulates the production of opioids -- chemicals in the brain that make us feel pleasure -- when we have social relationships.
Scientists in the 1950s found that people form "para-social" relationships with people on TV, with similar benefits as "face-to-face" relationships. And now, with the celebrity "journalism" industry, we know as much about the real lives of actors as the characters they play, which brings them that much closer to the audience "friends."
Yale political scientist Robert Lane notes that the number of people who described themselves as "lonely" has more than quadrupled in the last few decades. And all of this suggests that many people follow the stories of the Jolie-Pitts because evolution and current living conditions program them to.
5. Prestige theory
Then there's Prestige Theory, which argues it's been evolutionarily advantageous for human beings to identify prestigious people and befriend them. Those people would gain skills and also protection. "In ancient times the disciple of a successful hunter stood a better chance of surviving, having children, and then feeding them," writes Halpern.
All of this goes wrong when it comes to celebrities of course. When we see them on TV and in magazines, "we sense that they are at the centre of a truly enormous entourage, so our conditioned 'posse response' is activated and we gravitate towards them... without really gaining anything."
6. Breeder envy
Babies are currently elusive to many 30-something, career-oriented women. In fact, Canada has the lowest fertility rate in the developed world, especially among women of Jolie's age and demographic.
This trend is reflected in the celeb world: it's not unusual to see young women having babies -- like Nicole Ritchie, Brittney Spears, Jamie-Lynn Spears, Ashley Simpson. Nor, now, to see 40-ish women who are fully established in their careers having babies -- like Julia Roberts, Cate Blanchett, Naomi Watts.
But to be 33, at the peak of your career and breeding is unusual. My childless, 30-something, career-driven women friends watch Jolie's case, more than other celeb-mothers', with both curiosity and envy.
7. Brangelina, now new and improved!
Called the world's most famous children even before they were born, Vivienne Marcheline and her brother Knox Leon, arrived into a world of scrutiny and tight security: the ultimate aristo-brats. These two will be dominating the image-sphere for the next 80 years, and it's the first time we'll see them.
8. It's a bird, it's a plane...
Do they deserve that future fame? "The public feels an unjustified familiarity with them," said a 42-year-old friend of mine, who's an elementary school principal and artist, "but they're abnormally good looking and even scandalous," so they're not "friends like Oprah but distant, ultra-human-acquaintances that are out of reach." People are curious, she argues, because they wonder if the twins are super-humanly-gorgeous from birth, which would, of course, help to justify the increasing power of the celebrity machine.
9. Stars: they're just like us
Or not. The same friend says if those super-human babies are actually ordinary "prize-fighter-like and bald," there'll be a pleasant element of "schadenfreude." Which also makes it enjoyable to see them.
10. Just another freak show
"It's just not normal," said my 32-year-old friend who is the mother of a one-year-old. "My one child is more than fulfilling enough. It's like Angelina is a collector, like she's obsessed with more, more, more.
"It's another way for her to be idolized -- you get a big rush from a baby who is totally dependent on you and loves you."
She wants to see the pictures of "weird" people who have an insatiable lust for dollars, babies and attention.
Related Tyee stories: