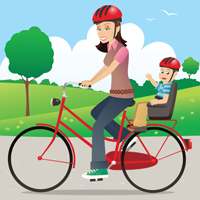 The urban-rural fault lines that have defined British Columbia's political landscape for most of the past century have crumbled. On May 12, green-minded suburban voters are poised to pick B.C.'s next premier.
One in four of B.C.'s 85 new electoral districts are swing ridings. The majority of those 23 battlegrounds lie within the province's southern suburbs. So the heavy combat in next month's provincial election is likely to take place in otherwise bucolic 'burbs such as Burnaby, Coquitlam, Maple Ridge and Saanich.
And in every one of the province's 23 statistical swing ridings (see list below), support for the Green Party of B.C. exceeds the narrow margin by which either the B.C. Liberal Party or the B.C. New Democratic Party would hope to win.
Numbering as few as 40,000 souls, these green suburban swingers represent less than one per cent of the province's 4.1 million residents, so their historically fickle affections won't be revealed in province-wide polls. And since their mainstream-minded neighbours outnumber them by 10-to-1, there's no chance they'll elect a Green Party candidate in their own ridings. But because these soy-sipping suburbanites are spread evenly across the province's new must-win swing ridings, B.C.'s next premier will in all likelihood be picked by a garden mom who stows reusable shopping bags in her high-mileage Prius.
Liberals have 33 safe seats
B.C.'s new electoral districts have provided the ruling B.C. Liberal Party with 33 safe seats, according to a review of data that considers how the 2005 vote would have played out in the 2009 ridings.
The Tyee identified 33 ridings the B.C. Liberals would win by a margin of 10 points or more, if the 2005 vote were to repeat. These include conservative strongholds such as West Vancouver, Richmond and the Peace River ridings.
Premier Gordon Campbell's party would win an additional 7 seats by moderately secure margins (between five and 10 points), and would carry another 8 swing ridings by slim margins (five points or less), according to this old-votes-in-new-wineskins analysis. Altogether, the 2005 vote would award the B.C. Liberals with 48 of the 85 new seats.
Carole James' B.C. NDP would win 18 safe seats (margins of 10 points or more), another four moderately secure seats (margins of between five and 10 points), and 15 swing seats; thus the 2005 vote would award 37 seats to the official opposition.
This backward-looking exercise should not be misconstrued as a prediction. But it does illustrate where many of the upcoming battles are likely to be fierce -- the 23 ridings with slim margins, plus a few more being hotly contested -- and where they will likely be quiet.
At the same time, it suggests that the B.C. Liberals are headed into this race with a formidable advantage. All Gordon Campbell has to do to return as premier is to carry his party's 33 safe seats and win ten more.
New swing ridings benefit NDP
Carole James, on the other hand, must carry all 18 of the NDP's safe seats plus an additional 29 swing seats if she is to become B.C.'s first elected woman premier.
As a result, the B.C. New Democratic Party will be forced to spread its limited resources across three times as many battlegrounds as the B.C. Liberals. This is particularly significant because both parties are subject to the same $5.5 million spending cap. (Though it's questionable whether either party will be able to raise the limit in this economy. More about that later this week on The Hook.)
The good news for the NDP is that the same redistricting that consolidated B.C. Liberal support into 33 ridings simultaneously diluted B.C. Liberal support in dozens of adjacent ridings. It is this systematic dispersion that has left B.C. with so many swing ridings this year; and it is this dispersion that gives the NDP a chance at winning.
Here's what the Dippers must do to take back B.C.:
First, the NDP must win all 18 of its safe ridings. These include left-leaning strongholds such as Vancouver-Mount Pleasant, Nelson-Creston, New Westminster and leader James' own Victoria-Beacon Hill. Likewise, NDP incumbents must win reelection in all four of the party's moderately secure ridings: Vancouver-West End, Burnaby-Edmonds, and Skeena. And New Dem candidate Mable Elmore will have to replace retiring NDP MLA David Chudnovsky in Vancouver-Kensington.
Second, all 12 NDP incumbents running in swing ridings must win reelection. The party cannot win a majority without retaking Vancouver-Fairview, Surrey-Fleetwood, Port Coquitlam, North Island, Nanaimo, Maple Ridge-Pitt Meadows, Fraser-Nicola, Delta North, Coquitlam-Maillardville, Cowichan Valley, and the Cariboos.
And finally, the party would have to win nine more swing ridings. Expect the NDP to fight hard in swing ridings such as: the Burnabys, Comox Valley, Kamloops-North Thompson, Kootenay East, Maple Ridge-Mission, the Saaniches, Stikine and Vancouver-Fraserview.
Is an NDP victory probable? No. Is it possible? Absolutely.
Indeed, if Liberal party leaders such as Premier Gordon Campbell and Attorney General Wally Oppal are forced to run in the shadows in order to avoid answering questions about the B.C. Rail deal, this could be the Dipper's best chance to retake Victoria in more than a decade.
Suburban greens hold the key
The Green Party of B.C. do not have a safe or even a probable riding anywhere in the province. Their most promising candidate is Damian Kettlewell, who will surely nettle B.C. Liberal plans to dominate the province's new condo capital, Vancouver-False Creek. Party leader Jane Sterk is expected to rattle the NDP in her home riding of Esquimalt-Royal Roads. And green candidates have historically done well in the B.C. Liberal stronghold of West Vancouver-Sea to Sky, as well as the NDP-dominated Powell River-Sunshine Coast.
But there is no statistical basis to believe that a Green candidate could win any of this year's 23 swing ridings. The party attracted less than 10 per cent of the 2005 vote in these mostly suburban and exurban electoral districts. That's not even enough to show up in province-wide polls.
Nonetheless, according to The Tyee's interpretation of the 2005 vote, the Greens' single-digit support exceeded the narrow margin by which either the B.C. Liberals or the NDP would have won each of those 23 ridings. As a result, these widely spread green-leaning suburbanites are the swing voters who could tip either leading party into power.
If they rally behind Premier Campbell's vociferous support for North America's first carbon tax, these suburban green voters could deliver the B.C. Liberals a victory comparable to the 2001 landslide. Votes cast for Green Party candidates in these 23 ridings will have much the same effect.
Conversely, if suburban green voters were to support NDP candidates in as few as a dozen Liberal-leaning swing ridings, they could propel Carole James to the premier's office.
With a week to go before the writ is dropped, all that's clear is that the NDP will have to fight a two-front war in these battleground ridings, while the B.C. Liberals will not. For while the B.C. Conservative Party has nominated candidates in only two of the 23 swing statistical ridings, the Greens already have candidates running in more than half of this year's battlegrounds.
Whether or not the Greens will run candidates in the remaining swing ridings remains to be seen. Green leader Jane Sterk told The Tyee that her party has another 15 candidates "in play," and that there are two more ridings on a "deep search" for someone local. Intriguingly, the Green Party's most direct influence on the outcome of this election may come not on May 12, but in the course of the pending decision whether or not to run no-hope candidates in the remaining suburban swing ridings.
On Tuesday: Six BC Liberal ridings the NDP must take to win. Wednesday: Six NDP ridings the BC Liberals will target.
Related Tyee stories: