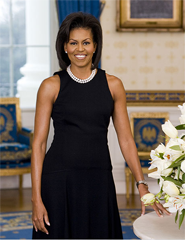 This is the third week of Armgate, or Sleevegate. It could also be called Bicep Bruhaha. To some, Michelle Obama is going out on a limb, is armed and dangerous, and out to start her own arms race. Her pipes have even spurred workout regimes ("Can We Get Michelle's Arms? Yes We Can!")
The people are up in arms! (Sorry, can't stop.)
It's not exactly a slow news cycle right now, but the bicep topic has taken up a disproportionate share of minutes and column inches among the chattering classes and their auxiliary chattering commenters, especially the politicos, and the lion's share of photo gallery real estate, like here, here, here, here and here. In The Daily Beast, one Washington journalist said, "Simply everyone is talking about it (or them) everywhere I go."
The reaction to Obama's biceps and triceps isn't as extreme as that reserved for queen of steel biceps, Madonna, but it's more prominent, pointed and political.
Doesn't anyone notice the tweed?
Here's a summary, in case you've been doing more important things like reading about the world financial crisis, or about the fact that she's redefining the role of first lady, taking a more active role than any in recent memory by working in soup kitchens, visiting schools and meeting with, you know, citizens.
So far, as first lady, Michelle Obama has worn many sweater sets, grey suits, and even some tweed. She's also worn strapless or one-shoulder gowns to the Inaugural Ball and several other evening events, and met with positive reaction. But she wore a sleeveless Narcisco Rodriguez dress to the President's Address, appeared on the cover of Vogue in a sleeveless crimson Jason Wu sheath dress, then the cover of People in a lacy pink Tracy Reese mini dress. Then appeared in her official portrait in a sleeveless, black Michael Kors dress. Apparently, that's too many shoulder barings, especially for daytime events in the Washington winter.
As Sandra McElwaine pointed out, she's not the first first lady to bare arms: "Frances Folsom Cleveland infuriated the Women's Christian Temperance Union when she wore gowns that bared her shoulders. They petitioned her to stop because it was 'an evil influence on other young American girls.'"
But Maureen Dowd added protein powder to the workout when she quoted David Brooks, a fellow NYT columnist, as saying "She's made her point," he said. "Now she should put away Thunder and Lightning."
The question is why her arm muscles have people's tongue muscles moving.
Washington wonks prefer frumps
Dowd writes, "Let's face it: The only bracing symbol of American strength right now is the image of Michelle Obama's sculpted biceps. Her husband urges bold action, but it is Michelle who looks as though she could easily wind up and punch out Rush Limbaugh, Bernie Madoff and all the corporate creeps who ripped off America."
The subtext? Some people are intimidated by a first lady who symbolizes strength, instead of support.
In a taxi, Brooks argued to Dowd that "Washington is a place where people have always been suspect of style and overt sexuality. Too much preening signals that you're not up late studying cap-and-trade agreements… Washington is sensually avoidant. The wonks here like brains. She should not be known for her physical presence, for one body part."
Sure, I want big brains from Washington and Ottawa. But why brains or brawn, but not both? That ironically contradicts every piece of scientifically based information I've read about the benefits of a healthy body. But I notice this isn't the first time that mysticism has trumped science among the right wing.
And as one friend said, "The whole sensual avoidance thing really worked for the Catholic Church."
Arms imply vanity, power, confidence
Bonnie Fuller, an ex-fashion magazine editor, thinks that Brooks and many of his muscle-a-feared Republican cohorts are resorting to verbal bicep jabs because they have nothing else to say as a party right now, are afraid of the strength of the Obama era, and unable to make actual bicep jabs ("I bet he's got jiggly girly-man arms," she jokes).
In the New Yorker's Style issue (with three illustrations of a sleeved Obama on the cover) Pulitzer Prize-winning fashion reporter Robin Givhan argues that the problem isn't that Obama's biceps aren't particularly remarkable for their quality or size, but for what they represent. "They are not outlandishly sinewy Madonnaesque limbs. Obama's athletic arms are achievable -- in between the kids' soccer practice, the executive suite, and the grocery store. Those arms represent personal time. They are evidence of a forty-five-year-old woman's refusal to give up every free moment in service to husband, kids, and all the nagging distractions that could have filled her days and left her tuning in to Oprah, trying to figure out how she'd lost herself along the way. The arms imply vanity and power: two things that make many women uncomfortable and yet are fundamental to self-confidence.
The political is the personal
But I think it all comes down to what Desiree Rogers, the White House's social secretary said in a recent interview. According to Rogers, the first lady's view on all of this is simple: "If I want to wear no sleeves to hear my husband speak, that's what I'm going to do."
That attitude is the real problem. It's a shift in the way many first ladies have played their roles -- in public, anyway.
Washington is a serial TV drama, with ongoing roles. Every four or eight years, those roles are recast, and every time those subtle casting changes spark some tension in the audience. Though the actors have some differences (usually communicated in terms of their being left- or right-leaning) they have many more similarities when it comes to race, class and gender, and they tend to wear similar wardrobes that minimize any other differences (just as MSNBC anchor Rachel Maddow has chosen to wear a grey suit every night to take the attention off the fact that she's actually very different from most anchors).
The race card
When the same typecast actors play the same roles the same way, audience tension is minimized. But as one friend of mine put it, "Some people are really starting to freak out because it's hitting them that she's black."
Just by getting there, as black Americans, the Obamas have arguably achieved more than most two-term presidential couples. They can relax and be themselves, which she seems to be doing, rather than pander to small c-conservative public opinion.
Michelle Obama is not typecast: she's playing a new role for her. She's also reinventing the role itself. Not just because of her achievements, nor her color, nor her wardrobe, but because of a combination of all three, and because of what she's communicating with that wardrobe.
"Jackie Kennedy was stylish, but most other first ladies have had fairly fuddy-duddy, uptight wardrobes," says Kerry Weinrauch, a local TV, feature film, and music video stylist and costume designer.
"You can change somebody with their clothes, you could turn Michelle Obama into what people expect a first lady to be." But Weinrach says Obama is instead communicating that she is her own person, approaching her role as first lady in a different way from those before her, and doesn't see a need to dress like anyone other than herself.
"Anyway, you don't want the clothes to wear the person, you want the person to wear the clothes. That's ultimately the only way it can work." With her bare biceps, Michelle Obama is carving out a new style and role for first ladies and for women generally. It's making some people, possibly those wearing tight fitting suits, very uncomfortable. But it suits her, and many other women, very well.
Related Tyee stories: