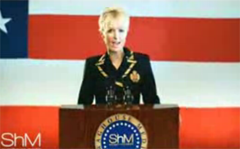 What stars foreshadowed that blue dreams would come true last night? It wasn't the ones stumping for Obama in person, by phone or on YouTube. It wasn't celebs' "real life" political performances, delivered with satire, earnestness or anger.
No, it was, in fact, Paris Hilton, with her small, quiet decision to flee to London. "What?" you say. But no one even noticed Paris Hilton moved to London, and no one cares about her anymore.
Exactly.
No one more closely parallels the inherited, unmerited opportunity and power of Bush and his regime than the now-forgotten heiress.
Paris Hilton and what she stands for have been exiled. That's my word. She says she's there (maybe permanently) because she "loves" Brits and is having an "amazing time." Sure she is.
But no one is even paying attention.
Hilton's new-found shyness?
Hilton and Bush, more than anyone, epitomize the triumph of talent-less fame: of party boys and material girls who go from sticking things up their noses to sticking it to the less privileged, all with little effort and even less skill. And nothing more decisively shows the public party is symbolically over than the fact that neither of its poster kids is on any square inch of the public stage. There was not a mention of Bush last night, and though Hilton made a brief appearance on Funny or Die during the campaign, she's also been conspicuously absent from most of the campaign and election, the most popular show of all time.
Hilton has always been a barometer of public opinion. And even now, the master of reinvention (rivaled only by Madonna) has tapped in once again to the zeitgeist. While Hilton used to shop only at Prada and Balenciaga and Fendi, she now lauds the virtues of the inexpensive but trendy TopShop. Paris seems to be making the shift to this new style-of-the-people.
Big deal, right? Sure, but in this election, which was a watershed not only for African Americans but also for women, wardrobe played a bigger role than ever in shaping public opinion and communicating ideology. Sarah Palin's $150,000 wardrobe and Cindy McCain's designer clothes could well have cost the Republican Party as many votes as official policy. And Michelle Obama's frequently inexpensive styles (she regularly talked about shopping for herself, paying for her own clothes, and wearing items from budget-conscious stores such as H&M) won her husband the respect of many voters. In a race the wardrobe was the political, she dressed the talk.
But do these actions sound Hilton's swan song or the first notes announcing her return?
At 8:03 p.m., when Obama officially gained over 270 electoral college votes and won the election, the New York Times wrote "Mr. Obama's election amounted to a national catharsis -- a repudiation of a historically unpopular Republican president and his economic and foreign policies, and an embrace of Mr. Obama's call for a change in the direction and the tone of the country."
Though it's never wise to underestimate the power of money, given the new tone, maybe we'll see the Hilton Era right next to the Bush Doctrine in the bargain bin of history.
Related Tyee stories: