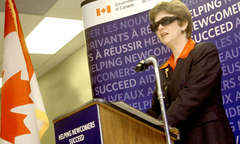 Federal Human Resources Minister Diane Finley has explained why she, and presumably the Harper government, is opposed to raising employment insurance payments for unemployed workers, or making it easier to qualify. "We do not want to make it lucrative for them to stay home and get paid for it," she said on January 30.
In essence, she is saying that Canadian workers, in their hearts, are lazy and would prefer sitting at home to working.
If that is the case, how do she and her government explain that Canadian workers are considered to be among the most productive in the world? They work in demanding, difficult and often dangerous occupations. Whether it be bush work in -40 degree weather; in hot restaurant kitchens; in sawmills and pulp mills; in mines, steel mills and assembly plants; in fishing and farming; on oil & gas and construction projects; in hospitals and schools; in minimum wage service sector jobs, it is their labour that is the foundation of all wealth creation in this country.
This nation not built by slackers
The Canadian people like to work, and always have. It is one of their distinguishing and outstanding characteristics, and one that they take great pride in. How else to explain this country coming into being with a modern economy and infrastructure? How else to explain the wealth that has been extracted from a land with some of the harshest climactic conditions and geography in the world?
Indeed, one of the worst fears that Canadians as a whole have is losing their jobs. Psychologists have noted that worry about unemployment, and job loss itself, can be a significant cause of psychological distress, leading to depression, marriage break-ups, substance abuse and other problems.
So just what kind of mindset are Finley and the Harper government proceeding from in making such slanderous statements against Canadian workers? According to Finley, the reason the government is making it difficult for unemployed workers to receive EI benefits, is so that they will be prompted to move away to some other part of the country where there are "significant skill shortages."
She said this on the last day of January, a month in which 129,000 Canadians lost their jobs, 35,000 of those here in B.C.
Roaming in desperation
So, a laid off millworker in Mackenzie or Fort St. James, B.C., should close up the mortgaged house, help the spouse load up the car with mattresses and other household possessions, buckle the kids into the back seat, and go... where? Prince George? But the mills there are laying off, not hiring. The Alberta oil patch? Oil prices are plunging and people are losing their jobs. Vancouver? Idle cranes and abandoned construction projects are becoming a feature of the landscape. Southern Ontario? The manufacturing economy has been in the toilet for several years now.
According to Statistics Canada, unemployment is rising around the country, with "the worst yet to come." Picking up and moving at this time could very well be a recipe for ending up out of work and homeless on the streets of some big city.
Define 'lucrative'
Instead of taking every measure so that the millions of Canadian workers can survive through this looming economic hurricane, hold onto their houses, pay their hydro and gas bills, and put enough food on the table for their kids, Finley and her federal colleagues are fixated on making sure that EI payments remain inadequate, as well as difficult to obtain.
How mean-spirited can they get? It is as if the federal government was operating a soup kitchen with public funds and putting ground glass into the porridge.
There is a lot of irony in the federal government labeling EI payments as being "lucrative." For one thing, the maximum benefits are about $435 a week, which comes to about $1750 a month. Many people who pay into the fund are not even eligible, and many do not get anywhere near the maximum amount.
How can $1200, $1400 or even $1750 a month, for 50 weeks or less, be called in any way "lucrative"? In some towns and cities, rent and utilities alone will take up most of that amount. How does a single person keep his or her head above water, let alone a family with 2 or 3 kids?
Looting Employment Insurance
But there is another irony here, also. In fact, it is the federal government that is the one that should be accused of pursuing "lucrative" benefits, of getting something for nothing. One of the single most disgraceful things that the government has done over the last few years has been to loot the huge EI fund. This fund, which amounts to over $54 billion, has been built up entirely by payments from workers and employers. Yet that has not stopped the government from stealing almost all of it and using it for its own political and economic ends. As the old saying goes, the pot is calling the kettle black.
Yes, Minister Diane Finley, with your EI policy, you want to make sure that the "lazy" workers of Canada get out there and find a job, and, presumably, you'll even tell them where to go and get one.
One thing you can bet on, though. After hearing your recent comments, a lot of workers, whether they are employed or unemployed, whether they live in Mackenzie, Grand Falls or Windsor, would love to have a chance to tell you where to go.
Related Tyee stories: