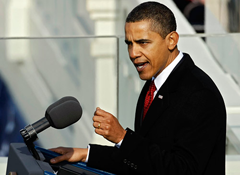 Frank talk about hard times. An energetic call for vigorous action. Amid crisis, affirmation of hope that comes from within the best traditions of a nation. In eloquent but simple cadences, during his inaugural address, Barack Obama sought to turn the page on one of the darkest periods of American history by calling for renewed action for the American people as a whole. "We must pick ourselves up, dust ourselves off, and begin again the work of remaking America."
Obama was deeply, if somewhat obliquely, critical of his predecessor -- criticizing the greedy domination by the few of high economic station, and also asserting the proposition that "our [military] power alone cannot protect us," but to the contrary that "our security emanates from the justness of our cause, the force of our example, the tempering qualities of humility and restraint." This amounted to a rejection of the arrogance and brutalities of the Bush era and the crass service of the wealthy at the expense of workers and the middle class.
Of course Obama then went on to use tough language to dissuade future terrorists, in order to demonstrate that he would not be soft in foreign policy.
This tension will lead to a scheduled exit from Iraq, but also to a military build-up in Afghanistan.
Shades of FDR
But primarily this was a domestic policy address, much in the spirit of the 1933 inaugural address of Franklin D. Roosevelt who confronted an earlier depression following a period of wild reallocation of the national wealth to the wealthy and powerful. As had Roosevelt, Obama promised a new era of regulation for the financial system, and curbs on the wealthy -- "this crisis has reminded us that without a watchful eye, the market can spin out of control -- and that a nation cannot prosper long when it favors only the prosperous."
Obama rejected the notion that the government was the enemy -- Ronald Reagan's assertion in his 1980 inaugural that has served as a guide to the conservative hegemony just overthrown. "The question... is not whether our government is too big or small, but whether it works."
I suppose that any liberal coming to power during such a crisis would have said all this, although perhaps less eloquently. What is most remarkable is that this was an African-American man giving this speech. Although he of course must serve as the president of all the people in an increasingly multicultural nation, in his address Obama worked through his black heritage in thoughtful fashion. He acknowledged that to build the nation for their inheritors, poor immigrants had "toiled in sweatshops" and "plowed the hard earth" but also, and notably, that black slaves had "endured the lash of the whip." He stressed the irony that "a man whose father less than 60 years ago might not have been served at a local restaurant can now stand before you to take a most sacred oath."
Something for the 'non-believers'
Most impressively, Obama argued that the "patchwork heritage" of the United States was not a weakness but a strength, and in addition to praising the religious as is conventional in American public addresses, Obama acknowledged the contributions of "non-believers." Americans come from every culture, he argued, "and because we have tasted the bitter swill of civil war and segregation, and emerged from that dark chapter stronger and more united," we can hope that "old hatreds shall someday pass [and] that the lines of tribes shall soon dissolve" into a common humanity. This was the dream of Martin Luther King; this was the way a black president could use his race when discussing the election as a marker along a more enlightened racial path for all Americans.
Of course, inaugural addresses are meant not to set a program so much as to sound a trumpet. Like Franklin Roosevelt before him, Obama and his team will now have to improvise solutions to the huge economic crisis that threatens to spin totally out of control. It is not clear that the Congress will go along with all that Obama demands -- and what will transpire will be a huge stimulus package that is as yet ill defined and not necessarily sufficient or effective.
What if the first packages of legislation do not work? Should the new president be willing to take unheard of steps, for example to nationalize the banking system rather than just feed it? Can Detroit be bailed out? Can the housing market be turned around by a creative reversal of toxic mortgages? Can finance capitalism be truly tamed through rigorous regulation? I do not believe that Obama yet knows what might be in store, and I also believe that his inherent centrism might check the demands for truly bold reforms that might well be necessary to transform the economic system sufficiently in order to save it.
The gumption to experiment
Unlike his immediate predecessor, Obama is clearly a bright and intellectually curious man who is willing to listen to a diversity of talented people, and perhaps he has the gumption to think well outside the box and to experiment.
This day is eerily like Franklin Roosevelt's entrance to office at the depths of the Depression in 1933. Many thought that he was just a handsome patrician of rather wishy-washy opinions. But in his inaugural he promised governmental activism and bold programs to grapple with an economy almost totally unhinged. He listened to a variety of often-radical voices, patched together program after program, cheered the nation with his stirring addresses of hope -- and he saved the nation from collapse.
Barack Obama has many of the same chops -- we can all pray, Canadians too, that he will prove to be a powerful force for creative governmental engagement, and of course that the always-inscrutable business cycle turns up sooner rather than later.
Related Tyee stories: