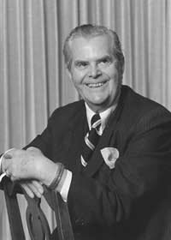 What if W.A.C. Bennett, the ambitious and powerful Socred premier of British Columbia from 1952 to 1972, were to seek and get St. Peter's permission to return to life in this world?
What if his wish were granted, provided he got back into public life and went to work getting back his old job by joining one of the two provincial parties able to win an election?
Which party would he choose?
We have to remember that Bennett's years in office were very different times than today. For one thing, they were mostly pretty prosperous times. For another thing, it wasn't fashionable, much less required, that the public be involved in government projects. Bennett's style was to do his thing, then call an election at an appropriate time, which was usually at three-year intervals. He won seven in a row -- 1952, '53, '56,' 60, '63, '66, and '69 -- finally losing to Dave Barrett of the NDP in 1972.
In evaluating how W.A.C. would do today one must remember two things. In the 1960s, one could have said he was a brash free enterpriser or that he was a rampaging socialist, depending upon one's viewpoint.
Today, the NDP who hated Bennett's guts during his long reign, now consider him an icon! So, does that make him a Campbell-ite in 2009 or could it be possible, for God's sake, that he could join the NDP, a party he once said couldn't manage a peanut stand?
Without a doubt, I believe he would choose to join the NDP.
He would do so based on how the two parties have cared for his legacy. Specifically:
B.C.'s ferry system. Early in Bennett's reign, the ferries in B.C. were owned and operated by an American Company, Blackball Ferries. He purchased the operations in November 1961 for $7 million.
Today Bennett would surely say, "My friends, that was a great deal and I did it for two reasons. I didn't want a ferry system owned by foreigners. And I knew that to properly serve the coast of this great province, a ferry system would have to do runs that, because they were money losers, would never be done by the private sector.
"My friends, [he was big on saying that] I now see that Mr. Campbell has made B.C. Ferries into a quasi-private company waiting to be taken over, to be privatized as you say these days. This is a huge mistake and I would remake B.C. Ferries into a public company as before, putting service to people and the development of this province ahead of shareholders, which would doubtless be Americans."
B.C.'s rail lines. W.A.C. would then look at B.C. Rail and remember that when he inherited it in the form of the Pacific Great Eastern Railway, it was a mess. Here is W.A.C in his own words, as I can hear them:
"My friend, when I first saw the PGE, I could see it was a monument to bad management. I said at the time 'I couldn't give it away, so we decided to build it and run it.'"
"I could see that we couldn't develop this province unless developing regions had rail service, so between 1953 and 1956 we built a line between Squamish and North Vancouver, which opened on August 27,1956, and by 1958 the railway had reached north from Prince George all the way to Fort St. John and Dawson Creek.
"I wanted to extend the railway to the Yukon and Alaska, and further extension of the railway was undertaken in the 1960s with a 37 kilometre spur to Mackenzie and a third line was extended to Fort St. James, which was completed on August 1, 1968. Then, the largest construction took place from Fort St. John 400 km north to Fort Nelson, just 150 km away from the Yukon.
"You see, my friends, I knew that during periods when there were expensive expansions taking place, the railway would obviously lose money but it not only would make money in the long run, it would serve the people of British Columbia, not members of some corporate board room.
"Now the government has sold this jewel!
"When people of the North want, for example, more passenger lines, does anyone really think CN will provide them? Mr. Campbell says that he didn't sell the railway, he just leased it. Well, my son Bill's friend Rafe calculated that if you looked back in time, the number of years this lease will run, we'd be in the reign of Ethelred the Unready! It looks like a sale to me, my friends!"
B.C.'s supply of electricity. WAC would then look at B.C. Hydro. "That was a tough decision we made back in 1961 to take over the B.C. Electric Railway Company and amalgamate it with B.C. Power into B.C. Hydro and Power authority. But you see, my friends, I had three thoughts in mind.
"First, I didn't want our province to depend upon foreign companies for power. Nothing against Americans, you understand, but I wanted us to be masters of our own house.
"Secondly, we wanted, as a matter of policy, the ability to expand the availability of electricity to wherever we thought best and we knew that no private company would expand unless there was a profit in it.
"Thirdly, we wanted the price of electricity to be an incentive to industry and business and fair to the public. For this to happen, B.C. Hydro had to be to be in our hands. Why? Very simple. The electorate can enforce their wishes in the ballot box much more effectively than they can affect decisions in some faraway corporate boardroom.
"Now, my friends, I wasn't born yesterday. Under Gordon Campbell, B.C. Hydro is doomed. By government edict, it can't produce new sources of power, it's had its transmission lines taken away, and it's forced to pay huge amounts for private power, which they must sell at a loss. This means it has to service its capital debt of $7 billion without the revenue to do so.
"My friends, I'm pretty proud of the record of B.C. Hydro and my friends in the Kootenays paid a big environmental price for what I did, but that was the only environmental price that would have to be paid. I look now and see how wasteful citizens have become, how generators need modernizing and how new generators can be installed. Moreover, I made the deal that B.C. would sell power into the United States but that they could take the power instead of the money if they wanted. Why isn't Mr. Campbell doing that instead of putting the production of power into out of province hands?"
Placing British Columbians first. "My friends, I may have been born in New Brunswick but my heart and soul is in B.C. Whatever I did was dedicated to the betterment of the lives of British Columbians.
"The Crown corporations I have spoken of were agents of public policy so that British Columbians through their elected representatives could develop this great province of ours. That cheeky whippersnapper Davie Barrett who beat me, my son Bill, Bill Vander Zalm, the NDP who followed him, all understood what my policy was and continued it and used it.
"My friends, this man Campbell believes that all enterprise in a society should be private. The other side of that coin is communism that says everything must be state owned. These are both extremes and make no sense.
"All successful democracies in the world have a mixed economy realizing that most things should be private and at the mercies of the marketplace but that some things, what we often call utilities, by their very nature must be in the hands of a government responsible to the public, not a corporation responsible to shareholders.
"My friends (for the last time, mercifully), names don't mean much to me. When I 'borrowed' the name Social Credit, I didn't know what the phrase meant or anything about its founder, a Major Douglas. Nor did I care. I wanted a vehicle through which I could serve the people of this great province."
"I will, therefore, join the people who will carry on my work by keeping rather than selling the family jewels, and who will put the people of British Columbia ahead, far ahead of ideologies, especially those of Ronald Reagan, Milton Friedman and the Fraser Institute."
"Ms. James, if you would like to join May and me for some sarsaparilla and strawberries, I'll be pleased to sign your membership application."*
*W.A.C. Bennett and his wife May (teetotalers both) had a famous garden party at their Kelowna home every summer featuring strawberries and cream.
Related Tyee stories:
Feeling Polarized
To read BC's political future, gaze into the past.
The Peter Newman Tapes
The power profiler on Gordon Campbell, Stephen Harper, David Radler, voting NDP and more.
Alberta's Posse in B.C.
Albertans once tried and failed to rope in B.C.'s government. Now a small herd, some with ties to big energy firms, hold key positions in B.C.'s public sector, thanks to Premier Campbell.