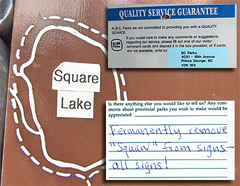 "When in Rome do as the Vandals do" -- a line of graffiti I once read.
This brazen suggestion crossed my mind awhile back when again I confronted a series of BC Parks signs that continued to display the word "squaw" on them. But instead of monkey-wrenching the signs, I decided to shine a light on the government's ongoing use of this ugly word and the racism behind it.
During a recent trip to Prince George, I made a side trip to the Crooked River Provincial Park to see and document what if anything had been done by BC Parks since being made aware of "squaw" appearing on government signs last spring, when I wrote about it in The Tyee.
On the way to the park I felt optimistic that a meaningful correction had taken place, mainly because I knew a well-placed Secwepemc chief had taken up the cause with at least one senior government official and I understood two other prominent First Nation leaders had spoken with provincial ministers about the matter.
But upon arrival at the park, I found to my dismay a few measly labels with "Square" and "Square Lake" printed on them, which were used to cover up "Squaw" and "Squaw Lake." Even then, in some cases the offending word was either left uncovered or the label had been purposely peeled away.
Call it racism
As I walked through the park, documenting as I went, I contemplated the possible cost of this impoverished attempt at a solution. I figured maybe the ministry paid $20 in wages to have someone print the labels and drive around putting them up. I factored that amount by the power of two to account for the time spent by some bureaucrat who thought of this half-baked idea, and came up with the whopping total of $400. Whatever the real cost, all I can say is: thanks for nothing BC Parks.
As I went along, I struggled to accept that my persistent hope for decency was thwarted by an even more persistent insensitivity within at least one element of the provincial public service toward Aboriginal people, more specifically Aboriginal women. I don't hesitate calling this insensitivity what it is: racism. But if I'm wrong about that, then the provincial government, particularly BC Parks, has seriously got to do better.
In any case, it's apparent the government has handled a very real concern of Aboriginal people frivolously. Moreover, it has reneged on the spirit of its original commitment in 2000 to stop using the word.
As I drove away from the park on that gray, fall afternoon, it occurred to me that perhaps the officials responsible don't get it. But I thought maybe they would if, for example, Barry Penner, the minister in charge of BC Parks, somehow had the misfortune of hearing some miscreant call, say, his wife a "squaw."
But of course that's not going to happen.
That's because this society has ascribed the word to Aboriginal women only. Therefore, the minister could never feel the confusion, shame, and anger that Aboriginal men and boys feel when this barbarous word is thrown at Aboriginal women in their lives. Nor would he understand the pain of Aboriginal women who are impacted by this dark word. Still, if he were a sympathetic man, then just maybe he and his staff at BC Parks would come around to do the right thing.
One for the suggestion box
In any event, I must say I've resigned myself to one last faint hope to see a meaningful reply from BC Parks on this issue. It lies in the lone official channel that up to this point I had neglected to appeal to: the lowly comment box.
On my way out of the park, I filled in a user form and placed it in the box located by a sign that read: "At B.C. Parks we are committed to providing you with a QUALITY SERVICE." It was followed by a request for suggestions. So I suggested: "Permanently remove 'Squaw' from signs -- all signs!" I took a photograph of my form to record the entry, just in case it was lost while being transported through the province's castle hallways -- you know, as Franz Kafka would've advised.
So now, for one last time, here's hoping "squaw" is permanently removed from all government signs.
Related Tyee stories: