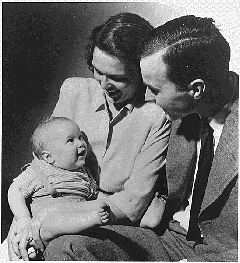 As I pondered the latest version of electoral bribery occurring below the line, I got to thinking of memories I have of presidents past.
I was born during the last days of Herbert Hoover, though I can't recall very much. I know that in the election of 1932 he promised "a chicken in every pot and two cars in every garage," but, to be honest, I wasn't following the election as I was busy learning to drink out of a glass -- a lesson that served me both well and ill in the days that followed.
My first presidential memory is of Franklin Roosevelt, or FDR as he was affectionately called by those who weren't calling him a "traitor to his class," usually preceded by an earthy adjective. In those days, we were very troubled by polio, or infantile paralysis as many called it, and FDR's appeals for money through the "March of Dimes" came into all our schoolrooms with a plastic board on which you could stick dimes. Now, a dime is what a movie cost for kids those days and I wouldn't be surprised to learn -- has the statute of limitations run out for petty theft? -- that some kids got their mom to give them 10 cents for the sticky board that didn't get past the candy store.
I heard a number of FDR's fireside chats when he would talk to desolate families immersed in the tragedies of the Great Depression. I well remember his declaration of war on Japan after Pearl Harbour, and he was a regular on the news reels that played in all the theatres. And how I remember his death. We Grade 8 pupils at St. George's listened to a stiff-upper-lipped English master give us the news with tears streaming down his face.
My first recollection of Harry S. (the S stood for nothing) Truman was my American classmate Richard Bode telling me he was a crook, which told me that Bode's folks were Republicans who loved to remind all and sundry about HST's connections to the Prendergast regime in Kansas City. I recall the atom bombs on Hiroshima and Nagasaki in August 1945 and how Truman had said that he didn't miss a second's sleep over the decision. Truman famously fired the "great American hero" five-star General Douglas MacArthur saying "I didn't fire him because he's a dumb sonofabitch -- he's that too -- I fired him because he disobeyed orders." I remember a critic's nastiness towards daughter Margaret's singing and Truman threatening to knee him in the crotch -- HST was definitely an "earthy" chap.
I liked Ike
Truman was followed by the immensely popular five-star General Dwight David Eisenhower, best known as "Ike." I remember the 1952 campaign with the "I Like Ike" buttons and how Ike often finished his speeches holding up his wife's arm saying "and here's my Mamie." No one mentioned his wartime English squeeze Kay Summersby -- wasn't done in those days, don't you know. Ike's opponent, was the egghead Adlai Stevenson, who, when told that every intelligent American would vote for him, replied, "That's not good enough -- I need a majority." Eisenhower played a lot of golf, which, when you think of it, kept him and his nation out of mischief. When Ike's term was up and his vice president was seeking the Republican nomination, a reporter asked him if Nixon had made any meaningful suggestions during his term and Ike replied, "Give me a week and I'll think of something."
John F. Kennedy followed Eisenhower and inherited Ike's Bay of Pigs fiasco. I guess Ike didn't like Jack much. Kennedy put the entire world at risk of a nuclear holocaust over the Cuban Missile crisis, although it's more fashionable to blame Soviet Premier Nikita Khrushchev. It was indeed Khrushchev who sent the Soviet missiles to Cuba and was sending more, but he said it was to match the American missiles in Turkey aimed at Moscow. Considering that the Russian ships turned away because Kennedy promised to dismantle the U.S. missiles in Turkey -- which if done earlier would have ended the matter -- puts a much different complexion on events than the U.S. did at the time and Kennedy acolytes have done since. He was, however, the first president born in the 20th century, was a war hero with a glamorous wife and, for those of a certain age, was "one of us." His tragic assassination took away great hopes.
Lyndon Baines Johnson was, above all things, a boor. Unable to keep his hands to himself, he led poor Lady Bird, his chatelaine, a merry chase through life. He was, however, the president, and a southerner, who brought in the first meaningful civil rights legislation. That was tragically offset by his ramping up the war in Vietnam by bombing cities under the very willing General Curtis Lemay (parodied as General "Buck" Turgidson, as played by George C. Scott in Dr. Strangelove). The United States turned on itself under Johnson as the kids chanted, "Hey, Hey, LBJ, How many kids did you kill today," under his White House bedroom window. In 1968, he famously declined to run again and left the stage unloved and, worse, un-respected, leading to the tragic summer of 1968 that saw Robert F. Kennedy assassinated just after winning the California primary, which would have probably won him the Democratic nomination.
Johnson showed his interest in Canada by constantly calling Lester Pearson "Mr. Wilson." This all begat Richard Milhous Nixon.
Nixon the idiot
Richard Nixon started political life as a prick and was a prick throughout his presidency and left as a prick. In his fight for a Senate seat in California in 1950, he defeated Helen Gahagan Douglas by making out that she was easy on communism, a fatal image in those days. When he was Eisenhower's running mate in 1952, he got a bit of his own back as he was accused of receiving $18,000 personally out of intended campaign funds. At Eisenhower's insistence, he answered his critics on nationwide TV saying the only political gift his family had received was a little cocker spaniel named Checkers for his little girl Tricia. It was the era of "soaps" and it fit in nicely. Incidentally, Tricia's sister, Julie, married Dwight Eisenhower's grandson, David Eisenhower.
Watergate has spawned a billion words, so I'll add none except to say only an idiot like Nixon would stoop to such crap to win an election he couldn't lose, then record on tape the conspiracy to cover it all up. For all that, Nixon will be remembered for opening the door to "Red" China -- he'll also be remembered, along with his Secretary of State Henry Kissinger, for, allegedly, stalling negotiations with the North Vietnamese in 1968 because they would get a better deal from a Republican government than a Democratic one. According to muckraker (an honourable term) Christopher Hitchens, the two of them conspired in murderous acts in Laos, Cambodia, East Timor and Chile. When Nixon mercifully resigned he was succeeded by a decent chap named Gerald Ford who, according to LBJ, couldn't walk and chew gum at the same time and in his football-playing days took too many blows to his head while not wearing a helmet.
Whatever else one might say, Ford was indeed a decent man, and for the White House that was long overdue.
Ford lost to another decent guy, Jimmy Carter, when he, Ford, in one of the presidential debates, maintained that Poland and Eastern Europe were not under the domination of the Soviet Union. When challenged over his comments, he repeated "There is no Soviet domination of Eastern Europe, and there never will be under a Ford administration." Took one's breath away -- along with Ford's hopes.
Peanut farmer and the Shah
Thus, we got the peanut farmer from Plains Georgia, Jimmy Carter, who was both inept and unlucky at the same time, a fatal combination. He was unlucky to be in charge when the Iranians overthrew the Shah, stupid to let him into the U.S. for treatment of cancer resulting in the infamous hostage taking that blighted his presidency. He has been the best ex-president ever with his Carter Center, a non-governmental, not-for-profit organization that works to advance rights, and by his work conducting peace negotiations, observing elections, advancing disease prevention and eradication in developing nations and as a key figure in the Habitat for Humanity project. Carter also remains particularly vocal on the Israeli-Palestinian conflict. Much to his credit, he wrote a book on fly fishing, about which I interviewed him.
Next came Ronald Reagan, aptly described as "an amiable dunce." He was like the hedgehog -- he didn't do much but was very good at what he did, which was fighting the Cold War. Reagan tripled the gross federal debt, from $900 billion to $2.7 trillion, invaded Grenada, bombed Tripoli, funded right-wing rebels in Nicaragua and in the Irangate affair forgot so much they never laid a glove on him. He always denied dyeing his hair, prompting one wag to say "Ronald Reagan doesn't dye his hair, he's just prematurely orange."
Reagan's own best quote was into a microphone he thought was dead (an assumption that's embarrassed many a broadcaster, including me), saying "My fellow Americans, I'm pleased to tell you today that I've signed legislation that will outlaw Russia forever. We begin bombing in five minutes."
Many Americans credit Reagan with ending the Cold War, though in truth it was Gorbachev.
Worst presidential mistake of all time?
The sitting president Bill Clinton beat, to begin his eight-year stint in the '90s, was George H.W. Bush. Bush is remembered for running the dirtiest of all campaigns against Michael Dukakis, a much better man. Going into Iraq after it stole Kuwait, Bush didn't finish the job and suffered the biggest loss of popularity in history.
By not having a timely vasectomy, George H. W. Bush missed a glorious chance to do the entire planet a great service.
Related Tyee stories: