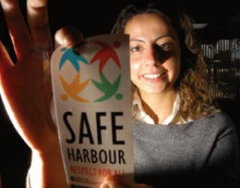 Imagine walking down the street, enjoying the company of friends, when you are suddenly the target of someone's hate. It happens more often than we think.
It happens to immigrants from non-European backgrounds who are told to hurry up or get out of the way in line-ups while they struggle with their newly developing English skills. It happens to wheelchair-bound men and women who find businesses inaccessible in their neighbourhood. It happens to gay men who face verbal harassment as they walk down the street.
Unfortunately, we must also be concerned with outright violence directed towards members of marginalized groups, such as what happened to Jordan Smith on Davie Street in Vancouver's West End neighbourhood recently. The West End was his safe haven, a place where most queer folk find their comfort levels rise and where agencies and businesses have taken a proactive role in making this community a welcoming place to live, work and visit.
The importance of community members standing up against hate and racism cannot be underestimated. Those who work in the West End understand this and many are engaged in an innovative provincial initiative called Safe Harbour: Respect for All. The concept is simple: storefront businesses and agencies commit to attending a free, two-hour orientation, after which they receive Safe Harbour designation: a promise to provide equitable treatment for all and a respectful, inclusive workplace environment. Each Safe Harbour location displays a colourful window decal on their door -- similar to the concept of a safe place behind the rainbow flag sticker -- to proudly announce to their community that management and staff understand and welcome diversity in all its forms.
Corporate responsibility as 'high priority'
When it comes to being good corporate citizens, times and attitudes are changing as B.C. companies become more actively engaged with community partners. The number of B.C. companies that regard corporate responsibility (CR) as a "very high priority" has doubled in the past three years, according to a Business Council of British Columbia (BCBC) member survey conducted by Ipsos Reid. Eighty-three per cent of companies say that CR is a priority and 97 per cent believe CR enhances relationships with communities. Safe Harbour is one way that companies can make valuable contributions to our society while improving their reputation among customers, shareholders and communities.
Safe Harbour is coordinated provincially by the Affiliation of Multicultural Societies and Service Agencies of BC (AMSSA). To expand the initiative in B.C. communities, AMSSA has partnered with various not-for-profit agencies such as the Centre, a community centre serving and supporting lesbian, gay, transgendered, bisexual people and their allies. These Safe Harbour organizers are engaging businesses in an opportunity to provide better customer service and to demonstrate respect for all cultures, ethnicities, religions, classes, ages, abilities, genders and sexual orientations.
A network of 400 across BC
These Safe Harbours are also prepared to act as temporary safe havens for anyone facing mistreatment on the street or within the workplace. This includes offering a phone to use, a place to sit or simply someone to talk to. Little Sister's Bookstore, the Sandman Suites, the Fountainhead Pub, Gordon Neighbourhood House and the West End Coal Harbour Community Policing Centre are a few of the storefronts and offices who have been invited by the Centre to sign on to the three key commitments: 1) equitable treatment for all, 2) providing a temporary safe refuge, and 3) preparing all employees to welcome and celebrate diversity.
Members of marginalized groups often wonder if a business or organization will be receptive to their needs. Safe Harbour is that stamp of trust: racism and hate will not be tolerated inside the workplace or in the community. Staff members are taught practical skills to respond to discriminatory comments or actions made in or around their storefront. They also become better prepared to respond to the needs of their community members and to detect if someone is in need of help.
Together in a network now 400 strong, Safe Harbours across the province are standing up for people like Jordan Smith by being advocates for safety, respect and inclusion. To find out more, please visit: www.safeharbour.ca
Related Tyee stories:
BC's Least Safe Teens
The roots of gay bashing need more focus, says head of B.C.'s new Institute for Safe Schools.
Gay in Alberta
Reviewed: Queer Youth in the Province of the "Severely Normal"
Beyond 'Bullying'
You won't hear me say that word, as I work to protect kids.