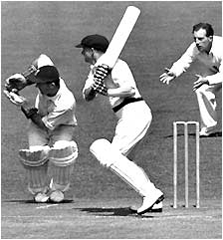 When I was a kid my sports hero was Don, later Sir Don, Bradman. Who's that? The greatest batsman in cricket history, that's who!
I can sense that you're crying out, "Tell us more, Rafe. How did you become interested in cricket?" In addition there will be a couple of cranks asking, "What the devil has cricket to do with this neck of the woods?"
I was born in Vancouver to a fifth-generation Canadian mother and a father who was born in New Zealand, arriving in Vancouver when he was seven. When my Dad was growing up, cricket was a reasonably popular game in Vancouver and he, being a Kiwi, took to it naturally.
When I was growing up before and during the Second World War there were three cricket leagues, two playing on Saturdays with the "A" team playing upper Brockton Point and the "BV" league relegated to the lower pitch. There was also a Wednesday League because in those days stores were closed Wednesday afternoons. Cricket was played in the Okanagan, too. Every summer I would go to Kelowna with my parents to watch my Dad play in the Mainland-Okanagan cricket tourney held at the same time at the Ogopogo Festival.
Bowled and humiliated
In 1942 I was sent to St. Georges, a private secondary school in Vancouver where cricket was the summer game and you would be caned for throwing a baseball around. I loved the game and in fact one of my most embarrassing moment came when I led off against Shawnigan Lake with our "master's" admonition in my ear: "Just play yourself in, Mair, wait until your 'eye's in' before taking a swipe at something."
John Pearkes, son of the famous Victoria Cross winner and Lieutenant-Governor George Pearkes, was the bowler. On his first bowl, ignoring all previous advice, which was excellent, I gave a mighty swing and was cleaned bowled. Bowled for a duck on the first ball and I was our best batsman. (Without dragging you through the arcane dictionary of cricket, suffice it to say you really don't want to be bowled; I made a fool of myself. But I'm in good company. Don Bradman, playing in his last "test" match in England, needed but one run to have a lifetime average score of 100 per game in "Test Cricket" and was bowled first ball. How he must have regretted indulging in this bit of raw rookie hubris!)
Cricket planet
A story in last Wednesday's Globe and Mail talked of the increased popularity of cricket in the Lower Mainland which has come about because of so many immigrants coming from so many cricket nations.
Many Canadians think of cricket in the same league as hurling, Aussie football or lacrosse. In fact I would guess that as a world wide spectator sport it's second only to soccer and in terms of populations in places it's played, I daresay it is number one. The game is huge in England, Australia, New Zealand, South Africa, Zimbabwe and the West Indies but it's huger by far in India, Pakistan, Bangladesh and Sri Lanka.
The rivalries are intense. In 1882 Australia beat England, in England, for the first time, prompting a satirical obituary in The Sporting Times stating that English Cricket had died, that the body would be cremated and the ashes taken to Australia. Thereafter the battles were for "The Ashes."
About 20 years ago, I was taken by two Kiwi pals to the deciding test between New Zealand and Australia. Now there's a rivalry. The Kiwis teased me about what they assumed was my ignorance about the game and I retorted, "Would you be surprised to learn that I know what a "googly" is?" They were indeed astonished when I told them it was a bowled ball which looks like it will, after hitting the mat, break the opposite way than it in fact does. I was accorded much greater respect by my mates after that!
Body blows
Cricket has much changed. When I was young, a batsman wore leg pads and padded gloves in case an errant ball struck him (the wiser players also wore what was called a "tin cup" to protect the family jewels).
The game changed forever in 1932 when two English bowlers, D.R. Jardine and Harold Larwood, tired of being knocked about by Australian batting, commenced "bodyline" bowling tactics, in which the ball is bowled close to or at the batsman. This scheme was devised by Jardine, the English captain, and involved fast, short-pitched deliveries bowled to the batsman's body so that the batter would be hit or, in trying to get out of the way accidentally hit the ball in the air and thus be caught out.
Australians were outraged but this tactic was mastered by the West Indies such that any batsman now looks less like the gentleman in white flannels waiting to do his best, don't you know, and more like a deep sea diver! It's sad to relate but the great Don Bradman didn't fare well against this tactic and one wonders what he would have been like had his career been a decade or two further later.
Cousin baseball
One thing I find strange is the way cricket fans pooh pooh baseball and vice versa. Both games involve a great deal of science and strategy and in their purest form, neither are constrained by time. (Cricket has now developed a one day game which enraged purists but probably permitted the game to enter the TV era.)
Women's cricket is quite popular, as well, but sadly, cricket is no longer played by ladies and gentlemen only. The arrival of big money has led to ruffianism in the crowds and a lack of civility on the field. Still, it's a huge game in much of the world and is catching on in the U.S.
I must wonder, however, if the local jocks will ever get around to understanding LBW, "howzat" appeals to the umpire and the must tradition of "tea" midway through.
I'm going to poach upon the good nature (usually) of my editor by leaving you with a poem which goes to the heart of the game, telling you why it's said that the battle of Waterloo was won on the playing fields of Eton:
Vitae Lampada
By Sir Henry Newbolt



There's a breathless hush in the Close to-night -- There's a breathless hush in the Close to-
night -- There's a breathless hush in the Close to-
night --

Ten to make and the match to win --
A bumping pitch and a blinding light,
An hour to play and the last man in.
And it's not for the sake of a ribboned coat,
Or the selfish hope of a season's fame,
But his Captain's hand on his shoulder smote
"Play up! play up! and play the game!"

The sand of the desert is sodden red, --
Red with the wreck of a square that broke; --
The Gatling's jammed and the colonel dead,
And the regiment blind with dust and smoke.
The river of death has brimmed his banks,
And England's far, and Honour a name,
But the voice of schoolboy rallies the ranks,
"Play up! play up! and play the game!"

This is the word that year by year
While in her place the School is set
Every one of her sons must hear,
And none that hears it dare forget.
This they all with a joyful mind
Bear through life like a torch in flame,
And falling fling to the host behind --
"Play up! play up! and play the game!"
Welcome to British Columbia, chaps!
Related Tyee stories: