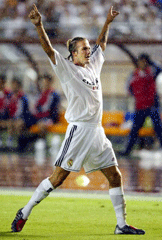 My heart is full of hope and I've been counting down the days. I'm keeping tabs on medical bulletins and checking out the opposition. I'm not a hopeful Lions fanatic or an over zealous Canucks fan; I'm an English soccer diehard, giddy with anticipation at the arrival of the football World Cup. The festival of the beautiful game kicks off in Munich today, and right now, most football-, or should I say soccer-loving nations are brimming with hysteria. Four weeks of Ronaldinho, golden goals, triumph and woe, partying and hangovers. Bring it on.
When the whistle blows, I'll be screaming for England, but if Canada had qualified I have to wonder where my allegiances would lie. Could I contemplate cheering for a group of unknowns unlikely to get beyond the round robin stage of the competition while Owen and Beckham et al have a real chance of glory? Can a lifetime of sporting allegiances change along with my residency status? The answer is no. And here's why.
In the U.K., this conundrum is called the "cricket test." The phrase was coined by Norman Tebbit, a sour Conservative politician once described by an opponent as a "semi-house-trained polecat." He was Margaret Thatcher's right-hand man when she was in her pomp, and he could always be relied upon to cause offence.
Brutal ice battles
During one of his contributions to Britain's often-heated immigration debate, Tebbit suggested that immigrants who did not support the home sports team were unpatriotic. His comments were aimed at first and second generation South Asians who provided highly vocal and visible support for visiting cricket teams. In an interview with the Los Angeles Times, he asked the U.K.'s largest visible minority: "Are you still harking back to where you came from or where you are?" He believed immigrants should save their cheers for the U.K. even if the Indian or Pakistani cricket team was thrashing English ass.
With the World Cup upon us, I have been pondering that old divisive "cricket test." When I arrived in Vancouver last year, I watched bemused as hockey fans wound themselves into a frenzy. I knew Canada was hockey-mad before I arrived, but even so I have to admit I never realized the depth of that angst and passion. Shame of shames, I'd never heard of Wayne Gretzky, and even now that I fully appreciate his mythic status, I'm still not sure I could pick him out of a line-up.
Even though I'm a little more hockey savvy, for me, a game of football wins out over the brutal battles of the ice every time. Hockey brawls that barely raise an eyebrow here would get you front-page censure and banned from a football pitch in England or Scotland. If I want to watch blood sport I can go and hang out with the seal cullers in Newfoundland.
Fickle fan psychology
As for Canadian football, I barely knew the CFL existed a year ago. A former colleague who is a regular visitor to these shores warned me that it was "even more boring than American football" and I've never bothered to disprove her theory.
I knew curling was popular, but like most Brits outside Scotland, I only discovered the sport about five minutes before the British team won a gold medal at Salt Lake City.
Before touching down at YVR, my knowledge of Canadian athletes began with Ben Johnson and Ross Rebagliati and ended with Greg Rusedski. And as Rusedski has been a British citizen for the last decade or so, I'm not sure he even counts.
But it's not just unfamiliarity with the nation's favourite sports, teams and idols that's the problem. Switching national allegiances is like rooting for the Oilers after spending your childhood cheering for the Canucks. Such fickleness would draw attention to how foolish it all is anyway. Supporting a team, whether national or local, is not just about location and reason. It's part spontaneous love affair, part family tradition, with a dash of fortuitous success. In the autumn of 1993, I spent a few days in Toronto with my baseball-crazy cousins. It was the World Series, the Blue Jays won and, what do you know, I've had a soft spot for the Jays and an interest in baseball ever since.
Waving the flag
My baseball conversion made me consider the "pick and mix" option -- I could support England for football and switch allegiances for the winter Olympics when I confidently predict Team Canada's medal haul will be more impressive than the U.K.'s solitary silver. But while that would be loyalty of a kind, it's not exactly the mark of a true sports fan. And things would become a little more tricky during the summer Olympics when the potential of either team would be harder to call.
I'm more than happy to be in Canada, but as I scrutinize the injury list of the England team, I have to admit that I'm still harking back to where I came from. I pay Canadian taxes, have completed my first census form and almost know the words to "O Canada." But does it prove I've failed to culturally assimilate, that I've failed the cricket test, if I don't shriek or weep for the hockey team in 2010? And when I start waving the flag of St. George in the early hours of Saturday morning?
Yolanda Brooks is a freelance writer and recent escapee from the gridlock of London, England. Now based in North Vancouver, she won't be doing much writing over the next four football-fuelled weeks.
Related stories: Ian Gregson asked whether the Paralympics should cut loose from the Olympic Games, Jon Azpiri argued Steve Nash's biggest achievement was overcoming advantage, and Tom Hawthorn wrote about the importance of baseball in Cuba.