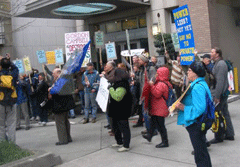 I must, in fairness, tell you that I support, and have publicly spoken for the Save Our Rivers Society, which, along with other groups and countless British Columbians, is actively opposing the privatization of our power and the abuse of up to 750 of our rivers and streams to make great wads of cash for the private sector. I'm sure you will bear my prejudice in mind.
Let's look briefly how we got public power. W.A.C. Bennett, when he became premier in 1952, was horrified that British Columbians would soon have to import power from the United States and in 1962 bought most of the power companies in B.C. and formed BC Hydro and Power Authority, which then went on to implement Bennett's "two rivers policy" with dams on the Columbia and the Peace. He paid a high political penalty for this as he outraged both the business community and the residents in the Kootenays who, seeing the Columbia changed forever more, left the Social Credit Party and voted NDP.
Changing us from homeowners to tenants
The question is asked, why shouldn't the private sector take over power? After all, no one suggests that the government run all the mines, cut down the trees or drill for gas and oil. If the extraction of natural resources is in private hands, why not power?
The answer basically goes to the nature of electricity and the social and economic reasons it must be supplied in sufficient quantities to meet the demand.
If we were dependent on fossil fuels or nuclear power, for example, I could understand government looking at private power producers as long as they had to put the needs of British Columbia first.
But as we all know, that's not how it works.
Private companies must be able to make a profit and the private power producers propose to do just that with a sweetheart deal with BC Hydro on the Campbell government's orders. Hydro will, in addition to adding more private power to the B.C. grid, export this power from the private plants into the United States. From a practical point of view this means much higher electricity prices for British Columbia homes and businesses. The result will be that the most important part of the B.C. economic engine will be controlled by a few private companies taking away what used to be our power and our profits and exporting them to the United States.
All this by a government that, without a suggestion of a public mandate to do so, wants to change us from homeowners to tenants.
Power purchase switcheroo
They justify privatization because, they say, we're short of electricity even though this can only be demonstrated by ignoring the fact that Hydro imports "dirty energy" from Alberta but then exports power thus made available to the U.S. and makes a very handsome profit. To tell "the truth, the whole truth and nothing but the truth" is not a popular notion either in the cabinet room, the premier's office or industrial boardrooms.
The questions we must ask ourselves are these: Do we want private companies -- many of them large American outfits -- to develop our hydro power and make huge profits for largely offshore shareholders?
Or do we want to develop our own power and set our own course?
BC Hydro may have made mistakes in the past and no doubt will in the future but those mistakes were made with the B.C. government as owners and directors of Hydro's actions. We will have no such control over the policies of private power suppliers. W.A.C. Bennett, a thorough-going capitalist, saw BC Hydro, BC Ferries and BC Rail as agents for implementing government economic policy for the good of all. The Campbell government has moved all three into the private sector whose boardrooms couldn't care less about economic or social policy.
Damage to nature
Then there's the environment. Every single one of the rivers to be handed to the private sector requires a power plant, access by road and transmission lines. The power plant -- be it a dam, tunnels or whatever -- changes the flow of the river, and thus is an ever present threat to fish. It's been suggested that the Ministry of Environment and Department of Fisheries and Oceans will police these plants. How can anyone believe this?
I suggest to you that the governments are as interested in keeping run-of-river plans environmentally sensitive as they are in keeping Atlantic salmon fish farms from slaughtering our wild salmon. The Ministry of Agriculture, Food and Fish, the Ministry of Environment, and the Ministry of Economic Development, on their individual and collective record have absolutely no credibility when it comes to safeguarding our environment. The Federal Department of Fisheries and Oceans, long a shill for fish farmers, can't even save clams and geoducks on nearby beaches from destruction. Does anyone for a second believe that they'll hold up or police private power plants on remote rivers and streams?
British Columbians are part way down the road to the "run of river" policy and have never been given a hearing. The result will be rivers and streams opened up all around the province, the wilderness that once prevailed will no longer be wilderness, with more than fish at risk.
The wildlife and flora of the areas affected will be severely at risk if not destroyed outright so that private companies can supply the power that BC Hydro has supplied us for over 40 years, and do so at a huge profit thanks to high sale prices fixed by the Campbell government.
Here ya go, Americans
What we're effectively doing is exporting our environment as well as our energy to the United States while allowing corporations, often foreign, to make money -- our money -- doing it!
The Campbell government maintains that we will need more power and it's either "run of river" projects or fossil fuel fired energy. This simply isn't true. According to a secret memo from BC Hydro, most if not all of our needs could be met by simple conservation. It's not an either/or situation at all.
One of the effects of the "run of river" policies will be the weakening and effective privatization of BC Hydro, which will pay high rates for private electricity so that it will be reduced to the power sources, mostly dams, they now have. This despite Gordon Campbell's oft made promise to leave Hydro alone.
For God's sake don't buy the barnyard droppings that somehow this policy is competitive private enterprise. There isn't any competition at all, just private monopolies who will put dividends to its shareholders miles ahead of any obligation to British Columbians or concern for the environment. If there's one thing free enterprise hates, it's true competition.
Admittedly there is a need to make decisions as to how we keep our power supply matching our needs. From my perspective, destroying wilderness and adversely affecting our fish shouldn't even be on the list.
But there is one question that overrides all else. Were you consulted on this matter of enormous consequences? Was this even an election issue?
The answer is, of course, no. This has been policy by stealth.
I have never voted NDP and likely won't. What I will do, however, is deny my support to any candidate who won't stand firmly in favour of public power and firmly against demolition of our out-of-doors and thus destroy the essence of "super natural" British Columbia. A simple test and if no Liberal candidate can meet it, too bad.
Related Tyee stories: