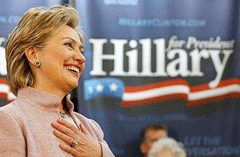 I have watched or been in politics most of my life yet wonders never cease.
I went to bed last Tuesday night after determining that Hillary Clinton had won both Ohio and Texas. Finally, I thought, at least some American Democrats are coming to their senses. I woke up on Thursday to the CBC, then the Toronto Globe and Mail telling me that while Clinton had won Texas she had lost Texas! Huh???
John Ibbotson in Wednesday's Globe and Mail worked it out that though Hillary had won three of the four primaries, she'd only raised her delegate count by 16, and though she was just a handful of committed delegates behind Barack Obama, she was running out of time and primaries not to mention money.
What about the 791 party hacks that get to go to the convention and vote? Wouldn't Hillary get most of them because of her long association with the inner sanctum of Democratic parties? Apparently the answer is no and that they are now committing themselves and that Obama is getting lots of them.
Money rules US politics
Before going further, I must say that I like the American system of separation of powers with the executive in many real ways beholden to the people's elected Congress. I think primaries where the party across the land must depend upon the rank and file to determine the leader have considerable merit. I think the Electoral College, which parcels out votes by state not popular vote is undemocratic is outdated -- without the electoral college George Bush would never have been president and that alone should be enough to get rid of it but I like their system overall.
However, the Americans have not found a way to control the money. It's absurd when a congressman spends several millions of dollars campaigning for a job that pays $169,300 per year. On the safe assumption that people don't spend money without expecting something in return, one can understand why some legislation is passed and issues, especially social ones, never make the floor of the house or the Senate.
One of the outcomes of the huge money being spent is the predisposition of U.S. parties to develop oligarchies like the Kennedys, the Bushes and now the Clintons as safe places to put their dough. The other side of this coin is that those who run against the establishment are usually kind of weird, Ronald Reagan and Jimmy Carter being good examples. In the main, money talks and U.S. political money is directed to a "safe pair of hands."
Crucial moment for all of us
This is a critical year. I suppose in its own way, every presidential election is critical, but this year the most powerful person on earth faces several international situations that require knowledge (anything would be an improvement over Dubya not knowing who the president of Pakistan was), a good sense of priorities, a deep understanding of history and a clear understanding of how other people live and behave.
The time was, and not that long ago, when candidates required little understanding of foreign affairs since Americans were far more interested in having a president who put, or left, money in their pockets than one who knew, wined and dined all the international big wigs.
World War I and II, Korea and Vietnam much affected the deep sense of isolation which, after all, went back to George Washington who, in his farewell address, said "Europe has a set of primary interests which to us have none or a very remote relation. Hence she must be engaged in frequent controversies, the causes of which are essentially foreign to our concerns. Hence, therefore, it must be unwise in us to implicate ourselves by artificial ties in the ordinary vicissitudes of her politics or the ordinary combination and collisions of her friendships or enmities."
In many ways the wars of the 20th century seem to harden Americans' desire to be left alone. The two world wars were seen as the bear coming out of its cave, smiting the bad things that were keeping him awake, then going back to hibernation. Korea must be seen in the light of 1950, when communism, especially at home in the United States, had to be dealt with. This was the time of the Joe McCarthy "red scare," which got so bad the famous movie star Humphrey Bogart said "They'll get you for scratching your ass during the playing of the national anthem." The U.S. could not be seen allowing the Soviet Union-inspired invasion of South Korea to succeed, especially since the Republicans had accused the Democrats of "losing" China to the Reds.
Vietnam, in the early stages at any rate, was painted by political leaders as stopping a "domino" effect of communism taking over all of Indo-China then, who knows, Indonesia and even Australia might be next. The American public, far from becoming used to dealing with faraway problems, became even less and less willing to have "their boys" coming home in body bags and more and more youth were draft dodging or going to jail for not reporting.
Swaying isolationist Americans
In short, the United States had been, against its will, involved in foreign wars and, if anything, the public was becoming more isolationist. Latest evidence: In the primaries now going strong, candidates spend much more time on domestic issues than on foreign entanglements.
Sept. 11, 2001 changed Americans in a fundamental way. Now the body bags were coming out of buildings in New York and Washington. The U.S., for the first time since 1812, was itself under attack. (In December 1941, Pearl Harbour, Hawaii was a territory).
Stuck with global role
The war in Afghanistan was popular because Americans were getting even. This changed voter emotions, making it easy for George W. Bush to create bogeymen and bogus issues and plunge the U.S. into yet another foreign entanglement in Iraq. For the first time the United States of America was in an overseas adventure that could be sold as defending America against evil. George Bush conjured up the image of the good sheriff. "Dead or alive" was his motto and while we're at it, let's sock it to Iran! Facts became irrelevant for a public that had become scared.
Whether or not isolationism has been extirpated or much reduced is now irrelevant. Any president from either party is stuck leading a world that either hates America's guts or tolerates their foreign involvements as evidence that it's hopelessly immature when it comes to understanding things and that the best policy is to ignore them when you can and give them patronizing advice when you can't.
What all this means is that the next president will inherit foreign entanglements all over the world. Perhaps the most vexing and dangerous of issues involves the continuing and massive return of Russia to global sabre rattling.
What started out as a look at the next occupant of the White House becomes evidence of Mair's Axiom II, namely, that you don't have to be a 10 in politics, you can be a three if everyone else is a two. As part of a world scared stiff that America, if not skillfully led, could get a world nuclear war going, we'd best pray that Hillary Clinton is that three in a sea of twos and wins in November.
Last musing...
If Hillary wins, how will she deal with that certain room and that certain chair made so famous by a certain man in her life?!
Related Tyee stories: