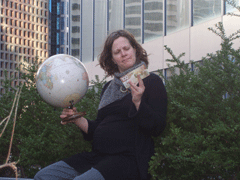 I've been staring down at my very pregnant belly a lot lately, thinking about the world I'm about to populate with one more small human. And what I'm going to do throughout my life to make that world a better place. Heavy thoughts, dude.
And now along comes the announcement of B.C.'s revenue-neutral carbon tax, with the extra sugar-coating of a politically savvy $100 windfall cheque for each one of us. It's like Alberta's $400 "prosperity bonus," but with a supposed climate change goal. Direct from the budget, here's the description:
"To help British Columbians make lifestyle changes to reduce their use of fossil fuels, each resident will receive a Climate Action Dividend payment of $100 in June 2008, paid out of the 2007/08 surplus. The total value of these benefits is $440 million."
Now here's the $440 million question: How much of it will actually go from peoples' pocket to "climate action," and how much towards beer, pizza or other every-day consumerism? (And oh yes, there are so many other questions, like how many social housing units could it build, how many buses could it buy?)
Finance Minister's new runners
Before I get accused of being totally against the carbon tax, let me just say "Bravo" to the BC Liberals for taking this first baby step. It's momentum forward, and has been crafted with decent fairness. But in my personal opinion, it's only the very barest of beginnings when you really look at the immensity of the problem. Sad truth is, you don't need to do much to be a "leader" on this issue in North America.
Carole Taylor has said she's using her $100 to buy new running shoes. Walking to work is great, but something tells me she might have bought those new shoes anyway.
I don't own a car. I bike, walk, or take public transit, so fuel prices have little effect on my bottom line. I don't own a home, so I won't be investing soon in high-efficiency furnaces or other eco-improvements. This carbon tax and dividend won't do anything profound to change my behavior, which is already on the green side of the norm. And that guy making $200,000 a year, driving his Hummer all around town, is going to get his $100 too, no questions asked, no report required.
Power in numbers
I can't change the fact that $440 million is going to be given away to BCers regardless of whether they make any positive changes in their fuel-gobbling lifestyles. But I can decide what to do with mine. And so can you.
Damned if I'm going to spend mine on diapers, regardless of the fact that being on EI/mat leave for 12 months is going to hurt.
What if even 10 per cent of us decided to pass that money straight on to an environmental non-profit we thought was doing really effective work? That's a $40 million dollar infusion of cash. I haven't decided exactly what I'm doing with mine, but here and now, I'm making a public commitment to spend it the way it's supposed to be spent: addressing climate change. When I decide, I'll update this piece.
I invite you to do the same. Let The Tyee know what you'll do with your $100, either through our comments forum right below this story, or by sending us a brief e-mail to 100DollarId[email protected]. Make sure you put "My $100" in the subject line.
We'll follow up in the coming weeks by profiling some of your interesting and inspiring ideas. We'll want to credit you, so include at least your first name and where you live.
Will it be a charitable donation? Will you put it towards a more efficient furnace, or better windows? Are you working on a climate change project that could use $100 from a few thousand people?
Get creative. The sky's the limit (polluted and GHG-filled as it is) so bring on the good ideas, and rock solid commitments.
And don't forget to pass this on. Right below are buttons that will let you e-mail this article to a friend, post it to your Facebook profile, DIGG links, etc. We'll also include some of the best ideas in our "Comment of the Week" feature, which you can only get in our free weekly e-mail headlines. So if you're not signed up for those yet, you can do that too, below. You can also join the Facebook group we've created.
Let's see if we can't actually do the right thing with our "Gordo Bucks." Put aside -- just for now -- your valid critique of whether it's a good thing for our government to do with $440 million. The cheque's in the mail -- now it's your turn to turn to suggest solutions for turning it green. Post a comment! And pass this on!
Related Tyee stories: