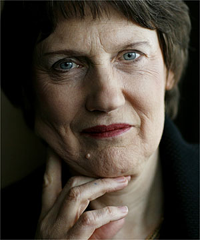 I am a New Zealandophile. My dad was born there thus giving me dual citizenship and I've visited the country some 30 times since 1981. Last week we were in Auckland to help one of my best friends, a constant e-mail pal, celebrate his 90th.
Needless to say, I've followed New Zealand politics very closely.
New Zealand developed the first "welfare state" during the hard times of the 1930s. The reforms put in place under Labour Prime Minister Michael Joseph Savage included a reorganization of the social welfare system and the creation of the state housing scheme.
In years following, New Zealand's welfare state invention was emulated by the UK, Canada and others. Once in place, no political party would dream of altering it.
MMP voting system
New Zealand has a mixed member proportional electoral system where 50 per cent of the MPs are elected "first past the post" and the balance off a party list. (This isn't quite accurate because five seats are reserved for Maoris).
My reading of the small polls I conducted is that while the old "first past the post" is not remembered kindly, New Zealanders don't like their MMP system largely because the parties load up, or are seen to load up the list from party hacks and incompetent pals. I heard some support for the Australian approach which is much like the single transferable vote system British Columbians narrowly failed to pass in 2006.
New Zealand is an interesting political study. For many years Kiwiland depended upon the U.K. for its exports of dairy products and sheep, both as meat and as wool. In 1973 the U.K. entered what was then the common market and the main New Zealand export market all but dried up.
It was at that point that the National (conservative) government ought to have developed new trading markets but they preferred to subsidize farmers both directly and through huge subsidies through the nationally owned train system -- classic left-wing politics one would have thought.
By 1984 it was clear that this policy of National's Prime Minister Robert Muldoon had New Zealand tottering on the brink of financial collapse and the election went to the Labour Party under David Lange.
Labour's tough measures
Around that time I interviewed Richard Prebble, junior minister to Roger Douglas, the finance minister. Prebble told me how the new government took its seats around the cabinet room, with the cheers from their supporters still ringing in their ears, only to be faced by a stern, Ichabod Crane-like, senior financial mandarin who told them that the country was broke. Flat broke and defaulting on their loans.
The prime minister suggested getting another loan to make the payments and was told that no one would lend them money. The country was in the same position families are in when the income can't handle debt servicing.
What to do?
One would have expected that, bearing in mind the times, a left wing government, given its allegiance to the "welfare state" and socialism, would have just made things even worse. Well, they did and they didn't.
Immediately the government cut off all subsidies to farmers and fired 12,000 employees of the national railway. This wasn't done gradually but right now. They also clawed back pensions leaving many, like my friend, unable to remain retired but forced back to work.
Rampant inflation
Inflation went into the 20s. In fact you could get better than 20 per cent on your money from the bank! My friend, retired with his pension and savings, had to go back into the real estate market and try to sell houses with mortgage rates over 20 per cent.
In 1985 I walked down Queens Street, Auckland's main strip, to see business after business boarded up. One would have thought this to be the result of market driven conservative policies, not those of a Labour Party.
This harsh program was brought in by the Finance Minister Roger Douglas and became known as "Rogernomics." I became acquainted with Douglas and had lunch with him when I was in NZ for my annual fishing jaunt. He consistently made the point that had his policies not been put in place, the country would have become "third world."
Either because or in spite of "Rogernomics," New Zealand survived and became prosperous again.
Helen Clark's party
This all had a profound political impact especially for the Labour Party. Just as the British Labour Party was to do, the New Zealand Labour Party, because of events, was forced to reinvent itself as a new party of the centre/left. I think it safe to encapsulate this process through the online encyclopedia Wikipedia:
"The New Zealand Labour Party . . . describes itself as centre-left and socially liberal, and has been one of the two primary parties of New Zealand politics since 1935.
"It is currently the dominant party in the country's ruling coalition, holding 50 of the 121 seats in the New Zealand parliament. Labour candidates also stand in many territorial local authorities and councils across New Zealand.
"Its current leader is Helen Clark, the prime minister of New Zealand."
Mrs. Clark (from New Zealand lips it sounds like "Helen Clack") became prime minister in 1999 and has remained there until now and presumably will seek reelection next year. The labour parties of both the UK and New Zealand have thus become parties of the centre.
The lesson in all this?
A message to the New Democratic Party both nationally and here in B.C.: Re-position yourselves or stay forever as a party of principles, which don't accord with the wishes of the electorate.
Postscripts
During our stay, Sir Edmund Hillary died and by the unanimous voice of his countrymen was granted a state funeral. Would that Canada had heroes like that.
The highest paid sportsman in New Zealand? Steve Williams, who makes upwards of $2 million a year caddying for Tiger Woods.
Related Tyee stories: