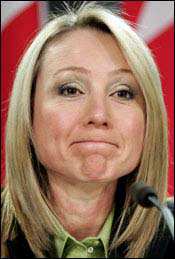 People refer to her as "Belinda," but he's "Harper." They giggle about Peter Mackay and Condoleeza Rice, but put Stronach and Domi's affair on the cover of Maclean's. The American public treated Hillary Clinton differently after her new hair and wardrobe. In Japan, women still can't inherit the Chrysanthemum throne. And in Canada, the only woman left in the running for the Liberal leadership is dead last heading into the leadership convention. Even Joe Volpe won more delegates than Martha Hall Findlay.
Many industrialized and non-industrialized countries have elected female leaders. But their time at the top has often been short. The question remains: Is the world really ready for women in leadership positions, and when women get there, are they treated the same as their male counterparts? Here's what recent polls have to say:
Is the U.S. ready for a woman president? Sixty-one per cent of Americans think so. A lesbian or gay politician in the White House? Not so much. For more info, click here.
In Canada, Hedy Fry and Martha Hall Findlay were at the bottom of the list after voters were asked who would be the best choice to lead the Liberal Party. For more info, click here.
In Germany, Angela Merkel became the first female chancellor last September. But after a year of coalition infighting, new taxes and delayed health care reforms, her party has dropped to second place. For more info, click here.
In France, Ségolène Royal is widely expected to become the Socialist party candidate in the April 2007 presidential election. But French voters believe women act and are treated different from men in politics. For more info, click here.
Jamaica welcomed its first female prime minister in March, when Portia Simpson Miller took over from the retiring Percival Patterson. So far, women at least prefer Simpson Miller as head of government. For more info, click here.
In New Zealand, the private lives of politicians briefly became the main topic for newspapers. The public is divided on whether Prime Minister Helen Clark should be subjected to questions about her husband. For more info, click here.
In Japan, the gender controversy is related to royalty and not politics. Fifty-six per cent of respondents believe women should be allowed to inherit the Chrysanthemum throne. For more info, click here.
Latin America offers mixed views. Chile's Michelle Bachelet took office with high numbers, but her rating has been mostly stagnant over the past three months. For more info, click here.
In Peru, Lourdes Flores Nano looked like a shoo-in for the presidency last year, but eventually finished in third place after a long and bitter campaign. For more info, click here.
In Ecuador, a similar scenario has taken place. Cynthia Viteri had dropped to third place before this month's presidential election. For more info, click here.
In Argentina, rumours about a possible presidential bid by the current first lady are growing. While Néstor Kirchner could seek re-election next year, his wife and current senator Cristina Fernández de Kirchner has not ruled out her own bid. For more info, click here.
Mexicans rejected a possible candidacy by Vicente Fox's wife and former government spokeswoman, Marta Sahagún, two years ago. For more info, click here.