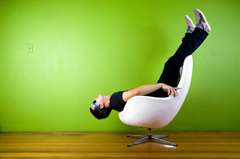 Young people are lazy, self-absorbed, pleasure-obsessed and imbued with an unrealistic sense of entitlement. At least, that's what most baby boomers think.
Take Margaret Wente's Aug. 18 column in The Globe, in which she deplores the extended adolescence in which young Canadians like me are trapped. After presenting some historical comparisons -- George Washington bossed a survey team in Indian country when he was 16, for example -- Wente goes on to argue that young people should consider making something of themselves instead of going to school in search of post-secondary credentials that she seems to believes are of marginal value.
While it would be nice to step into the Wayback machine and return to a time when the labour market didn't demand a post-secondary education, when $25,000 was the purchase price of a home rather than the five per cent down payment on it, and when job security was a reasonable expectation, reality is regrettably unco-operative.
Boomer bromides
Wente's argument is a variation on a treasured baby boomer lecture, normally delivered to members of my generation who make the mistake of complaining about their situation.
According to most boomers, young Canadians have themselves to blame, either because we play too many video games, don't read enough books, spend too much time on the Internet, or not enough in the real world. We expect too much, offer too little, give up too easily, and don't work hard enough to achieve our unrealistic goals and satisfy our outlandish expectations. This is a curious strategy for a generation whose pension plans, healthcare treatments and income tax breaks will be heavily subsidized by the generation that they're currently busy maligning.
More important, though, is the fact that it isn't true. The reason my generation hasn't achieved as much as the baby boomers had at our age, be it our mid-20s or our mid-30s, is that the proverbial road to success has become much longer and much more dangerous. That road begins in high school for most of us, where we're introduced for the first time to the concept that a university education equals success, and it gets reinforced so frequently that it becomes a shared neurosis.
That anxiety is compounded by skyrocketing entrance requirements at most post-secondary institutions, that are the result of budget cuts to departments of education across Canada. To earn admission to the bachelor of arts program at a good university -- the University of Toronto, for example -- you'll need an average in the mid 80s. If you're aiming a little higher and want to study engineering or science, you'll need to be in the 90s, and if you want that scholarship that will help pay for a class or two, you'll need to be in the mid 90s.
It's a little different from the 1960s, when the entrance requirements were a pulse and a brain that was demonstrably connected to your spinal cord.
Degrees of debt, rites of passage
Massive personal debt has joined sexual experimentation and binge drinking as a rite of passage for university students in Canada. Statistics Canada's National Graduates Survey released in the spring of 2004 found that 45 per cent of bachelor's degree grads left school owing an average of $19,500 to the Canada Student Loans Program. Those who also owed money to non-governmental sources like credit card issuers owed an average of $32,200.
Baby boomers offer their sympathy to our debt-riddled generation, but they don't understand the problem because they lack the necessary context. When they went to university, the only people who graduated with genuine debt problems were the ones who spent their money recklessly, borrowed needlessly, and thought that a budget was a kind of bird. But today, thanks to increases in both tuition fees and the cost of living, the bill for a year -- eight months, really -- of post-secondary education regularly approaches $20,000, a figure that no amount of bootstrapping or budgeting can overcome. Unless you can catch on with a Major League Baseball team during the summer break, it's virtually impossible to graduate debt-free.
Worse still is the fact that these increasingly expensive educations aren't worth nearly as much as they used to be. It's a widely accepted reality -- one treated as an article of faith by guidance counsellors in high schools across the country -- that a bachelor's degree is today what a high-school diploma was 35 years ago. According to Statistics Canada, high-school graduates of the 1960s and 1970s earned approximately $34,000, roughly the same amount of money that today's graduating undergraduate students can expect to earn. Those with a BA today actually earn less in inflation-adjusted dollars than young boomers with BAs did. This means that compared to my generation, the baby boomers enjoyed a $50,000 head start in life. Put differently, it means that Canadians my age have to work harder than their parents did to achieve the same level of professional and financial success.
Mom and Dad, I'm home
It shouldn't come as a surprise then that many young Canadians are retreating to their family home, long after their parents converted their bedroom into a yoga studio. Baby boomers have made a cottage industry out of lamenting the increasingly common "boomerang effect," in which young people, faced with this litany of hurdles, return to the relative safety of the parental home. I think they imagine that we all get together, wearing our $300 blue jeans and drinking our $12 martinis, and figure out that moving home will allow us to work less, party more and irritate our parents. This ignores the crippling blow that moving home delivers to one's ego and sense of worth, not to mention the devastating effect it has on said person's social life and, occasionally, mental health.
But the parental home is not, as some boomers seem to think, a rational choice or a calculated decision. It's a last resort, a halfway house whose rent is paid not in dollars but instead in increasingly sparse units of self-esteem.
It isn't that younger Canadians find the world in which we live inherently unfair. But the bar of success is much higher than it was for our parents and grandparents, and the margin of error is much smaller. If, like the average Canadian undergraduate in my generation, you graduated from university with $25,000 in student debt, were required by the banks to start paying it off in six months, and found that the only job your degree qualifies you for was an entry level barista at the local Starbucks, you might prefer to take that long walk off a short ledge and take your chances in one of Canada's supposedly under-funded hospitals. We're not asking for sympathy, pity, or even a few bucks -- although it would certainly help -- but instead an end to the moralizing boomer lectures about how easy we have it.
You'll be needing our help soon enough, after all.
Related Tyee stories: