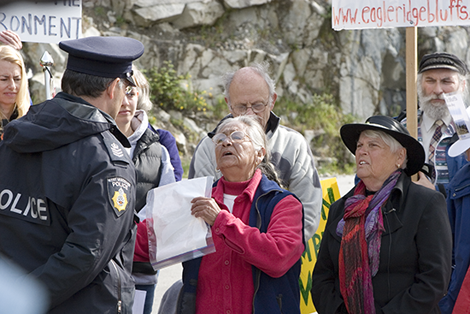 The Eagleridge Bluffs case is well known. Put simply, the B.C. government is building a bridge over the Sea-to-Sky Highway at Eagleridge Bluffs so the route to Whistler can bypass the traffic that uses Horseshoe Bay as a major ferry terminal. The Coalition to Save Eagleridge Bluffs, largely made up of citizens from the area -- three-piece-suit protesters -- protested and indeed had sit-ins aimed at forcing the government to proceed by tunnel, thus saving this highly unique and sensitive area from the front-end loaders and gravel trucks.
They proved, if proof is necessary, that all protesters are not rheumy-eyed, unkempt, string-bearded apparitions from the "left."
Quite clearly, on the evidence, a slightly more expensive tunnel (probably not more expensive if all issues are counted) would have been much better for motorists and residents alike. But I'm not going to deal with the merits here, though I support the coalition.
I'm going to try to analyze what this decision means.
Perhaps the least important result is that the mayor of the District of West Vancouver, Pamela Goldsmith-Jones, will not be re-elected after she first supported the coalition, then after pressure from the provincial government did a turnabout.
Of much more serious consequence was the death of native elder Harriet Nahanee, aged 71, after being sent to jail for refusing to apologize for her contempt of court. I don't believe it's a stretch to conclude that Ms. Nahanee, not well at the time, died because she was sent to Surrey Pretrial Centre, a prison for men and a noted hell-hole for women in poor health.
Another woman, a veteran environmentalist, 78-year-old Betty Krawczyk, will be sentenced today for contempt of court for her non-violent passive resistance at the construction site. We idolize Mahatma Ghandi and jail Betty Krawczyk and Harriet Nahanee. Some democracy. More about this later.
Where is fair process?
I have spoken to leaders of the coalition and they have accepted defeat only because the government and the company have unbeatable legal tools at hand. It's doubtful that the coalition will continue its protest actions when the Olympics arrive, but they have not lost their anger and are looking for ways to help other communities with similar problems to the ones they faced.
What comes out of this sad affair is that there is no fair environmental assessment process. There is a process, the outcomes of which average about 98 per cent in favour of the government. That's not surprising since the assessor is employed by the government.
There are public meetings, which are designed to inform the public, but as anyone who lives in my village of Lions Bay can tell you, these are masterpieces of obfuscation, dissembling and arrogance.
The plain, simple and incontrovertible fact is that this, like other similar projects, are done deals when they're announced, and any attempts to talk to the public are exercises in deception.
This will surprise you: the coalition couldn't get the ear of Highways Minister Kevin Falcon, who, since he had no intention of changing his plans no matter what the evidence, would never have been any help even had he taken the time to listen. The Liberal MLA, Joan McIntyre, was no use at all. When I have written in the past here and in books that under our system MLAs and MPs are powerless ciphers, I've often been called cynical. Well, here is a classic example of the ineffectiveness of the local member of the legislative assembly. A fencepost with hair would hardly be of less use.
Spurring civil disobedience
Let's get back to Harriet Nahanee and Betty Krawczyk, one jailed, one about to be jailed for contempt of court.
OK, then. We all agree that court orders must be obeyed if the rule of law is to prevail. But what if the court allows itself to be used as the strong arm of government and big business?
What if government and big business can operate irrespective of public opinion and without having to fairly obtain legitimacy for their projects, while those who protest go into the slammer?
That's the real question here, and it takes those of a certain age back to the bad old days of labour-management relations where union leaders were constantly jailed for contempt because they disobeyed a court order made unfairly -- unfairly in the sense that all the legal tools had been given to management. After government finally came to its senses, there was a Labour Code and a Labour Relations Board set up so that the playing field was level and workers could see that even if they lost, it had been a fair fight.
In the case of Eagleridge Bluffs and other cases like it, the order or law being enforced has been passed without a fair hearing. People see land they love torn to rat shit without any independent, fair process. What option does that leave those who feel aggrieved by this blatant cloaking of a dictatorial diktat in democratic clothing? Of course they can always pack up and go home, but is that the sort of citizenry Canada is to become -- full of people who pack up and go home when they have been unfairly dealt with?
Adding up to catastrophe
There is a lesson to be drawn form all this. Relatively minor abuses of the environment, such as the one at Eagleridge Bluffs, are easily dealt with by a rapacious, unfeeling government. But these "relatively minor" abuses add up to catastrophe. The oceans didn't become close to fishless because of one minor environmental sin, but by the accumulation of many. Moreover, all these rapes of the environment had to be approved, or ignored, by government. This case, and uncountable similar examples around the world, show that governments and their industrial partners learned the old lesson well: divide and conquer.
The problem is not shortage of brave people to protest, it's that they are divided into small groups without contact with one another. Governments love it that way. One only need look at the deplorable situation in the West Coast fishery to see how government finances large numbers of interest groups to keep them all concentrating on areas of their own special concern rather than presenting a united solid group always in fighting trim.
Broaden the fight
Eagleridge Bluffs makes this point forcefully. Residents and other interested folks cannot even stop a project where there is an environmentally sound alternative available.
What if there was a province-wide coalition to deal with?
What if the political fallout wasn't only on a mayor, MLA or MP but on all MLAs and MPs, plus mayors and councils?
What if the protesters at Eagleridge Bluffs had been supported by the physical presence of hundreds from around the province?
Wouldn't work? Too unwieldy?
Maybe so. But considering the way high-handed governments are pushing us around now, surely that's worth a try.
When your mayor won't support you, when your MLA won't support you, when your government won't support you, when you go to jail for protesting a decision based on a phoney environmental process, what are you to do?
You join hands with others. Once a difficult if not impossible task, now with an interactive Internet it's very possible, indeed. It will require dedication such as was put forward by the coalition here, but it can be done. Proposed environmental rape must be met not only by people who live nearby, but from every nook and cranny of the province.
That, at any rate, will be the message I'll be sending to the Eagleridge Bluffs Coalition when I speak to them on Thursday at their benefit concert in West Vancouver (details here).
Related Tyee stories: