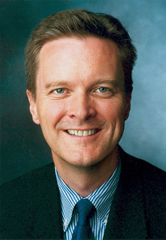 Good grief, as Charlie Brown would say. B.C. and Alberta signed the Trade, Investment and Labour Mobility Agreement (TILMA) last April and it comes into force this coming April Fool's Day. Yet the ministers responsible for TILMA in B.C. and Alberta don't seem to have a clue what they have got their governments into.
Alternatively, they do know the serious impacts TILMA will have and are just not willing to come clean with the public.
How else to make sense of the bizarre pronouncements about TILMA B.C. and Alberta officials are making?
The latest bit of weirdness emerged from B.C.'s Minister for Economic Development Colin Hansen on a CKNW talk show. Host Michael Smyth asked Hansen how he could square the throne speech promises for strong climate change regulation with TILMA. Hansen boldly claimed: "There is absolutely nothing in the TILMA agreement that will prevent us from bringing in the climate change program set out in the throne speech."
Well, that should make you wonder whether there are any real guts to the climate change program. Because TILMA states clearly that governments are prohibited from introducing new standards or regulations if they "impair" investment. Higher vehicle emission standards would violate TILMA because they would impair auto industry investments by adding to the industry's costs.
Sharp and dangerous
In talking up the agreement to a business crowd in Richmond last June, Alberta minister Gary Mar emphasized that TILMA has some "very big teeth." It provides for independent dispute panels whose decisions are enforceable through the courts. Governments can get socked repeatedly (something else Hansen doesn't get) with up to $5 million in penalties if they do not withdraw regulations found to be violations of the agreement.
Just the threat of a TILMA challenge might be enough to make the B.C. government back off higher vehicle emissions standards.
And to make matters worse, Gordon Campbell is doing a TILMA sales job on Ontario's Premier Dalton McGuinty. If TILMA is signed by Ontario, the home of most of Canada's auto manufacturing industry, it will mean the number of potential complainants against B.C.'s new auto emissions standards will expand exponentially.
In his interview with Hansen, Michael Smyth raised the point that TILMA does not allow governments to violate the agreement just because they have good intentions -- like protecting the environment. The agreement says whatever governments do to pursue their objectives cannot be too restrictive to business.
Similar wording shows up in other trade agreements, and has produced a string of losses for governments trying to defend their regulations. One dispute panel ruled that "The onus is on the respondent to demonstrate...that no other available option would have met the legitimate objective."
So B.C. could find itself in the unenviable position of trying to convince a panel of trade lawyers it had no alternative but to implement higher mandatory controls on vehicle emissions. B.C.'s odds of being able to do this are very slim, particularly because other provinces have not seen the need to take such strong action.
'We are going to make sure'
Perhaps flustered by getting the first challenging question from a journalist he has had on TILMA, Hansen responded to Smyth by implying B.C. and Alberta could sort of stack the jury if they get a TILMA complaint they do not like.
He claimed that all B.C. and Alberta ever intended with TILMA was to make sure companies from both provinces got treated the same -- given a "level playing field." If someone tried to use TILMA to attack regulations that were "non-discriminatory," then B.C. and Alberta could choose panellists for the case who would rule against this kind of complaint.
Said Hansen: "We are going to make sure that those panellists actually understand the objectives of this agreement."
But defending governments only get to pick one of the members of a TILMA panel.
Private complainants also get to pick a panel member, and their choice is likely to be whoever on the list of potential panellists would be most sympathetic to their case.
In addition, governments are not permitted under these agreements to coach panellists about the outcomes they want.
If B.C. and Alberta intended only that TILMA prevent governments from favouring local companies, they should have said so in the agreement. Instead they have made legally binding commitments under TILMA not to maintain programs and regulations that restrict any investment, not to establish new regulations that do this, and not to do a whole raft of other things even when they are treating local and out-of-province companies exactly the same. So they are counting on dispute panels to ignore the actual words and meaning of the agreement when making their decisions.
Trade lawyers have reputations to maintain. They aren't likely to sacrifice them just to please Colin Hansen or some other politician.
But say a panel did just ignore the legally binding text of TILMA and tried to decide a case on the basis of the "intent" of the B.C. and Alberta governments. They would have a very rough time trying to make sense of all the contradictory government statements of intent. Take, for example, the question of what happens to occupational qualifications. TILMA stipulates that workers qualified to work in one province have to be recognized as qualified to work in the other province without additional training. So it seems pretty clear that standards will go down.
Shred it
On the CKNW show, Hansen was all over the map on this issue. In reference to teacher qualifications, Hansen denied TILMA meant standards between the two provinces had to be the same, but in the same breath talked about Alberta potentially having to "match" B.C.'s standards. He claimed TILMA would not necessarily force B.C. to lower its teacher standards to those of Alberta, but also said the agreement means "if there is somebody who is certified to be a teacher in Alberta, they can come to B.C. and become a teacher without going through a whole bunch of extra rigmarole."
If dispute panels were not confused enough by the above, consider the following: Hansen repeatedly claims that TILMA will create billions of dollars in benefits for B.C. and tens of thousand of new jobs. But when you read the Conference Board report these claims are drawn from, you find that almost all the sectors where TILMA is supposed to produce these benefits -- the resource sectors -- are ones that are not actually covered by the agreement. So is it Hansen's "intent" that these sectors be covered, or does he just not know what is in the Conference Board report?
Rather than trying to find a bunch of trade lawyers willing to be panellists on the basis that they will ignore pretty much everything that TILMA says, B.C. and Alberta should just recognize the agreement is a colossal mistake that should never be implemented.
Related Tyee stories: