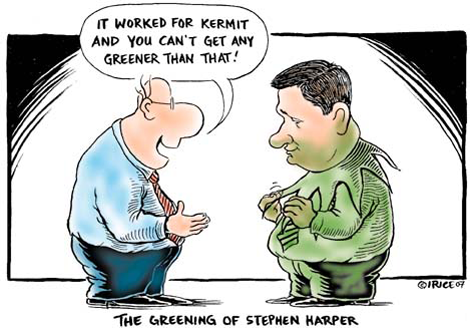 Expediency has always been the mainstay of politics. Former Alabama Governor George Wallace famously recanted his segregationist beliefs in the American South as the political winds changed. Jean Chrétien flip-flopped on the distinct society issue when the time was right.
Into that storied company strides Stephen Harper, who earlier this month newly proclaimed his commitment to the environment. "We've clearly determined we need to do more," announced the prime minister as he replaced Rona Ambrose with John Baird, one of his most valuable players.
There is nothing like a stiff change in public opinion to send our politicians back to the ideological drawing board. However, before we embrace his newly minted green credentials, let's have a look at what Mr. Harper has actually done on the environment in his last year in office. Some notable milestones:
April 13, 2006: Three months after his election, Harper quietly cancelled 15 federal programs meant to reduce greenhouse gas emissions. This announcement was made on a Thursday afternoon before the Easter long weekend, presumably in an effort to sweep this important policy shift under the carpet.
The axed programs included the "One Tonne Challenge" as well as the Energuide program, which provided incentives to retrofit 300,000 Canadian homes since the late 1990s -- saving on average 30 per cent in energy use. Also cut were 40 public information offices across the country and several scientific and research programs on climate change.
These cuts were made in spite of the fact that a recent Treasury Board review had determined the majority of these programs were cost effective.
That same day, Environment Canada scientist Mark Tushingham, who had penned a novel set in the near future about how climate change could affect Canada, was forbidden by Rona Ambrose's office to speak at his own book launch. His editor had driven from New Brunswick to Ottawa for the abruptly cancelled event at the National Press Club.
Mr. Harper's comment on this affront to the public service, free speech and scientific thought did little to quell speculation that the gag order actually came straight from the top: "I not only hope, but expect, that all elements of the bureaucracy will be working with us to achieve our objectives"
April 25, 2006: Rona Ambrose announces to reporters that Canada now supports the Asia-Pacific Partnership on Clean Development and Climate -- an alternative to the Kyoto Protocol championed by George Bush that lacks any mandatory emission targets and is widely ridiculed by the environmental community.
May 2, 2006: The Conservatives' first federal budget fails to even mention the Kyoto Protocol to control greenhouse gas emissions.
May 10, 2006: Minister Rona Ambrose tells Parliament that Canada had "no hope" of reaching the reductions of greenhouse gases Canada committed to under Kyoto.
The international optics of this surrender are particularly embarrassing. At the time, Canada was the chair of the Kyoto treaty, and played host to the world on the treaty not five months prior in Montreal. Then minister Stéphane Dion had helped broker a pivotal deal to keep the international agreement alive.
The new Canadian government now seemed to be telling the world that any efforts by Canada to meet our legal obligations under Kyoto are essentially a waste of time. Ironically, Ms. Ambrose was scheduled to chair a UN meeting the following week in Bonn, Germany to expand the Kyoto agreement to include developing countries. The David Suzuki Foundation and Climate Action Network both called for Ambrose to resign as president of these important international negotiations.
Oct. 19, 2006: The "Clean Air Act" is introduced to Parliament. It is widely criticized as far too weak, lacking any mechanisms to cap carbon emissions until at least 2020.
Nov. 12, 2006: Rona Ambrose represents Canada at a UN conference in Nairobi to combat climate change. Her message to the world? "We are on track to meet all of our obligations under the Kyoto Protocol, but not the target."
So absurd was this position that it was difficult for Canadian environmentalists attending the Nairobi conference to keep a civil tongue in their head. "What kind of misleading nonsense is this?" demanded Steven Guilbeault, the climate critic from Greenpeace -- a member of the environmental community from whom Mr. Harper is now apparently seeking counsel.
Nov. 30, 2006: Mr. Harper axes a further five climate change programs at Agriculture Canada, bizarrely asking the soon-to-be-redundant public servants to help with media spin control. Approximately 10 per cent of Canada's greenhouse gases come from agriculture.
Jan. 17, 2007: A Radio-Canada investigation reveals that shortly after he was elected, Harper's government quietly met for two days in Houston, Texas, with its U.S. counterparts and oil industry executives. The apparent purpose of the meeting? Canada committing to a five-fold expansion in oil sands production in a "relatively short time span."
A week later, George Bush makes his state of the union address, stating that the U.S. is addicted to oil and that he wants to makes America's dependence on Middle Eastern oil "a thing of the past" -- now a national security objective of the U.S. government. Where will this missing production come from? Apparently from us. Thanks for letting us know, Stephen.
The Alberta oil sands development is already the largest source of new greenhouse gases in Canada. So energy intensive is this bitumen boondoggle, it takes up to 1,500 cubic feet of clean natural gas to produce one barrel of dirty crude. The oil sands now consume 600 million cubic feet of natural gas per day -- enough to heat 3.2 million Canadian homes.
According to the minutes of the Houston meeting, this massive increase in the oil sands production will mean Canada has to "streamline" environmental regulations for new energy projects.
Jan. 19, 2007: Harper announces his "new" green energy program, which appears to be a re-tread of a Liberal program cancelled by the Conservatives last year.
Reviews from the conservation community are less than stellar: "It is no more than a regurgitated Liberal plan with a few less bucks and one less year," says Beatrice Olivastri, CEO, Friends of the Earth Canada. "I am shocked and appalled that there is less on the table for renewable power production."
Jan. 21, 2007: The Conservatives announce a $300 million "EcoEnergy" program over four years to retrofit Canadian homes to promote energy efficiency. This "new" program bears a striking resemblance to the old Energuide program axed by the Conservatives last April.
The significant difference is that the government will no longer fund expert audits for homeowners -- perhaps because these highly qualified people have moved on to other work since the old program was abruptly cancelled by Harper last year.
This last point is important. Whipsawing public policy like this is not only shameless, it is highly inefficient as well. Environmental programs buried just last year are now being exhumed by Mr. Harper and propped up as "new" ideas -- expect to see some spoilage and decay.
Politics is politics and Mr. Harper can be forgiven for trying to recast his government to more accurately reflect shifting public opinion. Indeed that is the whole point of a representative democracy such as ours.
However, as in the famous conversion of George Wallace to the civil rights movement, the public can also be forgiven for doubting his sincerity. Actions, as always, speak louder than words.
Related Tyee stories: