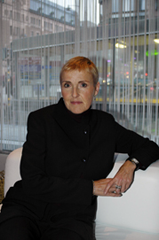 In 1947, when Israel came into being, I was a high school student. The year before, we had a number of European Jewish kids arrive after avoiding, somehow, the Holocaust. I saw the horror newscasts about the Holocaust. I saw the tattoos on surviving Jewish arms. I followed the Nuremberg trials and was sickened by what I saw. When the State of Israel was proclaimed, I was excited. This was a nation for a people hitherto without a home, the home being their biblical land. It made sense to me. Moreover, this land was almost empty and didn't Jewish settlers turn deserts into flora a-blooming?
I didn't ask any questions then or later as I went through university and into the work-a-day world. I did have a nagging concern, however, when I saw newsreels of Palestinian refugee camps containing I knew not how many people but obviously a lot. Where had they come from and why? What was to become of them?
The story went something like this. When Palestine was apportioned between Arab and Jew, and after Israel was recognized by the U.S., the U.S.S.R. and the United Nations in 1947, the new nation of Israel was attacked by Arab armies bent on destroying it.
I was led to believe that Palestinians voluntarily gave up their homes and went elsewhere. One popular version was that they were urged by the Arab forces to leave their homes to make way for them. The Israeli case was, for whatever reason, that these people had abandoned their homes, which entitled Israel to do with the land as it saw fit.
The awkward bit was that while Jews from all over the world were entitled to "return" to Israel even though they had never been there, not so for Palestinians, who had, by fleeing, forfeited their right to return to their ancient home.
Inheritors or occupiers?
This issue is important because while clearly Israel was a nation de facto, did that bestow a legal or moral right to expel those who had lived there for 2,000 years and more?
It was specifically not right by UN resolution 194 (11) which "resolves that the refugees wishing to return to their homes and live at peace with their neighbours should be permitted to do so at the earliest practicable date, and that compensation should be paid for the property of those choosing not to return and for loss of or damage to property which, under principles of international law or inequity, should be made good by the governments or authorities responsible."
This point is important because Israel calls itself a democracy based upon the rule of law, a case that can only be made if Israel fairly treats non-Jews who remained and those who left, meaning that Israeli Arabs have the same rights as Israeli Jews and that refugees are entitled to return or receive fair compensation.
Two very important books, both written by Israeli Jews, attempt to shatter Israel's claim of "inheriting" land abandoned by Palestinians and the claim that Israeli Arabs have the same rights and privileges of Israeli Jews.
'Other Side of Israel'
Susan Nathan emigrated to Israel when she was in her fifties, automatically becoming an Israeli citizen. She moved to Tamra, a town of about 25,000 and was the only Jew in the place. Her book The Other Side of Israel tells a shocking story of how Israeli Arabs are treated. Their towns and villages receive much less financial assistance than do Israeli ones; ditto their schools and health care. Their land is regularly expropriated by force and without compensation, and they are constantly harassed by Israeli soldiers if they travel, even if it's to go to work.
It's the second book that sent shivers down my spine and had me wondering whether or not I had been duped or was hopelessly naive. As a journalist, have I been grossly unfair to Palestinians? Was I right to assume that Palestinian refugees had indeed abandoned their homes often at the suggestion of invading Arab forces?
Ilan Pappe is an Israeli academic with a BA from Hebrew University and a PhD from Oxford. He's a senior lecturer in Political Science at Haifa University and is the Academic Director of the Research Institute for Peace at Givat Haviva. His latest book, The Ethnic Cleansing of Palestine, is a shocker.
The dust jacket relates, "The 1948 Palestine-Israel War is known to Israelis as 'The War of Independence,' but for Palestinians it will forever be the Nakba, the 'catastrophe.' Before, during and after this war -- as the state of Israel came into being, occurred one of the largest forced migrations in modern history. Around a million Palestinians were expelled from their homes at gunpoint, thousands of civilians were massacred and hundreds of Palestinian villages were deliberately destroyed. Though the truth about the mass expulsion has been systematically distorted and suppressed, had it taken place in the 21st century it could only have been called 'ethnic cleansing.'"
Having read the book, I can assure you that this dust jacket accurately sums up Dr. Pappe's case. Whether it's a fair or accurate case I cannot say and, as I'll relate later, there are plenty who don't agree with him.
'Ethnic cleansings' alleged
Dr. Pappe's fundamental position is that the emptying of hundreds of Palestinian towns and villages was anything but voluntary; that prior to, during and after the 1948 war, Israelis systematically drove residents from their homes and that thousands, including children, were massacred. One of the more famous of these "ethnic cleansings," as Dr. Pappe describes them, was at Dawaymeh on Oct. 28, 1948, where Israeli troops (Battalion 89 of Brigade 8) killed some 400 villagers, including women and children, while expelling about 6,000 others.
In answer to the Israeli position of a voluntary exodus, Dr. Pappe writes, "It should be clear by now that the Israeli foundational myth about a voluntary Palestinian flight the war started -- in response to a call by Arab leaders to make way for invading armies -- holds no water. It is a sheer fabrication that there were Jewish attempts, as Israeli textbooks still insist today, to persuade Palestinians to stay. As we have seen, hundreds of thousands of Palestinians had already been expelled by force before the war began, and tens of thousands more would be expelled in the first week of the war..."
The book goes on to tell of rape and death as Israelis "cleansed" 531 villages as it expelled more than half the Arab population.
I mentioned earlier that Ilan Pappen has his detractors. I would suggest that readers Google Ilan Pappe and read what the opposition has to say. My conclusion is that he's of the "academic left," much in the image of Noam Chomsky.
'Most hated Israeli in Israel'
Probably Pappe's sharpest critics -- at least that I could find -- are Janet Levy and Dr. Roberta Seid, who write: "'The most hated Israeli in Israel' -- an ignoble moniker to be sure -- has not eroded Ilan Pappe's star power on U.S. college campuses, where he is more often than not warmly greeted. The usual contingent of [Edward] Said acolytes, Chomsky groupies and a panoply of pro-Palestinian student organizations are invariably well-represented in his audiences. The prominence of resolutely anti-Israel partisans is unsurprising, given Pappe's role as one of Israel's most prominent die-hard Marxists. Pappe was invited to UCLA by history professor and fellow Edward Said disciple, Gabriel Piterberg. A call to the university revealed that history department professors may invite speakers at their own discretion using departmental funding to cover expenses for colloquia without any oversight. This practice enables faculty to freely promulgate their political agendas and control the degree to which students are presented with alternative views and critiques. Piterberg has been labelled 'an avant-garde radical who harangues campus demonstrations, endorses petitions and teaches a course in post- and anti-Zionism.'"
But the point is not what we think of Dr. Pappe or Ms. Nathan but whether or not their evidence is sufficiently accurate to cast serious doubt upon the "official" history put out by the State of Israel. The reason this is in issue is not just to satisfy people like you and me, but because if Pappe and Nathan's arguments have substance, there'll be no peace in the Middle East until the wrongs claimed are settled. Absent a settlement, Israel, a nuclear power, will be missile to missile with Iran, which will soon be in the nuclear club.
Staving off Armageddon
For the most part, we in the West, starting with President Bush, don't understand the underlying religious convictions that drive Islam in some of its manifestations. The United States thinks that it has a mission and the right to democratize the world and can't understand why other countries --especially Iran -- have similar passions about their ways of life, and believe that Allah has reposed in them a duty to rid the Middle East of Jews. That we, very much including me, emphatically disagree doesn't alter the fact that the United States isn't the only government that thinks it has a mandate from God.
For Israel the time is short. Palestinians who demand the right to return are increasing rapidly. Palestinian Arabs, now 25 per cent of Israel's population, will continue to increase and will one day have enough members in the Knesset to negate the Jews' ability to govern.
I support Israel's right to exist and to do so in peace, but until the Palestinian question is resolved, it will remain on a path to destruction that could well bring about a nuclear holocaust.
Dr. Pappe's and Ms. Nathan's books cannot be trashed by ad hominem attacks. If the issues they raise are not satisfactorily dealt with, the believers in the Armageddon of the Book of Revelation may be right after all.
Related Tyee stories: