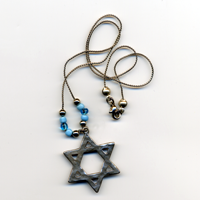 Clusters of teenagers wearing large ID badges laugh and link arms as they make their way past security booths. Three police cars line the street. They're competing in the Maccabi Games, a North American-wide sporting event hosted by the Vancouver Jewish Community Centre. This is Vancouver, in August 2006.
Over the last several weeks, the conflict in the Middle East between Hezbollah and Israel has sparked an increase in anti-Semitic comments and acts which has led to more security concerns in Vancouver's Jewish community. Synagogues are taking measures like bringing police out to vigils, something that would have seemed "laughable" only weeks ago, in the words of one rabbi. People within Vancouver's Jewish community say they're now pondering three questions: how should the community best respond to local security threats? How should members continue to best practice their faith? And how should they make sense of the events happening thousands of miles away?
Anti-Semitic acts have been on the rise for several years, claims B'Nai B'rith Canada, a Canadian Jewish advocacy group. It reports that instances of anti-Semitic acts in Canada rose by 43 per cent in 2004, then again by three per cent last year. According to the Pacific Regional Office of the Canadian Jewish Congress, common anti-Semitic incidents in Vancouver range from graffiti to threatening phone calls. And the CJC also reports that the month of July saw a sharp increase in these kinds of incidents in Vancouver.
Why? "When tensions rise in the Middle East, tensions rise here," says Mira Oreck, regional director of the Pacific division of the Canadian Jewish Congress.
Mark Weintraub, who is the regional chair of the Canadian Jewish Congress adds that "with the rise of terrorism and extremism anchored in the neo-Nazi, white Arian movement, or in fanaticism and hatred articulated in movements that claim to speak for Islam, we see a Jew hatred. We thought we had fought this successfully, but it is now erupting again. This has prompted anxieties about security."
Safety in small numbers?
The proximity of violence is near. Before July 29th, when Naveed Afzal Haq forced his way into a Jewish charity centre in Seattle and opened fire the thought of security measures was "laughable" according Rabbi Mivasair who heads Ahavat Olam, a small Vancouver congregation of about 85 members. The group now calls in the Vancouver city police as security to vigils, and Mivasair calls their former lack of concern about safety "a very foolish and naive way to think."
"There is definitely an elevated sense of emotion," says Oreck. She says that after the Seattle shooting, a lot of people called asking whether it was safe to go to any public event.
Many local Jewish people say a sense of threat lurks in their minds and affects their feeling of safety. Several say they no longer attend public events that are Jewish. Sarah Edmonson, a Vancouver actor and writer, who wrote a one-woman theatre piece on the Palestinian-Israeli conflict and regularly performs in local Jewish-themed spoken word events, such as Heeb's Storytelling at the Media Club this June, says before the most recent conflict and Seattle shooting she didn't think twice about performing. Now, she says, "I just don't feel safe. If there's a big gathering at a synagogue, I don't want to put myself in that situation."
And others say they are worried about family members. Bo Myers, a local filmmaker, is "very concerned" about her mother who works at the local Jewish community centre every day.
But despite the concerns about security, many people within Vancouver's Jewish community say they are not letting it affect their daily lives. "It's not stopping anyone," says Oreck. "It has not stopped our community from gathering. That's giving others way too much power."
Myers says that's because anti-Semitism is a long-standing problem. "But the concern has heightened for sure. And that in itself begs a lot of other questions. It begs questions of why, and what's to be done."
'Confusion' or clarity?
One effect of the most recent crisis on Rabbi David Mivasair and others in his congregation, is that of challenging long-held beliefs about Israel's role in the Middle East. Despite the recent cease-fire, and UN resolution, "This most recent conflict," says Mivasair, "has made a lot of [our congregation] more confused and pessimistic."
In previous outbreaks, Mivasair believed that if Israel "does the right thing, really moves towards a just resolution, and treats the Palestinian people with respect and human dignity," the conflict would come close to being resolved. He now believes, "decades too late," that he may have been wrong. He thinks that many people in the Middle East simply want Israel destroyed. "And no matter what Israel does, it's not going to satisfy them. I now have more of a sense that Israel needs to be militarily prepared. It's so hard to figure out what to do. "
Many other spiritual leaders in the community feel grief for the loss of life on both sides. "There's no question that this tragedy creates great sorrow," says Weintraub. "There is profound sadness that once again Israel and adjacent countries have been devastated by war."
Black, white and grey
But at the same time, the continued crises have heightened many people's sense of loyalty to Israel and their willingness to defend it. Hezbollah's actions seem to Weintraub and many others in the community to be motivated simply by a hatred of Israel. "Why did this happen?" asks Weintraub. "Out of sheer provocation?"
"Across left and right political spectrums," says Oreck, "many Jews agree that, in this instance, Israel was fighting for her existence."
For many, this reaction is different from in the past. In this case, many people think Hezbollah's kidnapping of two Israeli soldiers and killing of three others was an unsolicited act of war, perpetrated solely as a threat. Whereas in the past, the conflict with Palestine was seen as more grey, complex and layered -- mired in questions about human rights and humanitarian issues.
But people in Vancouver's Jewish community say this most recent crisis isn't a clear case of Israeli innocence either. They cite the fact that the UN Interim Force reports that Israeli aircraft have until recently been crossing the "blue line," the border between Israel and Lebanon, on a daily basis from 2001 to 2003, and until recently, "persistently."
"Furthermore," Harsha Walia, a Vancouver community activist, writes in a column titled "West Simplifies Hezbollah," for the Georgia Straight, "the two Israeli soldiers captured by Hezbollah on July 12 represented an attempt to attain an exchange of 15 [Lebanese] prisoners of war held [by Israel] in breach of Article 118 of the Third Geneva Convention."
Other factors have made the issue grey and confusing as well. Hezbollah is a well-structured political organization, with representatives in the Lebanese parliament. It also acts as a humanitarian organization, helping the country in the aftermath of Israeli bombing in the absence of governmental action. Recently, three opposition MPs, speaking from Lebanon on a fact-finding mission, suggested that Canada talk directly to Hezbollah, a group that Canada previously declared to be a terrorist organization. This led Parliamentary Secretary Jason Kenney to reject that idea and compare Hezbollah to the Nazis.
Shifting lines
Some people in the Jewish community say the conflict in Lebanon has pushed them across political lines. "It has been interesting seeing people I know feeling uncomfortable supporting Stephen Harper on this position," says Oreck. "But they support their country, Israel."
But not everyone supports the actions of Israel. Stephen Aberle is Jewish and a member of Jews for a Just Peace. "I think that Israel's actions in Lebanon are not acceptable, just as Hezbollah's targeting of civilians is not acceptable."
Aberle believes that for some, during this most recent conflict, it has been hard to express views that don't fully back Israel's policies against Hezbollah. "I would say that a large share of the Vancouver Jewish community has great misgiving and discomfort, but that's difficult for many people to articulate. It's hard to go against the grain, and it's hard to not seem loyal."
Others, like those at the Creative Peace Network Society (a Vancouver non-profit organization) are less concerned with determining who is right or wrong in a conflict situation, and more interested in generating dialogue generally. "We try to understand how we can prevent violence in the future," says Reena Lazar, executive director of the organization.
They recently hosted a two-week filmmaking workshop for Israeli, Palestinian and Canadian youth. After several days of dialogue, groups representing each country made a short film. For most kids, says Lazar, it was a life changing experience. "They saw the other side in a completely new light." And "there was a huge sense of relief when one side heard that the other side understood them," says Lazar.
Carrie-May Siggins is a Vancouver-based writer and documentary filmmaker.