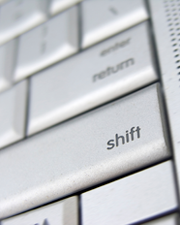 Imagine this. Jessie Zhou, a 16-year-old, grade 11 student at an East Vancouver secondary school struts into her counsellor's office in early September to let him know of her altered plans for the coming school year. She took English 11 at summer school, so she will enrol in English 12 this year. Aside from English 12, she will take Acting, PE and Biology 11 at school. But she has decided to take an additional six academic courses online through The North Island Distance Education School, based out of Courtenay. She won't take any of these in the classroom. She also plans to take English 12 online as well as in the classroom to make sure she gets a good mark. And she doesn't need her school counsellor or principal's permission for any of it.
Admittedly, Jessie would have to be an informed teenager to pull this off. But her audacious plan, one that would never have been approved by a gate-keeping administrator last fall, and be expensive to her even if she had managed it, now has no such impediments. It is completely within Jessie's educational rights, and therefore, comes at no cost to her or her family, according to legislation recently enacted under Bill 33.
So what is Bill 33 and why has no one heard much about it?
Bill 33 is an amendment to the School Act that passed in the B.C. legislature this past May. Among other issues, Bill 33 addresses something called distributed learning (DL).
Distributed learning was called "correspondence school" back in the day when it was based on mailed-out printed materials, but became "distance education" with the advent of multimedia and now "distributed learning." The history is like going from the sandbox, to the monkey bars, then straight to Cirque de Soleil.
Students can 'duplicate enrol'
So what does all of this have to do with the suits in Victoria and B.C. teens? First, it means that students in grades 10 to 12 can now "duplicate enrol" in their local school as well as any distributed learning school in B.C. Students can now take more than the "full time" load of eight courses, if they wish, and therefore accelerate through high school. They can also simultaneously enrol in the same course at their local school and at a distributed learning school and choose the better of the marks.
This piece of legislation also affects students enrolled in distributed learning schools such as the Greater Vancouver Distance Education School. These distributed learning students can now elect to attend their local schools part time, presumably for courses difficult to offer online, such as Drama, Band, PE, Home Economics and Industrial Education.
So how is the Ministry of Education communicating this info to all concerned parties? What the ministry usually does is inform district superintendents, says Terry Stewart, a legislative analyst. In theory, these superintendents summarize the important facts for the principals in their districts, then the principal decides how to communicate this information to the school community.
But when I asked Barbara Jones, the principal of Sentinel Secondary in West Vancouver, what she plans to do, she confessed to having no plan for "overt information giving." After a pause she continued, "We won't hold back anything, but I don't think we will tell the students that they can take their courses online. We won't start advertising."
Her reasoning is that sudden changes of this magnitude result in unpredictability, which can put a lot of stress on a system. Her concern is that "online learning could undermine what we do as schools," such as creating a community where students can develop in a variety of ways while experiencing a feeling of belonging. She is also worried that some students might take online courses "just to jump through hoops."
'They didn't ask us'
I've spoken to a number of teachers, and none understands the reasoning of the ministry. They say the ministry would have known that school administrators would not have supported this legislation. For principals it will mean a lot of headaches, including having to compete with distributed learning schools for students. Jones says, "They didn't ask us." Yet administrators like Jones are now responsible for communicating and implementing the changes.
Jim Stassinopolous, education consultant at the Greater Vancouver Distance Education School was as surprised about the changes as the teachers I've spoken to. The GVDES currently faces a host of challenges, according to Stassinopolous, which will increase if a rush of students suddenly began signing up for online courses. These include communication with schools and school boards to achieve seamless integration, promotion of their services to individual students and families, and lack of funding, staffing and expertise.
Stassinopoulous says GVDES is not equipped to accommodate increases to their enrolment this fall based on the legislative changes, so they are less than eager to start broadcasting these new opportunities.
Critics of this legislation say this could be the beginning of the end of public education as we know it in B.C. The two bodies charged with enacting the changes -- the public secondary schools and the distance education schools -- were not consulted, as yet are unprepared, and so far, have no good reason to tell anyone what is going on.
Hello year-round schooling
Given that, can anything good come of this new program?
As a classroom-based and online teacher, when I read about it, I thought I could actually hear the sledgehammers thudding on the school's outer walls. I began to wonder if the term "significant changes" on the opening page of the memo to teachers was intended as mere understatement or laughable irony. Is this mere change or the beginning of the deconstruction of the 150-year experiment we call public schooling?
Some might see the legislation enacted under Bill 33 as a simple reminder to schools that they have to get up to speed with technology. After all, we have these new tools to help students learn, and B.C. students deserve the opportunity to work with them. But there's an old lesson here: tools can be used to both build and disassemble. And if not handled carefully, they can cut off fingers.
What will change? The traditional school schedule will be the first thing to go. Abolishing required permission and tuition fees for online summer courses has already opened a portal to year-round schooling and has made a full summer course load the norm for many students. Enrollment in on-line summer courses this year surpassed everyone's expectations according to Jim Stassinopolous of the GVDES. With teaching salaries buying less than a decade ago, cash-strapped educators are embracing the extra work. And that means school could imperceptibly shift to an always-open convenience store model and without as much as a raised eyebrow from the school community.
What are the problems? In my experience, many students enrol in online courses for the wrong reasons: among them, the misconception that online courses are easier or quicker than bricks and mortar learning.
In fact, online courses require more independent study skills and internal motivation. Online teachers have no electronic stick to rap on desktops, and students find it easier to ignore a screen's opaque gaze than the disappointed countenance of their beloved (or feared) teacher.
Another concern is that overachieving students will use on-line courses to needlessly accelerate. A student taking two summer courses then two extra courses each year in grades 10 and 11 can graduate a year early. And while many parents would like to boast of a child's quick progress through high school, research indicates that this is rarely to a student's benefit.
Good courses needed
There's also the fact that on-line courses need improvement. In order to offer well-crafted online courses, we must put a lot more resources into creating them than we are at present. We need a solid technology plan, which includes professional development for teachers, for example.
To do it right, we should start by focusing on elementary school, rather than senior high, then build acquired skills incrementally through to graduation. We need to integrate technology into elementary school lessons, rather than teaching technology as a discrete event that happens in the computer lab.
By the time students reach middle school or junior high they should be prepared to take some lessons online in a "blended learning" environment, where a teacher augments classroom assignments with online resources. This will allow students to become comfortable working within a learning management system where they will learn the rules of the "academic conversation" of online discussion forums, compose using hypertext, and work with others using collaborative tools such as wikis.
Even with this foundation, students will still require instruction in how to be successful in fully online courses, where they have to plan assignments and manage their time, communicating clearly with others where they are at, in ways that they have never been required to before.
That said, well-designed online courses can accomplish wonders for students who have been properly prepared to engage in them. These students develop genuine technology skills which are second to none, because the skills, such as creating documents and presentations, and interacting within a web interface, are not tacked on to their educational experience as enrichment, but make up the educational environment itself, much in the way that French immersion teaches language skills.
World at fingertips
With online learning, we can teach research skills using current, authentic resources rather than textbook examples. Online teachers can use resources available online for comparison and discussion, offering a broad range of perspectives to be investigated and considered.
Students are no longer limited to locally available papers for current events, for example, but can look at what the Washington Post, Al-Jazeera and The Guardian have to say about Bush's latest announcements. And students can discuss these issues immediately, online with peers.
Students also get enough time to research an issue, reflect, ponder various perspectives and compose thoughtful responses. The adage that "there is no back row in an online class" proves true, partially because participation is easy to monitor and give credit for, but also because there is no pressure to "grab the mike" or be put on the spot. The weakness of the Internet, its unmanageable volume of information, much of it unreliable, can be turned to advantage when we teach students how to analyze sources for currency, reliability and biased language.
If they can do this, they will leave school with a valuable set of tools that will serve them well throughout life, rather than a list of facts to be forgotten after the test. I did say that there would be a test didn't I?
Nick Smith, a Vancouver and Sunshine Coast high school English teacher for the past 13 years, has been virtually dazzling his students for the past four. He is just wrapping up a master's degree in educational technology at UBC.