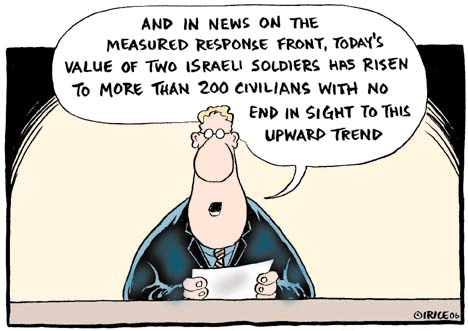 I am a friend of Israel. Two years ago, I even taught as a visiting professor at the University of Tel Aviv.
But unlike Prime Minister Stephen Harper, I condemn Israel's disproportionate response to the capture of two of its soldiers by Hezbollah militants last week.
Hezbollah does pose a threat to Israel, as demonstrated by its ability to reach Haifa and Tiberias with missiles. But under international law, self-defence must be exercised in a necessary and proportionate manner. Since there is no evidence implicating the Lebanese government in Hezbollah's attacks, Israel should have restricted its air strikes to Hezbollah targets.
Instead, Israel bombed Beirut's international airport, striking at the heart of Lebanon's economy. It bombed roads, bridges, power and gasoline stations, and imposed an air and sea blockade. It promised, in the words of the Israeli Army chief of staff, that "the clock will be turned back 20 years for the Lebanese people."
Self-defeating strategy
The selection of non-military targets was ostensibly aimed at pressuring the Lebanese government to exert control over southern Lebanon -- something it had been reluctant to do, for the simple reason that this could trigger another bloody civil war.
Israel's reasoning must be questioned. The destruction of infrastructure will actually make it more difficult for the Lebanese government to exert control. The difficulty will only be exacerbated if anger about Israel's disproportionate response causes support for Hezbollah to rise. Since many of the Israeli strikes are not legal acts of self-defence, they violate the United Nations Charter. That instrument prohibits the use of force against the "territorial integrity and political independence" of UN member states.
The strikes may also constitute war crimes. Under the laws of war, civilians may be placed at risk only for reasons of military necessity. They must never be targeted to create political pressure, or for reasons of revenge.
Israel's actions certainly indicate some disregard for the lives of innocents, and perhaps even a willingness to use them as pawns. Hundreds of civilians have died, including women, children and eight members of a single family from Montreal. Some of the civilians were struck by Israeli missiles as they fled for safety. Others perished when Israel dropped bombs in densely populated neighbourhoods. More will die as hospitals, water filtration plants and sewage treatment facilities struggle with power shortages.
'Measured' response?
Remarkably, Stephen Harper has declared that "Israel's response under the circumstances has been measured."
The prime minister's willingness to defend Israel's behaviour can be explained at several levels. He undoubtedly feels sympathy for the past sufferings of the Jewish people, including in the Holocaust. He may be influenced by domestic electoral considerations, pro-Israel media moguls and lobbyists. He could be blinded to the complex and evolving nature of the situation by a desire to maintain clear distinctions between "right" and "wrong." It is even conceivable that he believes, along with some evangelical Christians, that another war between Israel and its neighbours is a necessary precursor to the second coming of Christ.
Most likely, Mr. Harper just wants to win points in Washington by aligning himself with the unequivocally pro-Israel position of George W. Bush.
In any event, his stance is misguided.
By supporting Israel's disproportionate response, Stephen Harper may have helped embolden the Israeli soldiers or pilots who killed the eight Canadians. By failing to demand that Israel hold back, he might have contributed to a situation where tens of thousands of Canadians are desperately seeking to flee Lebanon, and the Canadian government is unprepared to help.
Canada as global polarizer
One thing is certain: Stephen Harper is helping to polarize a world already divided over the "war on terrorism" and Iraq. Consider how upset Muslims around the world must be, watching the effects of the Israeli onslaught. Consider how upset some of them could be at our prime minister's one-sided statement. What impact might this have on our security at home, and our soldiers' efforts to win hearts and minds in Afghanistan?
For decades, Canada took a balanced approach to the conflict in the Middle East. We recognized that Israelis have a right to a secure and viable state at the same time that their neighbours, including the Palestinians and Lebanese, have the same rights also. It was our lack of favouritism that enabled us to lead the peacekeeping mission that brought an end to the 1956 Suez Crisis, and won Lester Pearson the Nobel Peace Prize.
The balanced approach rests upon the fundamental principles of justice and equality. Today, when Stephen Harper supports Israel's disproportionate response, he devalues the lives of Lebanese citizens. He undermines the laws of war, which exist to prevent unnecessary human suffering without regard to national, religious or ethnic differences. He debases Canada, this wonderfully diverse and tolerant country where Jews, Arabs and people of every other imaginable creed and colour live peacefully side-by-side.
Israel has a right to defend itself, within recognized and reasonable limits. Those limits have been breached. Friends of the Jewish state should not pretend otherwise.
Our prime minister is wrong. It's time for Canadians to speak up.
Michael Byers holds the Canada Research Chair in Global Politics and International Law at the University of British Columbia. He was a visiting professor at the Buchmann Faculty of Law, University of Tel Aviv, in April 2004.