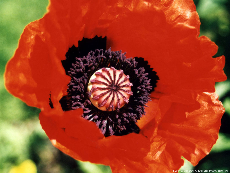 There's an episode of The Simpsons where Apu takes his American citizenship exam. The proctor asks him what the cause of the American Civil War was. Apu replies, "Actually, there were numerous causes. Aside from the obvious schism between the abolitionists and the anti-abolitionists, there were economic factors, both domestic and inter..."
The proctor interrupts him, saying, "Wait, wait... just say slavery."
Apu replies, "Slavery it is, sir."
There is also an African proverb that says, "Until lions have their historians, tales of the hunt shall always glorify the hunters." Although wars are never completely black-and-white, the winners write the history. Accounts of war turn into simple slogans rather than accurate descriptions of conflicts, causes and consequences.
Honouring suffering
I imagine that if the Nazis had taken over the world, we would be encouraged to celebrate that conquest on some day of observation, perhaps "honouring" the soldiers of the Fatherland and the sacrifices that they made as the Third Reich spread its "benevolent influence" over the world, heralding an age of prosperity and racial purity. On the other hand, they might have developed a pithy slogan to represent their foul cause, perhaps one like "freedom". Either way, I wouldn't wear a swastika on my lapel on that day, just like I don't wear a poppy on my lapel on Remembrance Day.
I can hear the retort: "Blasphemy! Our soldiers did fight for freedom and democracy. They liberated Europeans from the yoke of Nazi slavery! They fought so that you can enjoy the freedoms that you enjoy now."
Let me clarify that if the purpose of Remembrance Day was to remember the suffering of almost 11 million Jewish people, Gypsy people, gays and lesbians, Jehovah's Witnesses, Polish people, Serbian people, disabled people and others who were murdered during the holocaust, I would gladly acknowledge their suffering by wearing a yellow star of David, a pink triangle, or whatever symbol was chosen to say "never again" to such atrocities.
Pro-war flower
Sadly, the poppy acts more as a rallying cry to support military solutions to the world's problems, instead of a heart-felt and genuine plea for an end to the suffering of war.
We are exhorted to wear poppies to honour the sacrifices that Canadian soldiers made in WWI, WWII and the Korean War to protect our lives and freedoms. The assumption is that their sacrifices were made to protect our freedoms. But an objective view of history, uncoloured by nationalistic sloganeering, casts a shadow of doubt on that premise.
Unarguably, WWI was "for king and country," not freedom and democracy; its causes were rooted in European imperialism and nationalism - schisms and divisions between people, rather than virtues like freedom and democracy. Unless of course you are taking Apu's citizenship test and are required to describe its causes in two words or less.
WWII was a complex conflict based in the context of the resolution of WWI. Although that context gave fertile soil to the most notorious example of evil known to history - Hitler and the Nazis - the resulting conflict was more a continuation of imperialist rivalries and nationalistic competition than it was a legitimate battle between good and evil, as it has been characterized in the Remembrance Day sloganeering that has come to dominate November 11th.
War and its discontents
Ask a Japanese Canadian who spent time in a WWII internment camp and whose family was stripped of its property whether his or her "freedom" was safeguarded by the efforts of Canada's soldiers. Ask one of Canada's indigenous people who, at the end of WWII, wasn't allowed to vote in elections as a result of his or her "Indian status" whether he or she felt free at the conclusion of WWII. The fact that we recognize the efforts of our soldiers in the Korean War - a border skirmish in the ideological Cold War - conclusively demonstrates that we are not just recognizing the efforts of soldiers to protect freedom and democracy. Remembrance Day uses the veneer of virtues like "freedom" and "democracy" to glorify military solutions to the world's problems.
I don't refuse to wear a poppy to criticize the efforts of individual soldiers, many of whom were barely adults, who fought - and died - in these conflicts, believing that they defended and fought for noble goals. I respect their spirit of duty, sacrifice and dedication to causes that they saw as greater than themselves. I refrain from wearing a poppy to criticize the use of military force, at the expense of soldiers, civilians and their families, by the state - any state - in order to achieve political goals, no matter how noble. Remembrance Day usurps the sacrifices made by individuals and conscripts those sacrifices in the name of nationalism - a divisive cause that fragments the human race into pockets of "us" and "them."
Non-violent fighting
Of course, the question must be addressed, "Faced with the Nazi menace, what were we to do?" Mahatma Gandhi, who also faced oppressive imperial forces during his lifetime, said, "Non-violence is a weapon of the strong." When faced with oppression and injustice, sometimes it can be easier to lash out in violent reaction - one that will further propagate the conflict, perhaps sowing seeds of future conflicts - than to react in a constructive, non-violent way that will actually resolve the conflict, giving rise to things such as true freedom and democracy. What would Gandhi have done in Poland or Germany if he were faced with the advance of the Third Reich and witness to the holocaust?
Perhaps, in protest, he would have joined a line up of Jewish people waiting to board a train to Auschwitz. Would you have the courage to make that sacrifice? Would I?
Hopefully, we'll never have to find out. I've always wondered about how the soldiers guarding concentration camps were able to supervise such genocide. They were, after all, just boys, the same in many respects as those Canada sent overseas. Of course, they were able to do it because they participated in a shared delusion; they believed that their victims were not human and that their actions were for the greater good. I like to think that it would have been possible to open their eyes to reality if more people had stood peacefully opposed to their actions. Perhaps if their mothers had joined my hypothetical Gandhi in the line-up for the concentration camps, they might have seen the evil they were perpetrating for what it was and stopped participating in it.
Opting out
Regardless of whether I'm right or if I'm deluded myself, the fact is that violence is a never ending cycle and there is no question that "the war to end all wars" doesn't exist, unless, of course, it exterminates all of us. That is why I oppose war and refuse to wear a symbol that justifies and glorifies it. While I'm glad that I don't live in a country ruled by Nazis and I don't have to protest observations of the glory of the Third Reich under penalty of death or imprisonment, I do insist on exercising my freedom by not honouring the fictitious efficacy of military solutions that divide humanity rather than renew it.
That means that, instead of wearing a poppy on November 11th, I wear a symbol of peace on my lapel to represent my hope and aspiration that we are capable of something better than war to defend our precious way of life. If we aren't, it isn't worth protecting.
Clay McLeod is a teacher in Kelowna with an interest in global education and social justice. His writing has appeared in publications ranging from OWL Magazine to the Alberta Law Review, and he is working on a book called The World in Your Classroom: Engaging Students in Global Education, to be published by Heinemann. You can also read his blog here.