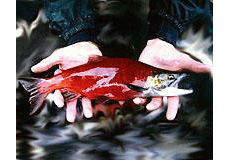 September. Whole families line the spawning channel at Kokanee Creek Park, staring down at the seething mass of red backs, sometimes for hours. The season is changing, the new school year has started, and the park's summer playground aspect is giving way to the sombre, workaday look of fall. Brisk air is filled with new beginnings and wood smoke. The summer tourists are all gone, and local families are here to take a last wistful look at the swimming beach, stand close to the barbecue, and watch the fish.
The spawning channel is a kind of long amphitheatre, with massive old cottonwoods towering overhead. The natural stream channel has been blocked off by a fish weir, and the ascending spawners are re-routed to this special side channel, which has been carefully and hopefully re-engineered to kokanee specifications, with long, straight, stairstepped beds of meticulously selected gravel, covered by water of precise depth and speed.
A broad, wheelchair-accessible walkway that can accommodate six abreast follows the channel, and a wooden railing separates the two. The railing is just right to lean against, and people do, adults against the top rail, kids against the lower one, mesmerized. Watching.
The kokanee spawners have navigated back to their natal stream by a combination of water chemistry and magic, a far lesser feat than the 2000-kilometre returns of their cousins the sockeye, but still remarkable. By now the fish have turned from burnished silver to a lurid combination of fire-engine red and frog green, as if to advertise their promiscuity, their protein, their imminent death.
A powerful symbol
I watch too, knowing that beyond their elegant and complex biology, these fish hold a deeper meaning for us, a meaning both personal and communal at the same time. But the seething red backs form a complex hieroglyphic, whose meanings are not easily deciphered. We locals do have a natural bond with this creature, because we both share a unique piece of geography. The human construct we call the Kootenays overlaps nicely with the kokanee's natural range. Although the fish is found widely in lakes along the North Pacific littoral, this lake, and this folded region of rock and water, is kokanee heartland.
What we participate in, the kokanee does too, often to its detriment. And what it participates in, from proglacial lakes to the taste of Daphnia and the feel of the thermocline, also has meaning for me. The kokanee speaks from that distant and eroded time when the animal world held both literal and symbolic meaning for the human world. As red backs knife through the water, the crisp September air settles slowly toward winter, and a foraging ouzel works the rocks at the edge of the spawning channel, we can privately acknowledge that these animals still hold symbolic meanings. As I learn about the kokanee, somehow I am better able to understand the cycle of life, the meaning of family, the pull of home.
Science founders without art
This pilot fish is also leading me forward, past mere biology and ecology, into an unexpected Kootenay bioregionalism. The kokanee is the symbol, the fundamental ur-creature of this region, the totem. Totem is part of what we yearn for, as we lean on those September railings. But no matter how hard we try, we cannot make totems, and we cannot create bioregions, from science alone. The vast amount of information that science has generated about the Kootenays has not moved us one millimetre closer to bonding with this accordion-folded country, but science together with art, respect for First Nations knowledge, and especially the creation of new mythologies of our own can move us forward into a dynamic empathy with the regional landscape.
How do you create such a regional mythology? You might start in midsummer, on the water, far enough upstream from Nelson so you can just see the distant Purcell Mountains through the narrow gunsight of the West Arm. Paddle a kayak or canoe over to the unpopulated south shore. Seen now from water level, the surrounding mountains capture and reflect more light, and the moment turns serene. Even in July, cottonwood fluff still floats on the air, uncertain of its direction. Clothed in cedar and Douglas-fir, the mountains come precipitously down to the water and then plunge right in, continuing downward below the water surface.
As you glide closer to the south shore, the solid green of forest cover opens to expose slabs of grey-black granite, partly scabbed over with lush green moss. The steep plunge of mountain toward the lake is interrupted only by a spidery rail line blasted into rock just above the water. Contemplate the history and impacts the railroad has had on our region.
Tie up to a snag, and step out onto a flat rock that rests a few inches below the water surface. From there, slide slowly into water that looks and feels like cold green champagne. You may use the artifact of a mask and wetsuit to do so, as you are merely a guest here anyway. Observe the jumbled rocks beneath you. Some are glacier-rounded, others freshly broken and sharp, and all naked except for the faintest suggestion of algae film.
The rock field continues steeply down toward green oblivion, to where sunlight disappears completely, about 30 metres below. Welcome to a silent universe composed of water, rock, and sunlight, with tenuous strands of biology in between; welcome to pure Kootenay oligotrophy. If you stay long enough, a sucker fish will pass mildly underneath you, and perhaps the shadow of an observant osprey overhead. Would you see a kokanee? Only if you were very lucky.
The regional mythology you create may be spoken, written, woven, carved, thrown, filmed, or painted; there are no prescriptions for its medium. The only requirement is passionate immersion in the local. Your mythology's impact should diminish when it is appreciated outside of its own native region, but only slightly, since the local, when passionately observed and keenly wrought, is universal.
It's place that defines us
Bioregionalism built on regional mythology is a messy, contradictory, and dangerous idea. Of bioregionalism's many definitions, perhaps the most obvious is a collective attention to -- and sense of -- place. Bioregionalism is the transformation of our lives by local biology, geology, climate. As the poet Gary Snyder says, the strength of the bond to place is second only to the bond of kinship. Bioregionalism at its root is instinct, one that has probably been with us since we walked upright. In the development of the human, there was a long stage in which intimate knowledge of one's home landscape was a powerful adaptive advantage. That knowledge may become adaptive again, in this new era of human evolution, where our fight is for sanity and integrity, rather than for mere survival.
Our longstanding instinct for bioregionalism was only recently defined as a philosophy, when writers and activists like Peter Berg, Freeman House, Gary Snyder, and British Columbia's own Doug Aberley, Terry Glavin, Chris and Judith Plant, and others shaped it into a formal notion. Inherent in bioregionalism is the idea that places are unique and distinct, and that people are changed -- uniquely and distinctly -- by living in those particular places. Cheap energy, which means that the carrots we eat are grown in Mexico instead of Creston, and pervasive television, which means we passively accept entertainment created in New York instead of actively seeking it out in Cranbrook or Salmo, are massive deterrents to developing bioregionalism.
Advertisers get bioregionalism
We have a local beer, brewed in Creston, called Kokanee. Clever television ad campaigns show brown bottles fighting their way upstream and doing salmonid-like jumps in white water. When the voice-over declares "Kokanee, it's the beer out here," it mouths a confused but powerful sentiment, the desire for regional differences. The desire to belong, to a unique landscape and to a particular human community.
Even when diverted into the shallows of product advertising, the simple phrase "out here" hints of a conscious loyalty to place and to a particular place-influenced way of doing things. It is not surprising that the brewery chose the kokanee as the name for its beer. Advertisers fully understand the power of symbol.
Ordinary people may be less analytical about symbols, but they still feel their power. The Ministry of Water, Land and Air Protection monitors the numbers of juvenile kokanee fry every spring. The fry leave the creeks and head for the West Arm under cover of darkness, when they have the best chance to avoid the many predators that await them. The biggest movement of fry occurs on rainy, windy, and moonless nights.
My wife and I accompanied Gary, a ministry fisheries technician, on such a night. We watched as he dipped his nets into Kokanee Creek and then quickly counted the gasping, writhing fry. Up close, under the light of a headlamp, they were tiny slivers of moonlight with huge and accusing eyes. The counts would go on all night on a precise schedule: dip, count, quickly throw back, wait, dip again. Gary, the technician, said to us, "You know, I've never felt smaller or more alone than at three in the morning in the dark and the pouring rain, holding a handful of kokanee fry."
Ecology can include us
I think I understand what Gary meant. In his hand he held complex, squirming fragments of an entire ecosystem, one that had nothing to do with him. We humans are the interlopers here: we are like the lonely and self-conscious teenager on the awkward first day at a new school, looking enviously at the established relationships, the camaraderie, the self-sufficiency of nature. No part of this ecosystem needs us to function. This sense of insignificance in the face of a complete, self-sufficient nature is a new and healthy sentiment. It rests uneasily with a more traditional concept, that the fry are completely dependent on our intervention, and a completely new one, that we and the kokanee are destined to work out a relationship of equals.

We are beginning to practise an ecology of inclusion. First we ignored ecology altogether. Then we began to study it species by species -- population dynamics, reproductive biology, and so on. Now we study the species together with its habitat, and some have gone even further and proposed that if the entire habitat is in order, the species pretty well look after themselves. The next natural step in the hierarchy of inclusive ecology is to bring the messy, unpredictable, and problematic human into it.
The habitat of the human, its event field, the extent of the landscape that affects people and is affected by people, is another definition of a bioregion.
Place confounds politicians
Bioregionalism is subversive because it is neither politics nor ideology. Therefore it is incomprehensible to those in power. It is anarchic, and totally outside of official sanction. In fact, our current economy drives us toward precisely the opposite premise; we are supposed to converge around a single, worldwide commercial culture, where goods and services are harmonized to eliminate local variation. Labour, capital, and products are predestined to settle into a seamless flow from one anonymous market area to another, reacting only to supply, demand, and profit.
Bioregionalism would subvert all this, bypassing many globally mass-marketed cultural products, in favour of the local. Together with the recognition of the unique biophysical features of a region, bioregionalism should also recognize and encourage what is unique and distinct about the human culture of the region. And in order to be successful, biocultural regionalism must come to terms with both First Nations and settler culture elements.
Bioregionalism is not only subversive; it is also marginal. The more isolated an area is, the further it is from the cultural mainstream, the less clout it has on the provincial or national scene, the more likely it is to have some elements of bioregionalism already, and the more likely it is to further develop those elements. As Terry Glavin says, the people of the 25 or so distinct eco-regions of British Columbia are positioned, perhaps better than anywhere else in North America, to recast some of these fundamental issues of place, social relation, and sustainability in the form of new bioregional cultures.
Don Gayton is an ecologist in Nelson, B.C., and the author of The Wheatgrass Mechanism and Landscapes of the Interior, which won the U.S. National Outdoor Book Award. This piece is excerpted from his Kokanee: The Redfish and Kootenay Bioregion, published by New Star Books in the Transmontanus series. Tomorrow Gayton will look at the two distinct areas in the Kootenays, and the idiosyncratic differences between its many towns.