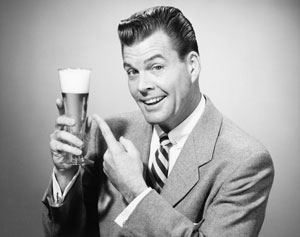 David Beers hosts four evening events at The Museum of Vancouver as part of their fall exhibit, Home Grown: Local Sustainable Food, co-presented by FarmFolkCityFolk. The Museum of Vancouver's Food and Beers events are sponsored by the Tides Canada Foundation.
At a Glance:
"A Local Iron Chef" on Sept. 23
"Can the City Feed Itself?" on Oct. 14
"How Do We Compare to Other Cities?" on Nov. 25
"Vancouver's New Food Writing" on Dec. 8
Centred around local eating, urban farming, food and, well, "beers." Get it? David Beers. Food and Beers. Pretty good, eh? Aw, c'mon. What's a fish got to do to get a laugh out of you people?
Whether you thought that was funny or not, if you're interested in local food and farming, you'll enjoy these events and the exhibit they accompany.
The 100-Mile Iron Chef September 23, 2010, 6:30 pm
Two chefs -- Todd Bright of Wild Rice and Jennifer Peters of Raincity Grill -- will face off on barbeques. David will take the role of the eccentric "Chairman Kaga" and officiate the event, while Alisa Smith and James MacKinnon, the authors of the internationally celebrated Tyee-series-turned-book, The 100-Mile Diet will choose the B.C.-based ingredients that the chefs must work with. The meat and produce for the event will be donated by the local producers taking part in Home Grow-In's Buyers' Club Co-op. Audience members will play the part of the judges - prepare to be dazzled!
Can the City Feed Itself? A Recipe for Local Food Success October 14, 2010, 7 pm
What are the must-have ingredients for a robust local food system? How can we better support our farmers? Join our panel of experts and help cook up a delicious plan.
On the panel:
Each will contribute a few thoughtful "ingredients" in their ultimate local food recipe. And you'll get your turn too. Our reporters will be there ready to hear your suggested ingredients for making B.C. a global leader in local food. And while you take part, enjoy complimentary local nibbles, savour sips from the cash bar, and wander through the HomeGrown exhibit on Vancouver's local food scene too.
Tickets are $15, and include complimentary nibbles and admission into MoV's Homegrown exhibit on local food, co-presented with FarmFolk/CityFolk. Buy your tickets here.
James and Alisa's Top Ten Food Ideas November 25, 2010, 7 pm
The renowned authors of The 100-Mile Diet are doing more than hanging out and choosing ingredients in the MoV's "Kitchen Stadium" -- on November 25, James MacKinnon and Alisa Smith will discuss ideas they've seen in action since completing their best-selling book. They've been travelling across North America in search of inventive ways of eating locally, and have plenty of ideas to share. Buy your tickets through the Museum of Vancouver here.
The New Food Writing December 8, 2010, 7 pm
Given the explosion of interest in food writing in the past few years, the final Food and Beers talk will feature some of Vancouver's best-fed authors. Their discussion will focus on how urban kitchens are linking their food to the planet, and the route that food takes from farm to plate.
Timothy Taylor Author of the acclaimed bestselling novel Stanley Park, about the struggles of a young chef, Taylor writes for The Globe, The Walrus and EnRoute magazine where his annual essay series often reflects on food culture. He has a new novel coming in March 2011: The Blue Light Project.
Barbara-Jo McIntosh owns Vancouver's Books to Cooks bookstore and is a passionate supporter of the culinary arts. The former restaurateur is author of the bestselling Tin Fish Gourmet and served on the prestigious James Beard Awards cookbook selection committee for six years.
Andrew Morrison founded Scout Magazine, online bible of the Vancouver restaurant scene, and he contributes to The Westender, Western Living Magazine, Vancouver Magazine, and VM's annual Eating & Drinking Guide.
Colleen Kimmett is Tyee Solutions Society's lead reporter on local sustainable food issues. In her reporting for the current Growing the Local Bounty series, she traveled through Ontario's greenbelt and BC's Fraser Valley to find what works to strengthen local food systems.
As the night unfolds, other special guests -- including Karri Schuerman of Chambar and blogger Melody Fury -- will read morsels of their favourite food writing, and audience members will be invited to join in on the conversation.
Tickets are $15 and include complimentary nibbles and admission to the Museum's Home Grown Exhibit on local food, co-presented with FarmFolkCityFolk. Buy your tickets here.
More great Home Grown events to check out
In addition to the Food and Beers series, the MoV's Home Grown Exhibit will also feature several events organized by FarmFolkCityFolk.
Starting today (September 2) and running until the exhibit finishes in January, FarmFolkCityFolk will hold tours on the first Thursday of the month. Tonight's event features Chris Bodnar of Glen Valley Organic Farm, who will talk about his relationships with customers, farmers markets, and with organic delivery services.
Attending any of the Food and Beers events or FFCF's "Talks and Tours with Growers, Activists, and Chefs" events is included in the Museum admission price ($12 for adults, $10 for students and seniors, $8 for youth, and $35 for a family).